Comics
Published December 15, 2016
Smooth as Silk
Irene Strychalski discusses working with Robbie Thompson to bring Silk into the Clone Conspiracy!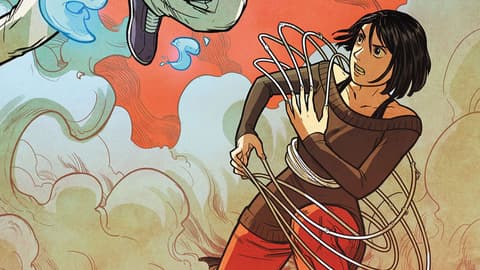 Cindy Moon—aka Silk—continues to build a name for herself in the Marvel Universe. The character who first debuted in Dan Slott's AMAZING SPIDER-MAN swung out into her own solo SILK series and now she's knee deep in the Clone Conspiracy crossover event.
For Cindy, this means trying to fit in with her newly found family, working for J. Jonah Jameson, and dealing with the returned dead including Jameson's wife as well as one-time Spider-Woman Mattie Franklin!
Artist Irene Strychalski joined regular series writer Robbie Thompson with SILK #14. We talk with her about diving right in with a huge crossover, sending Cindy to San Francisco in new togs, and how the two arachnid-themed heroines differ as the book swings toward issue #16 on January 11.
Marvel.com: Was it at all intimidating jumping on a book like SILK in the middle of a huge crossover like The Clone Conspiracy?
Irene Strychalski: I didn't even think about it at first, but it really is a little intimidating! That's not a complaint though, since I love challenges. It's been fun tying the story into what other teams are doing.
Marvel.com: In addition to Silk, the series also recently saw Mattie Franklin's return. What sets these two Spider-themed characters apart for you when drawing them?
Irene Strychalski: I think it's mostly subtle things, like slightly different mannerisms and expressions. Even though they're both spider-themed super heroes, they do have such different backgrounds.
Marvel.com: In SILK #14, Cindy dons a new costume when heading out to San Francisco. What went into designing that look?
Irene Strychalski: I actually didn't design it. Helen Chen did! I think it looks swell though, and it's been refreshing to draw!
Marvel.com: Another big portion of this story revolves around Cindy not being sure about J. Jonah Jameson's recently returned family. Do you enjoy playing with those more dramatic moments as well as the big super hero stuff?
Irene Strychalski: I love the dramatic moments of character interaction. Besides, from big action scenes and explosions and all that juicy stuff, I enjoy portraying the psychological side of each arc. My hope is always that a reader can feel immersed in a characters' emotions just from looking at the art and visual language.
Marvel.com: How has it been working with Robbie in general and the whole team more specifically when it comes to contributing to this larger epic?
Irene Strychalski: Robbie delivers a great script every time and I think he really takes into consideration what the artist would like to contribute to the story. It's been wonderful working with him. [Colorist] Ian [Herring] and our cover artists all do beautiful work, and of course the rest of the SILK team is super professional.
Honestly, I'm still pretty new to the super hero scene so I'm more worried about delivering good work on my part! But this opportunity on SILK has been nothing but a great experience.
SILK #16 by Robbie Thompson and Irene Strychalski continues the saga of the Clone Conspiracy on January 11!
The Hype Box
Can't-miss news and updates from across the Marvel Universe!