Comics
Published December 13, 2017
Spectacular Spider-Man: Amazing Fantasy
Old pals Chip Zdarsky and Joe Quinones reunite to task Peter Parker!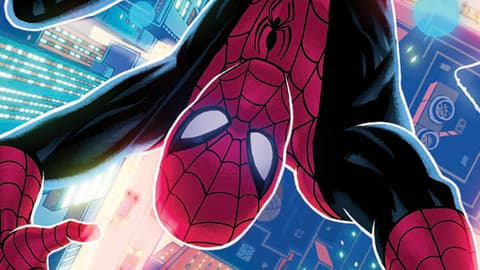 There's reunions going on all over in the pages of PETER PARKER: THE SPECTACULAR SPIDER-MAN come March! Already you've got Pete and his maybe-sister Teresa trying to figure out their relationship, but as of issue #301, that family drama takes a backseat to the triumphant return of the Chip Zdarsky–Joe Quinones team! That's right, the writer-artist duo that wowed you on HOWARD THE DUCK hooks back up to chronicle the adventures of everybody's favorite Wallcrawler!
"I'm a big fan of stealing creative teams off other editor's books, so as soon as Chip signed on to PETER PARKER, I knew we had to get Joe Quinones to come too." shares Executive Editor Nick Lowe.
As Zdarsky welcomes Quinones to SPECTACULAR SPIDER-MAN, so does Peter Parker continue to initiate J. Jonah Jameson in the ways of arachnid adventure, now that this avid Spidey-hater possesses knowledge of the Webslinger's secret identity. The unlikely team–along with Teresa–tumbles back in time to try and deal with a problem spinning out of the series' landmark 300th issue.
"The story that Chip has for [issues] #301-303 is perfect for the character acting and wonderful madness that Joe brings to the table," concludes Lowe.
This March, book some time with Chip Zdarsky, Joe Quinones, Peter Parker, and J. Jonah Jameson for a trip through time you won't soon forget! It all starts in PETER PARKER: THE SPECTACULAR SPIDER-MAN #301!
The Hype Box
Can't-miss news and updates from across the Marvel Universe!