Comics
Published May 18, 2017
Spectacular Spider-Man: New York, New York
Writer Chip Zdarsky takes us downtown for the brand-new Spidey series!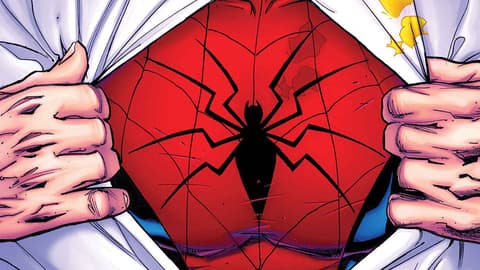 The Webhead in the Big Apple! The Wall-Crawler in The City That Never Sleeps! The kid that lives with his aunt in the place that has really good bagels!
Spider-Man in New York City!
On June 21, Spidey returns to his Friendly Neighborhood roots with the brand-new series PETER PARKER: SPECTACULAR SPIDER-MAN! Led by the all-star creative team of writer Chip Zdarsky and artist Adam Kubert, this Spidey story returns to where it all began: a high school kid living—and fighting crime—in New York, New York.
We spoke with Chip about the Spider-Man books that he read growing up, the dynamic that New York contributes to a story, and the real-life inspirations for this new take on an old favorite.
Marvel.com: Hey Chip! Tell us, what are a few of your favorite Spider-Man runs? Have you drawn inspiration from any of them for the new series?
Chip Zdarsky: I don't want to play favorites with Spider-Man runs! They're all precious children to me, beautiful in their own way. I will say that the period that imprinted on me the most was when I first got into comics: the mystery of the Hobgoblin's identity! I loved it so much, especially that it featured a Peter very much down on his luck, trying to make ends meet, which felt so different to me as a kid, thinking that adults all had it together. The feel of those issues really imprinted on me, I think.
I followed Spidey after that, through his marriage to MJ, all the way to the infamous Clone Saga, before I went to college and ran out of money, never actually finding out who ended up being the actual clone—don't tell me! But a few years after college ended I got sucked right back into the books.
So, it's hard to pinpoint direct inspirations, really. There have been so many great runs, including now with [writer] Dan Slott on [AMAZING SPIDER-MAN], that you can't help but be inspired by all the takes on the character.
Marvel.com: Do you have a favorite Spidey story that takes place in New York? What's the most enjoyable part of the dynamic that NYC brings to a classic Peter Parker/Spider-Man story?
Chip Zdarsky: It's the smaller moments in comics featuring New York that stick with me, really. His interactions with its jaded citizens, half of whom see him as a hero, half of whom see him as an annoyance.
I love the stories where he's up against an unbeatable foe, trying to save the city and himself simultaneously. Two notable ones for me are his encounter with Firelord in the mid-80s, which has Spider-Man up against a herald of Galactus! He enlists help from citizens, saves citizens, uses the city against Firelord, and then manages to eke out a win just barely, proving himself to be a force to be reckoned with.
There's a similar feeling when he encounters Morlun in the early 2000s. A truly unstoppable being who has one goal: to feed off of Spider-Man. A desperate Spidey is my favorite Spidey as Morlun lays waste to New York City, endangering people in order to get what he wants. It's so big and crazy and beautiful, especially thanks to John Romita Jr.'s art, that it feels like the damage to New York is damage to Spider-Man and vice-versa.
Marvel.com: Are there elements of your own life that have inspired you with this new series? High school Chip? Newspaperman Chip?
Chip Zdarsky: I think everyone, when writing Spider-Man, taps into their own sense of guilt and responsibility. And in the [Free Comic Book Day] issue I tapped into my relationship with my ex, who's my best friend in the whole world, to write Peter and MJ. Besides that, my dozen years working for a national newspaper is coming in handy when writing "Daily Bugle" scenes, and especially J. Jonah Jameson! He's one of the greatest fictional creations of all time as far as I'm concerned.
PETER PARKER: SPECTACULAR SPIDER-MAN #1 by Chip Zdarsky and artist Adam Kubert, goes on sale in your neighborhood on June 21!
The Hype Box
Can't-miss news and updates from across the Marvel Universe!