Comics
Published May 16, 2017
Spectacular Spider-Man Sketchbook
Artist Adam Kubert dishes on drawing the world famous Wall-Crawler!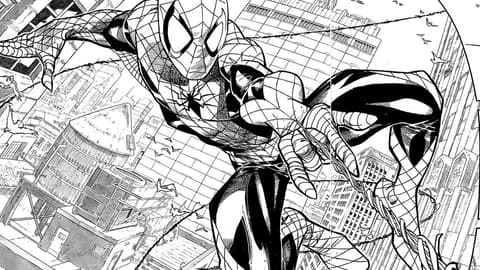 Chip Zdarsky and Adam Kubert plan on bringing a certain hero back to his Big Apple roots in the pages of PETER PARKER: THE SPECTACULAR SPIDER-MAN. The new book, which acts as a companion piece to Dan Slott's ongoing AMAZING SPIDER-MAN adventures, will bring the now-international hero back to New York City for some familiar fun.
Though many of the details on the June 21-launching series must be kept under wraps for now, we do know that Peter will have friends and enemies, both old and new, to look forward to, all of whom will have that Adam Kubert spin! We talked with the artist about finally getting to work on a web-slinging ongoing, developing these characters with this team, and grounding super-stories in reality.
Marvel.com: You've worked on many of the greatest comic characters around in your career. What's the draw with Spider-Man?
Adam Kubert: Best analogy I can think of—fresh off from having my head wrapped around inking—is Muhammad Ali. Ali had a lot of fights, went up against a lot of awesome fighters. But his greatest fights were always against Joe Frazier. If I were Ali, Spider-Man would be my Smokin' Joe.
Marvel.com: We can see just in these pages that you put a ton of effort into grounding these stories in New York City. What's your process like for balancing that with the characters and their actions?
Adan Kubert: The job of a cartoonist is to make the story as real and as credible as possible. Having believable settings adds to the credibility of the story. "Pinocchio" without a realistic background would be just another puppet.
Marvel.com: Chip has teased that several classic Spidey villains appear in the first arc. When it came to their looks, what was the design process like?
Adam Kubert: Creating new characters or new looks for existing characters are usually a collaborative effort between everyone: Chip [as well as editors] Nick [Lowe], Devin [Lewis], and Allison [Stock]. Once I know the direction of the character I either sketch him/her up or just design them in the story. Either way I enjoy getting feedback and make adjustments.
Marvel.com: Along similar lines, it sounds like the book will be packed with heroes, allies and friends both old and new. How was it developing them for the book?
Adam Kubert: A lot of fun. Sometimes I have to step back and look at what I;m actually doing. I'm drawing Spider-freaking-Man and I'm getting to draw his rogues-freaking-gallery! And I'm getting to do it with all of my friends. It honestly doesn't get any better.
Marvel.com: Even behind all of the jokes and quips, Peter's still driven by guilt and loyalty. How does that play into your drawing of the character?
Adam Kubert: Drawing a great story with a great character makes my job easy. Chip is Peter and I'm Spider-Man; Nick is someone that I can't tell you because I like my job. That said, it's all about the acting and Peter is an open book: easy to read and play out.
Marvel.com: How has it been working with Chip, so far?
Adam Kubert: It's ok. [Laughs]
PETER PARKER: THE SPECTACULAR SPIDER-MAN #1 by Chip Zdarsky and Adam Kubert debuts on June 21.
The Hype Box
Can't-miss news and updates from across the Marvel Universe!