Comics
Published June 22, 2017
Spectacular Spider-Man: Who Needs Friends
Peter Parker picks allies like Ironheart with help from Chip Zdarsky!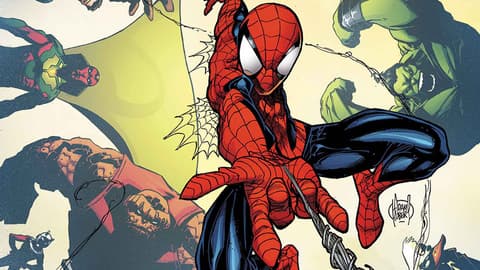 There's no place like home and for Peter Parker, that's New York City. Thanks to writer Chip Zdarsky and artist Adam Kubert, Spider-Man's back in town, but he can't just put his feet up and relax; it's the city that never sleeps after all.
As if a tech-crime ring didn't provide enough of a challenge, Spidey will also be facing an unlikely foe in issue #2 of PETER PARKER: SPECTACULAR SPIDER-MAN—Riri Williams, aka Ironheart! Why would two such heroes spar with one another instead of joining forces? Luckily, you won't have to wait for the next edition of the Daily Bugle to get the inside scoop because we already spoke with Chip about pairing up these characters for the first time in Marvel history.
Marvel.com: Peter is already facing threats from both villains and heroes, the latter being in the form of Ironheart in PETER PARKER: SPECTACULAR SPIDER-MAN #2 on July 19. Why is she beating up on Spider-Man and more to the point, what's driving her in this series?
Chip Zdarsky: I don't want to spoil anything, but Riri has information Peter needs as he unravels a mystery. Unfortunately, his interrogation tactics leave a lot to be desired. So right now what's driving her is Spider-Man: Threat or menace?
Marvel.com: I'm getting a buddy cop comedy vibe of two do-gooders with similar end games who don't initially see eye-to-eye. Not to mention that Peter just got back to New York. What's going through his head and how will the two complement one another once they get past their differences?
Chip Zdarsky: The beauty of writing Spider-Man is that every team-up is like a buddy cop comedy! Riri's in a situation reminiscent of a teenaged Peter: a young super hero tech genius dealing with the loss of loved ones. But, unlike Peter, she has a maturity to her that he may still be lacking, at least superficially. I think he's super pleased with this new batch of teen heroes, as it kind of symbolizes his position as well, not as one of the wise elders of the Marvel [Universe], but at least somewhat of an authority figure.
Marvel.com: What was it like being able to introduce these characters for the first time?

Chip Zdarsky: Great! You only get to introduce characters like these once, so I'm really happy I got to do it before [INVINCIBLE IRON MAN writer Brian Michael] Bendis did.
Marvel.com: Riri is a fairly new face to the Marvel Universe while Spidey's been around for a while. Do you explore this dichotomy between them either literally or sub-texually?
Chip Zdarsky: A bit, yeah. Peter's been doing this for a while so there are some things he's forgotten about being a new hero. And it's true that there's over a half century gap between their first appearances, but in terms of the Marvel Universe it's just over a dozen years, so it's not like Spidey is ancient!
Marvel.com: How will Peter's repartee with Ironheart be different from with Iron Man? Any jokes in particular that we should expect?

Chip Zdarsky: Luckily we also have Tony's A.I. in the mix, so we can see how the three of them interact! Spidey can be an acquired taste for some heroes, and A.I. Tony's had some artificial time to acquire it.
Marvel.com: How will Riri's involvement in issue #2 set the stage for future guest appearances by other heroes?
Chip Zdarsky: Issue #2 definitely sets the stage for a whole host of heroes and villains. Things are going to get pretty complicated for Spidey really soon.
Web-swing your way into excitement with PETER PARKER: SPECTACULAR SPIDER-MAN #2 from Chip Zdarsky and Adam Kubert, coming July 19!
The Hype Box
Can't-miss news and updates from across the Marvel Universe!