Comics
Published November 13, 2019
Spider-Ham Finally Has His Own Series, Again
Prep for Zeb Wells and Will Robson's brand-new 'Spider-Ham' #1, coming December 25!
Many look back on the 1980s as a time of grim and gritty tales that brought a more adult edge to the comic books, but it also gave birth to one of the most fun characters in the mighty Marvel Multiverse: Spider-Ham!
And on December 25, writer Zeb Wells and artist Will Robson present Peter Porker with a brand-new SPIDER-HAM #1!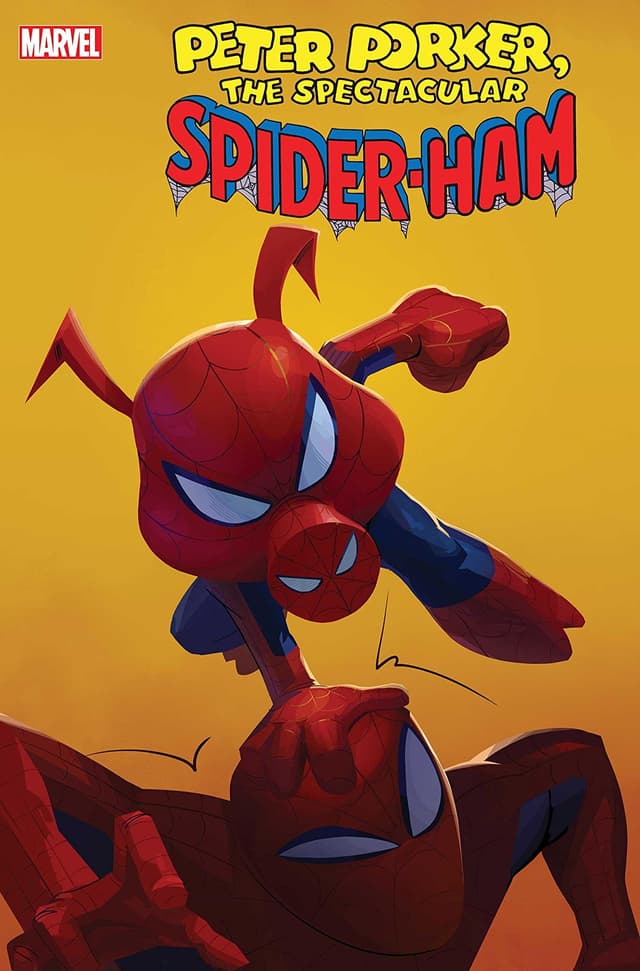 To prep for the new limited series, we're journeying back to the beginning with ol' Pete Porker...
Created in the vein of the classic anthropomorphic animal comics of eras prior, Peter Porker inhabited a world filled with pun-filled takes on the Marvel Universe. For instance, Peter didn't start out as a pig who got bitten by a radioactive spider—but instead an arachnid who got chomped on by an irradiated swine!
Our porcine hero debuted in 1983's MARVEL TAILS STARRING PETER PORKER, THE SPECTACULAR SPIDER-HAM written by Tom DeFalco and drawn by Mark Armstrong. In that one-shot, readers were introduced to photographer Peter Porker, his boss J. Jonah Jackal, Captain Americat, Dr. Bruce Bunny, and his emerald alter-ego, the Incredible Hulk-Bunny! The back of the book also featured a look at Goose Rider for good measure!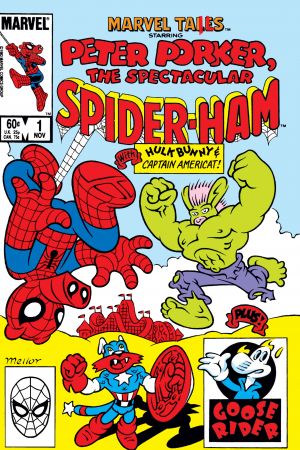 Marvel Tails Starring Peter Porker, The Spectacular Spider-Ham (1983) #1
published

added to marvel unlimited

letterer

penciller (cover)

writer

penciller
What is Marvel Unlimited?
The character proved popular enough to warrant an ongoing series in 1985 that launched with artist Armstrong and writer Steve Skeates. After running for 17 issues in PETER PORKER, THE SPECTACULAR SPIDER-HAM, the character switched back-up stories running through most issues of MARVEL TALES running between #201-247. 
After a smattering of appearances in the humor comic WHAT THE--?! (1988), young Mister Porker was relegated to the land of deep-cut in-jokes and trivia contests. However, like all great characters, Spider-Ham started to make a comeback, finding new life in the mid-2000s. The legendary Mike Wieringo captured all of his glory on the variant cover of AMAZING SPIDER-MAN (1999) #528. Shortly after, J. Michael Straczynski penned the ULTIMATE CIVIL WAR: SPIDER-HAM (2007) #1!
Even then, it took another seven years for Spider-Ham to fully swing back into action, but he did so in grand fashion starting with AMAZING SPIDER-MAN (2014) #9! That's when he got in on the action of the multiple reality adventure known as SPIDER-VERSE!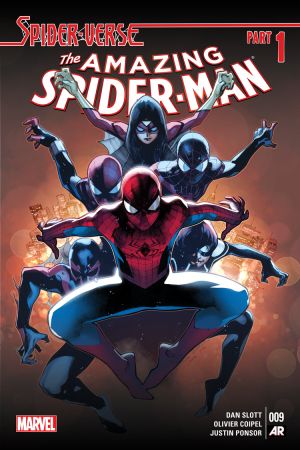 He'd already teamed up with a group of Spider-folks from other dimensions when the evil Inheritors threatened web-slingers far and wide. Ham popped up to everyone's surprise at the end of the epic's first installment—and from there, he became the wise-cracking heart of the Spider-army, even offering himself up as a fill-in for a baby who became the key to stopping the villains' plot!
Peter enjoyed working with his fellow arachnid heroes so much that he joined up with a group of them to keep an eye on the imprisoned Inheritors and other realities. As one of the stars of WEB WARRIORS (2015), he helped take on an army of Electros, among other threats!
The series lasted for 11 issues, but the team also had their own SECRET WARS series and by the time that reality-reshaping event ended, it was time for another big-time Spider event: SPIDER-GEDDON!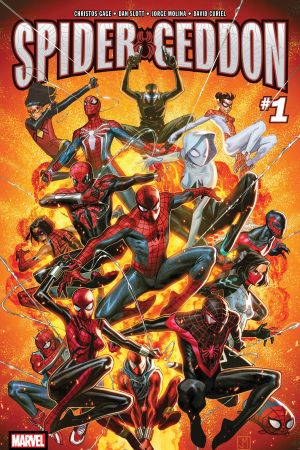 Spider-Geddon (2018) #1
published

added to marvel unlimited

editor

colorist (cover)

inker

inker (cover)

penciler

penciler (cover)

writer

letterer

colorist
What is Marvel Unlimited?
It turned out that the Web Warriors inadvertently supplied the Inheritors with the means to escape from their prison world, which led to another confrontation with the inter-dimensional devourers. Spider-Ham worked with the others to make up for their mistake and find a new way to capture their foes.
And now, you can feast your eyes on an all-new Peter Porker adventure starting next month!
Pre-order SPIDER-HAM #1 at your local comic shop today, then pick it up on December 25!
The Hype Box
Can't-miss news and updates from across the Marvel Universe!