Comics
Published February 15, 2017
Spider-Man Goes Spectacular
Chip Zdarsky launches Peter Parker into a new ongoing series!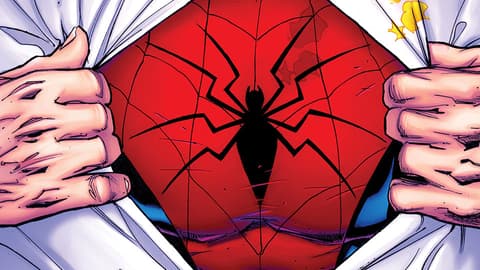 This May, your friendly neighborhood Wall-Crawler will no longer be satisfied with merely being Amazing; fans better get used to him being Spectacular as well.
Writer Chip Zdarsky stands the helm of the new PETER PARKER: THE SPECTACULAR SPIDER-MAN title with artist Adam Kubert aboard for art duties. We found Zdarsky climbing trees in an NYC suburb and persuaded him to come down and tell us all about his love of Spidey and where he plans to take the hero.
Marvel.com: One selling point for SPECTACULAR SPIDER-MAN is the promise of a "classic" Spider-Man feel. To you, what is essential for that?
Chip Zdarsky: When I think of "classic" Spidey I think of him being, y'know, misunderstood and underestimated, like me. He'll swing by and get your cat out of the tree, but someone will snap a photo that makes it look like he's putting cats in trees, like me—I put cats in trees. He feels things the strongest out of all the heroes, carries the most guilt, and covers it up with humor, like me. Also, he was bitten by a spider, like my brother Dave—he had to go to the hospital.
He's also a New York City street-level hero who happens to be powerful enough to take on Avengers-level bad guys. He's the greatest hero and the biggest thing in his way is himself.
What [writer Dan Slott has] been doing in [AMAZING SPIDER-MAN] is classic Spidey, but transposed into a different world, to see how Spidey plays against it. With this book we're aiming to shift the focus back toward his life in NYC and exploring his roots and relationships.
Do I get the job?
Marvel.com: Evidently so. SPECTACULAR also promises a more personal tone. What elements will make that feel possible? Can you speak to how the new supporting cast might also help facilitate this tone?
Chip Zdarsky: Humor and heart are the two things I really want to instill in this book. And part of the way to do that is to enhance the supporting cast and make them feel like they matter as much to the book as Peter does. We're working on big threats in this title with wide-ranging consequences, but the heart has to be Peter, his friends, and his family. We're bringing back familiar faces, debuting some new ones, and springing some surprise appearances as well!
Marvel.com: Speaking to that, one of the most exciting things for fans of Spider-Man is his incredible collection of villains. Any hints about who the Wall-Crawler might be coming up against in your book?
Chip Zdarsky: Ah! This is the hardest question, 'cause I don't want to give anything away! Several classic Spidey villains pop up to cause him trouble in the first arc, and it's all part of a plan. I will say that I've been able to achieve my dream of writing some Kingpin dialogue, so that's been pretty fun.
Marvel.com: To continue with this theme, can you also speak to what heroes and luminaries of the Marvel Universe that Peter might run into?
Chip Zdarsky: Again, I don't want to spoil too much, but there will be a ton of guest stars popping up, 'cause I love the way Spidey plays off of others. Some of the heroes showing up are there to help Spidey, some to stop him. Ironheart, Black Widow, Black Panther, and Human Torch are a few. Anyone who's read my HOWARD THE DUCK run knows how much I love to write Torch and Spidey. It's one of my favorite friendships in comics.
Marvel.com: In addition to tackling an iconic character, you are collaborating with an iconic artist in Adam Kubert. How has the process been? How does his style inform your approach to the book?
Chip Zdarsky: Oh man, we've just started but Adam is a dream! His work is so full of energy and classic super hero dynamism, but he's also so great at conveying humor! It's a real thrill to have him on the book. There's a storyline coming up that I created specifically 'cause Adam is drawing it and I wanted to see his take on the characters and environments. I want to keep him entertained as much as myself and the audience. My philosophy is, if we love making the comics then hopefully that translates to people loving to read them.
Marvel.com: As SPECTACULAR takes place in-continuity, how close are you and your team working with the AMAZING team? How do the books inform and complement each other?
Chip Zdarsky: We're following AMAZING's lead 100%! I had lunch with Dan and the Spider-Editors in NYC a few months ago and got to hear everything they've got coming up, and it's pretty epic and fantastic! Then I got to tell Dan what we've got planned for SPECTACULAR and he didn't leave the restaurant, so I consider that a win.
Marvel.com: SPECTACULAR launches with a Free Comic Book Day issue. As a writer, what is the key to a good FCBD book? What did you want to make sure to do for this as both a Marvel FCBD title and a launch of the series?
Chip Zdarsky: It's pretty crazy having this platform to pull in new readers! Our story in the FCBD book is with the fantastic artist Paulo Siquiera, and I think we've managed to set the tone for the main series and lay some hints at what's to come! It's, I think, a really fun short, and I got to write Peter and Mary Jane banter for the first time which thrilled me to no end.
I told Marvel I had another idea to make this really stand out from the other FCBD books being offered. The thing all these books have in common is that they're free. So, to make ours stand out and be a little different and edgy, I told Marvel to make ours $9.99. Haven't heard back about that yet, but fingers crossed!
Marvel.com: Anything else you'd want the fans to know about SPECTACULAR SPIDER-MAN, that you want to make sure they are aware of?
Chip Zdarsky: Spider-Man is my favorite character, and this book is absolutely a love letter to him and to fans of his. I'm overjoyed to get to launch this, something that's super accessible and personal and—hopefully—filled with humor, but also aiming for an epic story that will have ramifications for Peter and his cast for years to come. We're going to take Spidey on a pretty crazy ride, and I think people will dig it. And if they don't dig it, I will walk into the ocean while screaming for Namor to take me away.
Join Chip Zdarsky and Adam Kubert in May for PETER PARKER: THE SPECTACULAR SPIDER-MAN, with a sneak peek on Free Comic Book Day featuring the art of Paulo Siquiera!
The Hype Box
Can't-miss news and updates from across the Marvel Universe!