Comics
Published August 29, 2017
Spider-Man: Return of the Six
Diving into Marvel Legacy with Brian Michael Bendis and Oscar Bazaldua!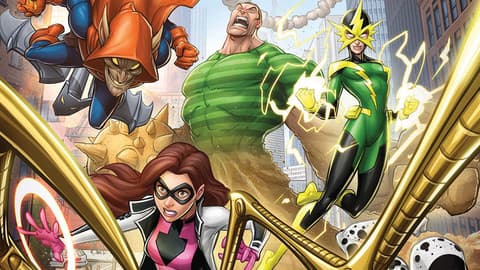 On November 1, Miles Morales enters the era of Marvel Legacy in SPIDER-MAN #234, written by Brian Michael Bendis with art by Oscar Bazaldua!
Miles' life might be a bit complicated at the moment, but when the going gets tough, the tough get going—to the hospital. But never fear, True Believers, like all heroes, Miles heals quickly. And that's a good thing, as a mysterious new Iron Spider plots an uprising alongside an all-new team of villainous cronies…
We spoke with Brian and Oscar to get the skinny on what's next for the Webbed Wonder as he faces off against the brand new Sinister Six!
Marvel.com: Set the scene for us—what's going on in issue #234?
Brian Michael Bendis: We have Miles in one of the most interesting situations any Marvel character has ever been in. He is, by all definitions, a legacy character who now faces choices that may define his own legacy. Will there be room for Spider-Man between all that?
Meanwhile, a bunch of villains are getting together to pull off one of the biggest heists in Marvel history. Really. When people find out what they are looking to steal, they're going to be amazed that no one's ever tried this before. So this new group of criminals—some of whom have a history with each other—are going to come together and raise some hell. But it affects Miles in a pretty big way. It gets personal.
Marvel.com: Who counts themselves as members of the new Sinister Six? What does each character bring to the table?
Brian Michael Bendis: First, we have Bombshell. The mother of the mother-daughter criminal team Bombshells. She has come over from the Ultimate universe. She's been in jail since Secret Wars and Lana, her struggling daughter, is one of Miles' best friends, so having her criminal mother come back into the picture feels pretty scary.
Sandman, Electro, Hobgoblin are all outstanding career criminals with histories and relationships. All of which will be re-evaluated here.
The Spot—who I think has real potential, just off his appearance in JESSICA JONES—comes into this with a fresh perspective
But the real mystery is the Iron Spider. Who is the Iron Spider and what could their connection to Miles be? Notice I'm not saying "he" or "she"…
Marvel.com: Oscar, tell us a little bit about the art for this book. Did you draw inspiration from previous Sinister Six comics?
Oscar Bazaldua: I'm trying to mix new stuff with my style. I've always been inspired by the comic book greats, from the Golden Age to current talents.
I researched each one of the Six to understand the characters better. For Momma Bombshell, for example, I went with a very unscrupulous type of person. I made little changes to the Hobgoblin's suit. For others I went for a more traditional look, like Sandman and Lady Electro.
Marvel.com: What made you decide to introduce an all-new Iron Spider and Sinister Six to Miles' already-chaotic life?
Brian Michael Bendis: It started with the story about the Iron Spider and Bombshell and the big plan. They made a plan and we're watching them execute it in the form of the new Six.
It's also, in my opinion, one of those trial by fire storylines. The original Sinister Six might've been the scariest thing I'd ever read as a kid. Peter Parker couldn't even defeat one of those guys without getting beaten up; how could he fight all of them? We are going to follow in that tradition and take it into a dangerous new environment.
Marvel.com: The Sinister Six and Spider-Man go back a long way, but these are new team members and a new Spider-Man…how does that change the dynamic?
Brian Michael Bendis: The only one who really knows the history of teams like this, in this story, is Sandman. He has learned the lessons of his previous incarnations. But everyone else is new, so there are a lot of variables involved.
If you've never read a story like this then it's all new, but if you know your entire history of Spider-Man and Sinister Six you will be very happy with the due diligence and research we've done to make this thing work on different levels.
Marvel.com: What has been the hardest part of working on the new Sinister Six? The most rewarding?
Oscar Bazaldua: The hardest part is that they will be measured with very high standards, so I really had to put all my effort in as an artist. The best part is feeling like it can live up to such a big name while staying up-to-date with the times.
I really want to thank Brian and Editor Nick Lowe for making me part of this project. I have been crazy about it since day one. Being part of the Spider-Man family has been a dream come true—it feels incredible to draw the Marvel heroes I grew up idolizing!
Marvel.com: Was there a character you had the most fun working on? Which was the most difficult to portray?
Oscar Bazaldua: I have a lot of fun drawing Miles, of course. But my favorite is Iron Spider—though I also have a soft spot for Bombshell and Lady Electro.
The Sandman could be a little bit tough because there isn't a very distinctive way to draw his features, other than his hairstyle. I tried to put a little bit of me into it!
Marvel.com: Which incarnation of the Sinister Six ranks as your personal favorite?
Brian Michael Bendis: Nothing beats the original. I'd never seen anything like it before, none of us had. Seems so obvious now—if the heroes can get together, why can't the criminals? But it was a revelation!
I like all of the characters on this team, but I do especially like Sandman's perspective. He's like the worn leather shoe of the group. He's seen it all. He's done it all.
Oscar Bazaldua: The Doctor Octopus team. He is one of the best Spider-Man villains. But this team, with the new additions joining a couple classic characters, feels great. I really think they are amazing!
Marvel.com: What can you tell us about who's behind the Iron Spider mask?
Brian Michael Bendis: It answers about the three questions people have been asking me most since Secret Wars.
Oscar Bazaldua: I can't tell you who it is—I can only tell you that it'll be revealed at the end of the book, it's going to be very exciting, and it will make you wish you had the next issue right away!
Marvel.com: What will Miles have to do to best this new threat? What will be his biggest hurdle?
Brian Michael Bendis: The biggest hurdle will be knowing how dangerous—and how personal—this will be before it's too late. Miles hasn't been in the best headspace lately and he's on a very fragile journey. Adding this obstacle to that could prove deadly.
Marvel.com: What can you tease about the issue?
Brian Michael Bendis: I think when people read GENERATIONS: THE SPIDERS they're going to be genuinely rattled. The end of that issue starts something that will surprise a lot of people—and we pick it up right here.
What Miles is going to goes through this year will be very unique for comics. They are unique to fiction. It's bold and scary and I am very interested in the conversation that's going to come out of it. To be continued…
Check out SPIDER-MAN #234, by Brian Michael Bendis and Oscar Bazaldua, on November 1!
The Hype Box
Can't-miss news and updates from across the Marvel Universe!