Comics
Published July 18, 2017
Stan Lee Puts Handprints and Footprints in Cement at TCL Chinese Theatre IMAX Forecourt
Speaking from the stage included Kevin Smith, Clark Gregg, Chadwick Boseman, and more.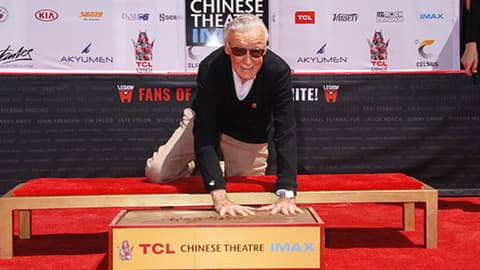 Stan Lee became the latest Star to receive the exclusive honor of being cemented in the Iconic Forecourt at the Famous TCL Chinese Theatre IMAX (the former Grauman's Chinese) since 1927. Take a look at the gallery above!
"Stan Lee gave us the heroes that fueled our imagination and aspirations" said Kevin Smith, Filmmaker, Actor, Writer, Comedian and Stan Lee Fan.
"Now, WE, the fans, are coming together to give this permanent monument and tribute to the man that gave us so much."
Stan Lee, the chief creative force behind the rise of Marvel Comics, brought to life some of the world's most famous heroes and infamous villains, including Spider-Man, The Hulk, X-Men, Fantastic Four, Iron Man, Thor, Daredevil, Dr. Strange, The Avengers, Loki, and Dr. Doom. His stories featured heroes and villains that were more psychologically complex than had ever been seen previously.
According to his autobiography, Excelsior, "Lee put the human in the superhuman."
A huge supporter of fandom throughout his career, Lee was immediately drawn to Legion M's unique model as the first fan-owned entertainment company, and has been supportive since its launch in 2016. Legion M organizing and rallying fans, celebrities, companies and anyone who has been positively impacted by Stan's creative contributions to pay this heartfelt, historic and overdue tribute to one of the greatest storytellers of our time.
As a producer, writer, editor, publisher, actor, host and executive, and idol to many, Stan 'the Man' Lee has exerted his influence over the entire entertainment industry leaving an indelible mark on the comic book industry having created or co-created 90% of Marvel's most recognized comic characters. These creations have spawned books, films, television series, video games, web series, Broadway shows and more offering a lifeline of box office success to the entertainment industry, toy industry.
The Hype Box
Can't-miss news and updates from across the Marvel Universe!