Comics
Published February 16, 2021
Taskmaster's Comic History
Who is Marvel's most mysterious merc? Read our pivotal comic picks on Marvel Unlimited.
Have you tried Marvel Unlimited yet? It's your all-access pass to over 28,000 Marvel comics, available at your fingertips. Sign up now to get 50% off your first month.
The master of tactical mimicry.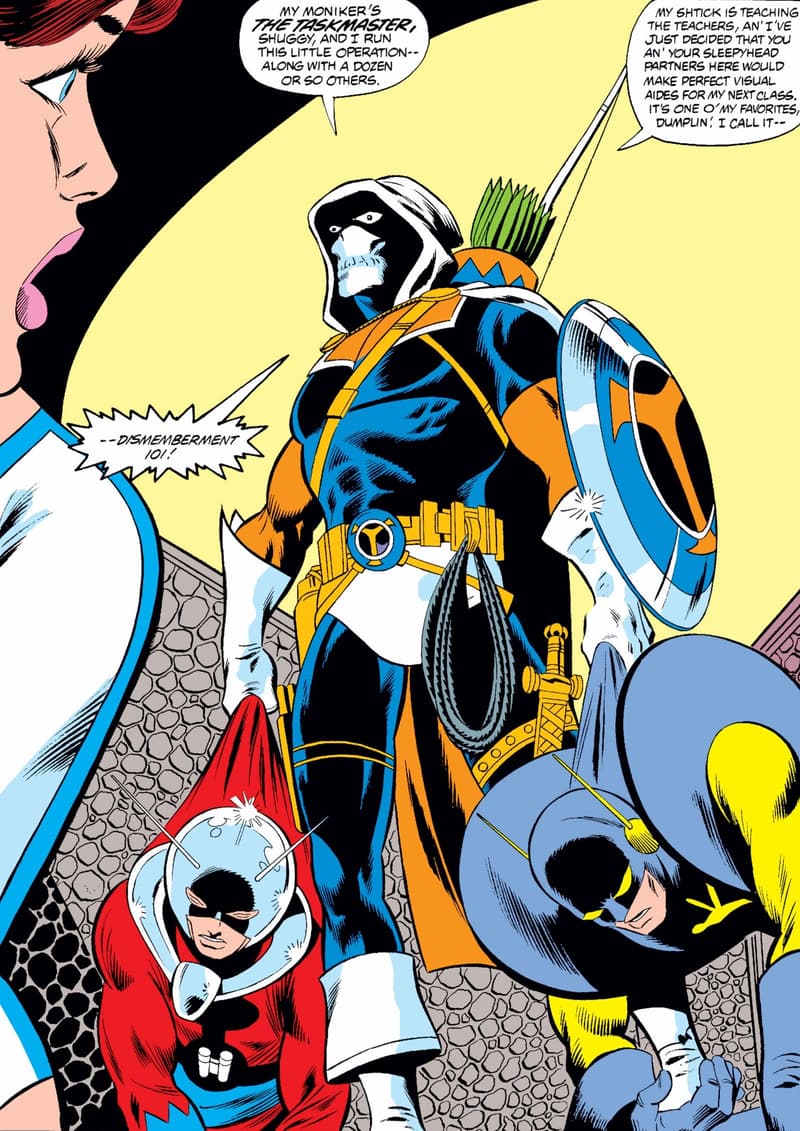 Since his debut in AVENGERS (1963) #195-196, Taskmaster has largely been an enigma. But beneath his gruesome mask and gaudy costume lies one of the most fearsome fighters that the Marvel Universe has ever known. And what did he choose to do with those skills? He trained an unending line of minions and supplied villains with henchmen as needed. Beyond that, Taskmaster is for hire to anyone willing to meet his price. Sometimes, that even includes the government or S.H.I.E.L.D., as he occasionally acts on the side of heroes. But he never stays heroic for long.
Only within the last decade or so have the hidden chapters of Taskmaster's history been revealed. There's even a sense of tragedy behind his mask because Taskmaster didn't set out to become the man he is today. Exhibit A: Marvel Unlimited has recently added TASKMASTER (2020) #1, the beginning of a new story that finds its leading antihero on the run for a murder that he didn't commit. And his one-time ally, the Black Widow, aims to make sure that he pays for his alleged crimes.
Before you dive into this entry point read, we answer a few key questions about Taskmaster, including his real name, his origin, and those unique copycat powers.
WHO IS TASKMASTER?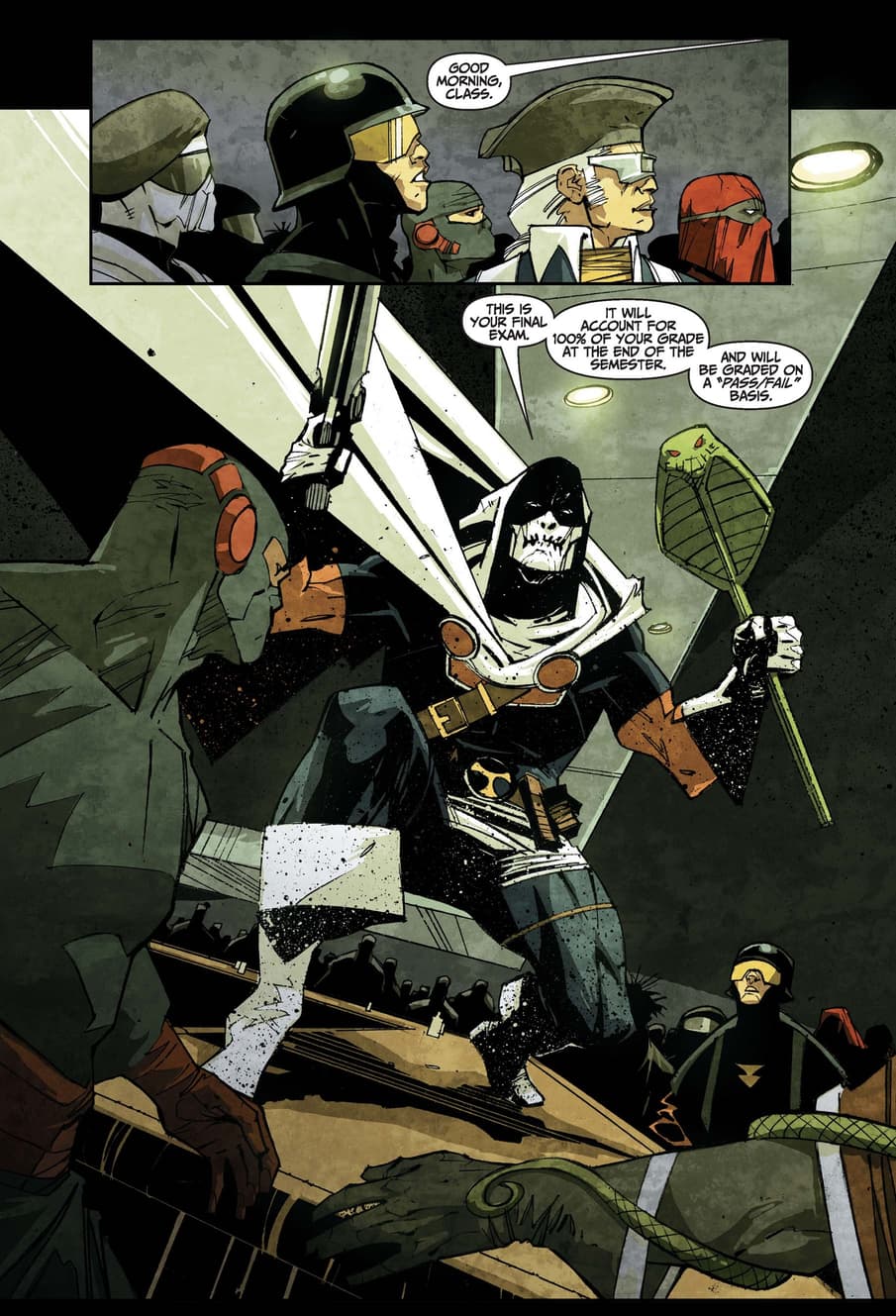 TASKMASTER (2010) #1-4 features the scoop on the man that would come to be known as Taskmaster. Anthony "Tony" Masters was already physically gifted when he became a S.H.I.E.L.D. agent. That's also when he met Mercedes Merced, the woman who became his wife and partner.
WHAT ARE HIS POWERS?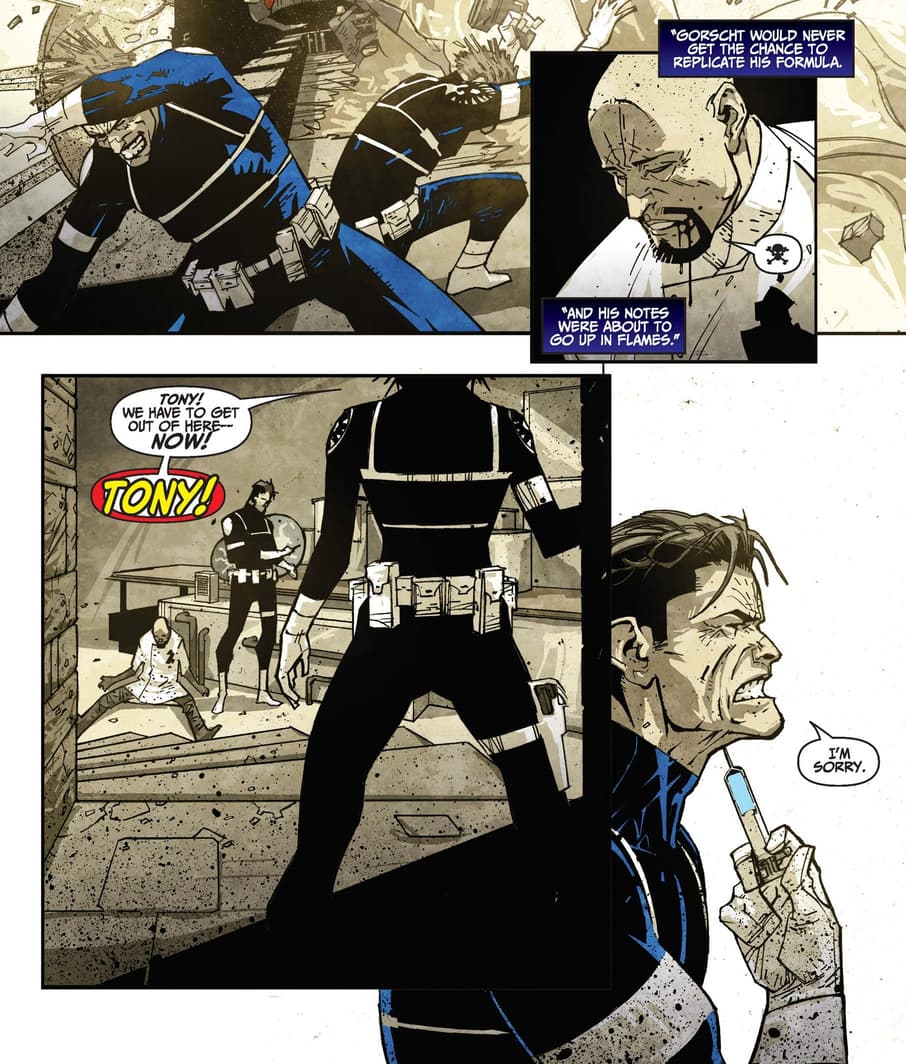 At an early age, Tony developed photographic reflexes and an above average muscle memory—he can now replicate any physical action if he witnesses it at least once. That's why he can throw a shield like Captain America, aim a bow like Hawkeye, and even swing on a line like Spider-Man. His natural abilities were given an artificial boost during a flashback in TASKMASTER (2010) #3. Tony injected himself with a modified version of the Super-Soldier serum, which expanded his powers and enhanced his strength. But that upgrade came at a cost, as the constantly added skills caused Tony to forget about his wife and eventually his identity. 
WHAT DOES HE WANT?

On the surface, Taskmaster just wants to get rich without subjecting himself to the risks of Super Villainy. That's why he concentrated on training henchmen for so many years. He has also not been shy about his underground network of "academies," or hanging them out to dry if his own freedom is at stake.
TASKMASTER (2010) #4 added another layer of intrigue. Mercedes found a way for Tony to still do good in the world even if he didn't remember it. Through her arrangement, Taskmaster was unknowingly feeding intel on criminal networks to his wife and S.H.I.E.L.D. without remembering any of it. What an ideal double agent!
DID YOU KNOW THAT HE TRAINED CAPTAIN AMERICA?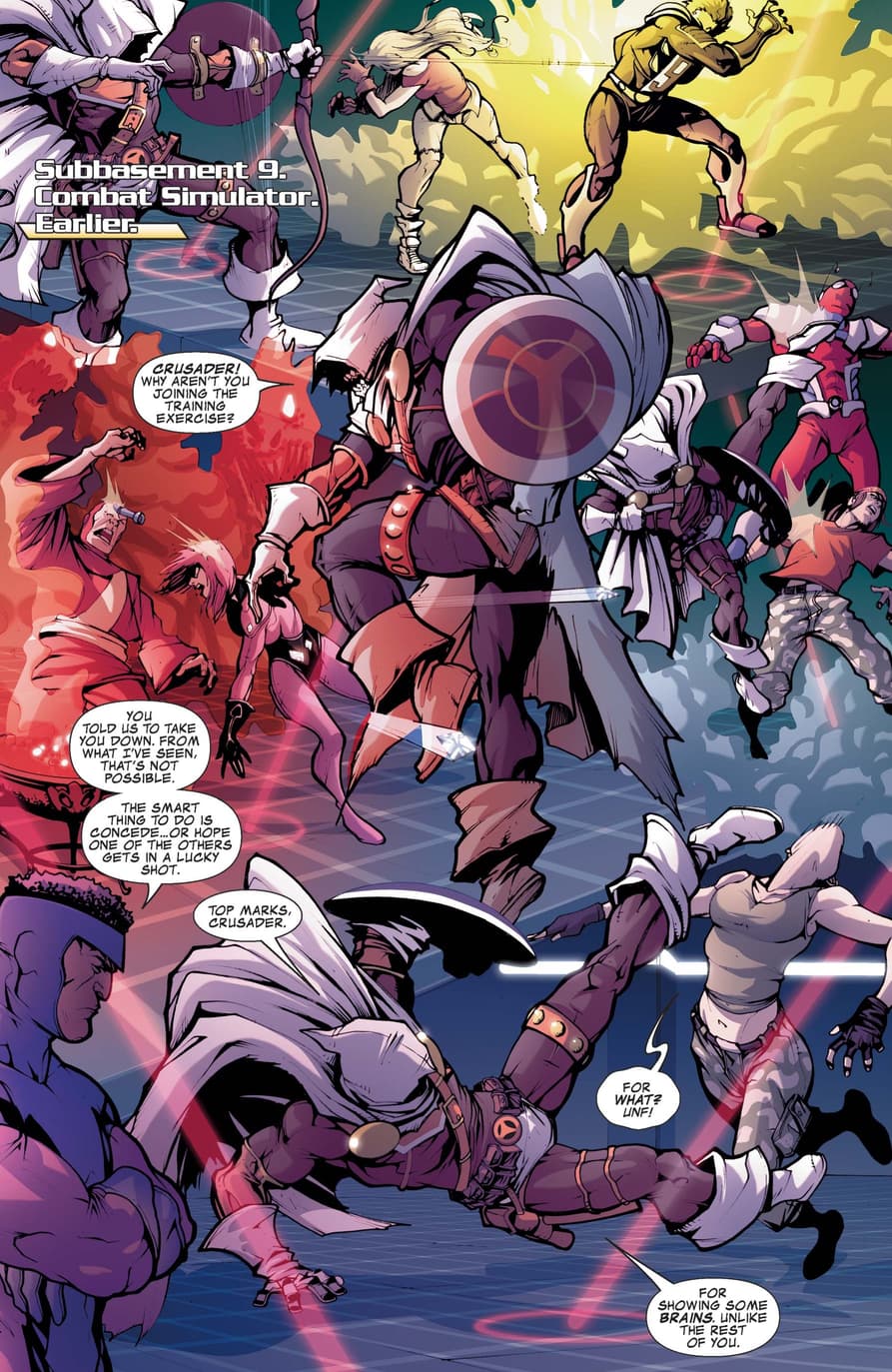 Technically this is true: Taskmaster did train Captain America... when John Walker/U.S. Agent first assumed the role in CAPTAIN AMERICA (1968) #334. At that point, the Commission had just replaced Steve Rogers, and Walker didn't have much experience using a shield. Taskmaster's photographic reflexes came in handy as he was able to pass on some of Steve's knowledge to John without Steve's participation.
Years later, Taskmaster was also recruited to train young heroes in AVENGERS: THE INITIATIVE (2007) #9-10. That's where he met the third Ant-Man, Eric O'Grady, who later went on to become his best friend and partner as the Black Ant.
WHEN DID TASKMASTER GO SOLO?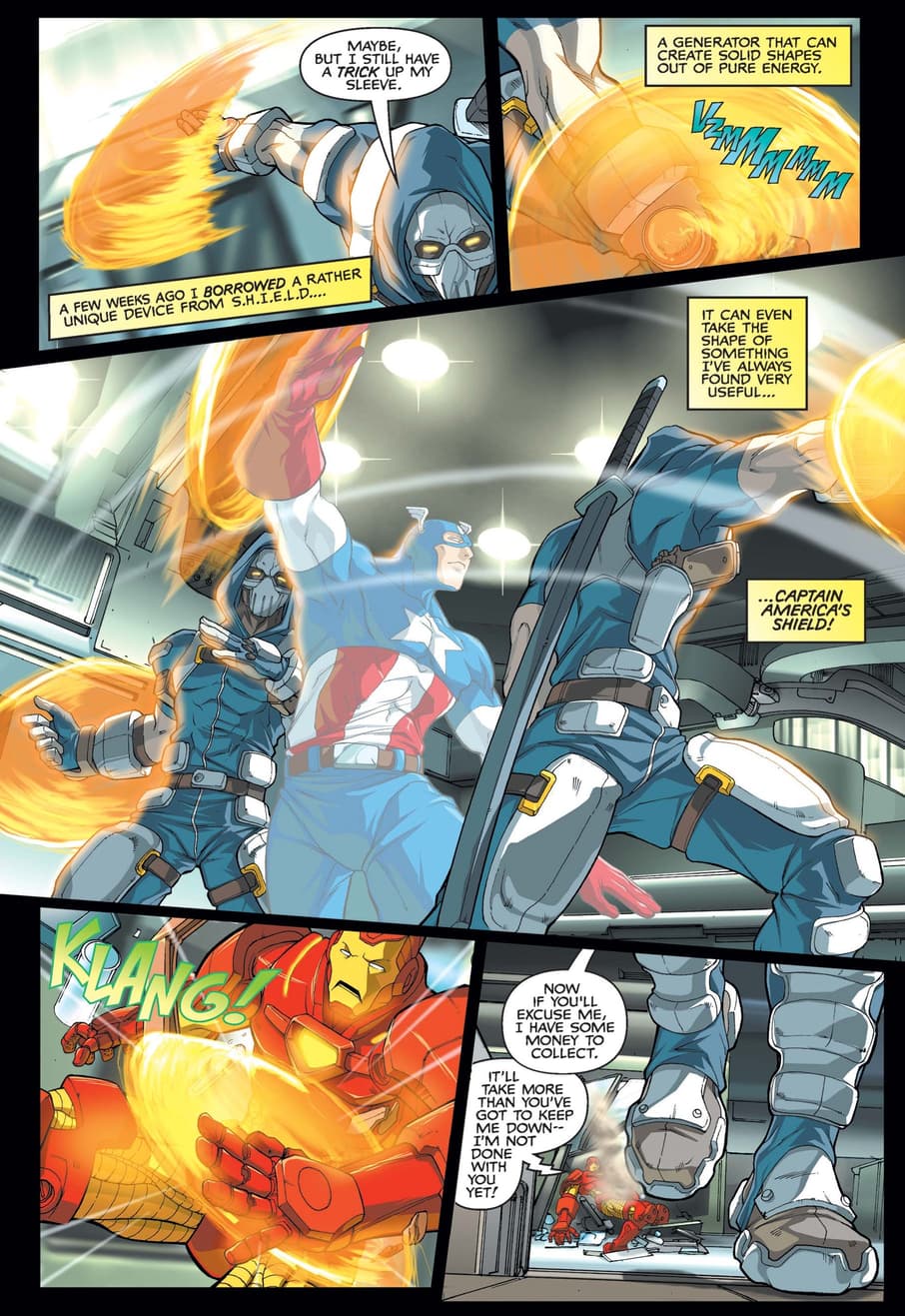 TASKMASTER (2002) #1-4 marked one of the first times that Tony embraced the life of a mercenary outside of his henchmen training schools. Around this time, Taskmaster also became a "frenemy" of Wade Wilson: Deadpool. During DARK REIGN, Norman Osborn took an interest in Taskmaster and elevated him to the Cabal without consulting Doctor Doom. Despite Doom's anger and defection, Taskmaster remained close to Osborn all the way up through SIEGE. But as the tide of battle turned, Taskmaster abandoned his new boss and once again broke out on his own.
WAS TASKMASTER EVER AN AVENGER?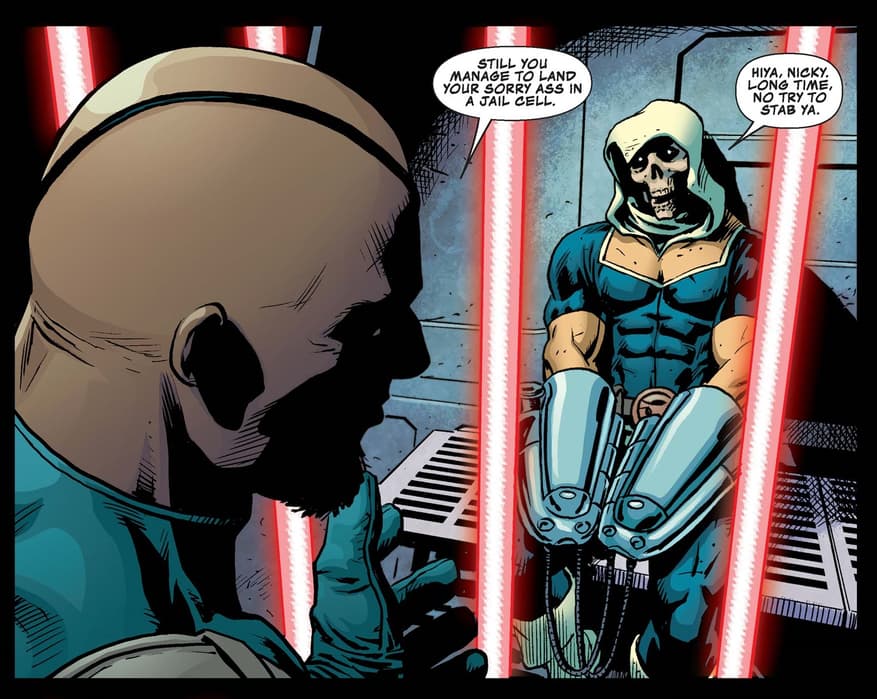 Yes he was! Albeit as a Secret Avenger, rather than a full-fledged member of Earth's Mightiest Heroes. Nick Fury Jr. roped Tony into becoming a double agent on A.I.M.'s High Council while covertly reporting to him in SECRET AVENGERS (2013). While Taskmaster was a reluctant recruit at best, he genuinely tried to rescue Mockingbird before he was gravely injured. The Secret Avengers abandoned Tony, but Mentallo saved his life and befriended him. Since then, Taskmaster has formalized his partnership with Black Ant and has returned to his mercenary ways.
WHERE DO I BEGIN?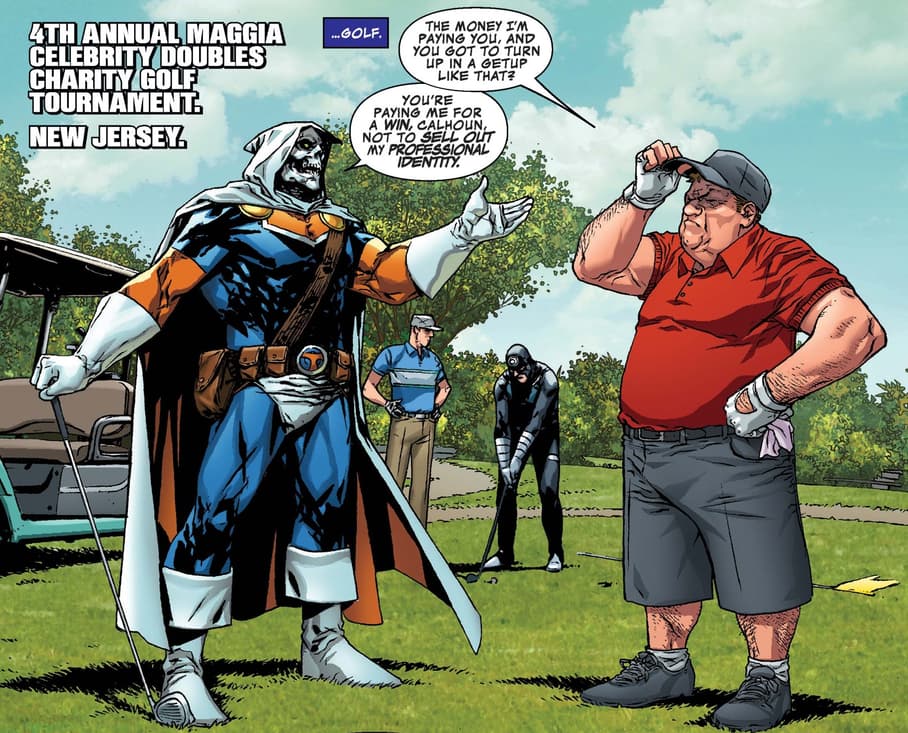 The Hype Box
Can't-miss news and updates from across the Marvel Universe!