Comics
Published March 28, 2019
Author Tess Sharpe Discusses Her New Book 'Captain Marvel: Liberation Run'
Captain. Commander. Hero.
Have you heard the story about the woman who fell from the stars? In Captain Marvel: Liberation Run, a young Inhuman pilot named Rhi is on the run and in search of freedom, only to cross paths with Earth's Mightiest Hero, Captain Marvel.
Along for the ride are an assembled group of heroes to join in and lead the way for a cause near and dear to each of them. The story of struggle and self-worth is common throughout the galaxy, just as it is here on Earth.
Author Tess Sharpe talked with Marvel.com about Carol Danvers' hope and call to fight for justice.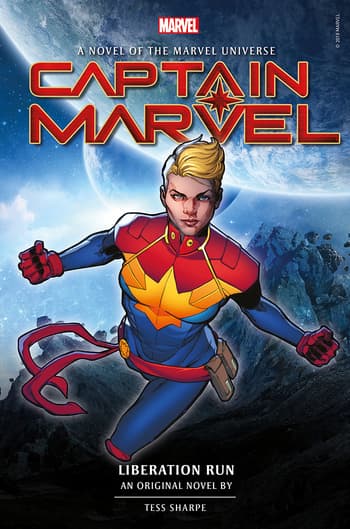 Marvel.com: This assembled team—Captain Marvel, Mantis, Ant-Man, Amadeus Cho—they're all outwardly strong but each has their own personal insecurities. It makes for a great, very realistic dynamic. How did you choose the members of this team?
Tess Sharpe: I looked at what we needed super-power wise, of course, but since we're dealing with a young Inhuman who has never experienced Earth, I really wanted to show Rhi the best of Earth—power-wise, but also personality-wise. Rhi has suffered through so much, especially at the hands of men, so I felt it was really important to have strong women and men surrounding her.
Bringing Ant-Man in added a great dynamic because he's a dad and he approaches the horror of Rhi's world from that perspective. Amadeus being closer to Rhi's age gave her someone to really bond with (and if you're going on a space adventure, you want to bring Brawn with you for backup). And the idea of working with an empath who can really get down to the root of what everyone is feeling? Mantis seemed like the perfect fit. She's such a strong character and has her own history with being shaped into someone because of other people's choices, which I thought brought in some nice parallels.
Marvel.com: Speaking of, it was awesome to seeing Carol in conversation with Medusa, Mantis, and spoiler alert: Hepzibah. Were these your first choice for the female characters you wanted to incorporate into the story?
Tess Sharpe: I knew as soon as I was writing a book about Carol, I HAD to bring Hepzibah! She is a personal favorite and I love her dynamic with Carol.
Bringing in Medusa seemed really natural, and I loved being to explore how much she cares, but how tied her hands can be sometimes by her society. Also, as a lady with really long hair, I had to pay homage to my hair idol!
Marvel.com: "Part Kree, Part Human, All Carol," has always been Captain Marvel's struggle, but also her strength. Seeing her reflection through Rhi's eyes was a beautiful way to tell two sides of the same story. Can you tell me a little bit about developing the character of Rhi?
Tess Sharpe: Rhi was very fun to develop and very intimidating! Adding original characters into a cast of established, beloved ones is always scary!
Rhi has been through a lot, and being able to visit her childhood, even just once in flashback, really helped me understand her and what she's been through better. I spent a lot of time thinking about deprivation, about only seeing a handful of people for a good chunk of your life, and about only being let out of this compound when accompanied by a Keeper. How that would effect your mannerisms, your mood, how you spoke, how you moved and...how you loved. Love is really the root motivation for Rhi as a person: she has her Inhuman sisters, her brother and the love of her life to rescue and if she doesn't...no one will. Being the last hope is never fun, but I think she's up to the job. Especially with Carol at her side.
Marvel.com: By having the Damarian weapon take away the team's powers, it makes them have to think on their feet to survive, much like everyday heroes. Can you talk about writing that scenario?
Tess Sharpe: This was a big must for me and the editorial team! Carol is so powerful and we assembled such a crack-shot team that we all sat back and said, "Wait! We need problems for them to solve!"
I like putting really powerful people in situations where they can't rely on the tools they typically rely on. It leads to so many interesting situations and solutions and sometimes can be really revelatory character-wise.
Marvel.com: Damaria is truly a troubled planet, but it also showcases that we ourselves are still struggling on ours—obviously not to that extent—although some days it feels like it. How do you think Carol struggles with that realization?
Tess Sharpe: Carol is really well-versed in the sexism and misogyny of our world, and also the sexism and misogyny that exists in the universe at large, because unfortunately, it ain't restricted to us earthlings. One of the dangerous things about existing as a person who has to deal with misogyny in this world is that sometimes you experience so many everyday occurrences of it you become used to it. But I think that no matter how well-versed you are, how well-read, how well-prepared, there are always moments of misogyny that you experience or witness that fans that ever-present fire in your gut into a full-out flame.
I think meeting Rhi was a moment like that for Carol. That fire in her gut is always lit, but having the result of such an evil regime in front of her in the form of Rhi fanned that fire into something Damaria could never have expected.
Marvel.com: There are a lot of recognizable pop culture references in the book, from Sweet Valley High, to Roxanne Gay and Handmaid's Tale. Tell me about incorporating some of these nods to authors, books, and fandom.
Tess Sharpe: This was very fun for me! Books and reading are an important touchstone in this novel. Rhi is banned from reading anything but Damarian history—written by the Keepers, of course—during the years she spends imprisoned and whole world opens up to her when she gets to Earth and Amadeus offers her his e-reader.
The wonderful children's literature scholar, Dr. Rudine Sims Bishop, talks about how books can be mirrors and windows to different people. Some books you pick up are mirrors that reflect back yourself (ie. books that give you representation) and some books are windows in which you get to observe a different viewpoint and learn about it. Rhi has been deprived of both literary mirrors and windows and been steeped instead in political propaganda, which is very intense. Having the team share their love of reading—and some of their favorite books and feminist scholars—is a chance to not just right this wrong done to her, but also shout out some of my favorites because fandom is a beautiful thing. I would not be the writer I am without it!
Marvel.com: We watch Rhi grow and become more confident throughout the book. "Truth is power" is an important takeaway in this book. Why was that theme important to you?
Tess Sharpe: People who experience misogyny in this world get gaslighted a lot and I wanted to touch on that in this book. I don't particularly hold with the adage "truth will set you free" because sometimes it takes a lot more than that. But there is tremendous power and strength in truth, in knowing it, and in holding to it. Rhi spends every day of her captivity being told she's nothing, that's she's worthless, and she repeats the last words her mother spoke to her, the truth that she keeps with her: "you are strong and smart." And it's that truth that becomes not just her rallying cry, but one of all her sisters'.
The tie-in novel from Marvel Comics and Titan Books is now available wherever books are sold. Read an excerpt from Captain Marvel: Liberation Run here.
The Hype Box
Can't-miss news and updates from across the Marvel Universe!