Comics
Published August 25, 2017
Thanos: Titan Unleashed
Donny Cates and Geoff Shaw plot a Marvel Legacy course for destruction!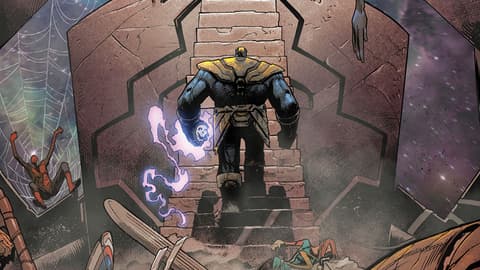 What happens when Thanos wins?
Prepare to find out when writer Donny Cates and artist Geoff Shaw, the critically acclaimed team behind the series God Country, answer that question with a story set to rock the Universe. On November 22, the Mad Titan leaps into the Marvel Legacy era with THANOS #13!
We caught up with Donny to hear what he has in store for the cosmic conqueror.
Marvel.com: How did your involvement in THANOS come about? What attracted you to writing this book?
Donny Cates: Editor extraordinaire Jordan D. White called me and asked if I'd like to write the book! I believe he and [Editor-in-Chief] Axel Alonso enjoyed my previous work with Geoff, which led to both of us being approached for the project.
As for what attracted me to the book, I have always been such a huge fan of Marvel cosmic stories—and of Thanos especially. It's funny because I don't think Jordan knew that when he asked if I wanted to join the project. But I have to admit that when I got that call, I nearly cried when he told me which book I'd be working on. It really is such a dream come true to work with the Mad Titan. I'm a kid in a candy store on this project.
Marvel.com: Thanos has a big fan base despite being a "bad guy." What do you think makes him so appealing to readers?
Donny Cates: I think Thanos' goals are so clear, understandable—and disturbingly relatable! That being said, everyone likes a bad guy, and everyone can be attracted to a bad guy whose goals are as…cosmically abstract as Thanos' are. He's a curious beast, because what he wants—his biggest goals in life—are so horrific and cruel, but ultimately he does everything out of love. It's just fascinating to watch. He's endlessly layered and complex, but at the same time he's straightforward and brutal.
Marvel.com: How did you and Geoff Shaw first meet—and what's it like working in the Marvel Universe with him?
Donny Cates: Geoff and I actually met back in art school at the Savannah College of Art and Design. Geoff was this phenom artist and just an amazing guy, and I knew even back then that he was going to be something special; someone important. I wanted to work with him from the first moment I saw his work, and first got my chance with a book we did called Buzzkill. Since then, we've done three books together, and over the years we've become really close friends. I am honored to have him at my side on our first big adventure into the Marvel cosmos. It's so comforting knowing that he's here. I love that Shaw fella!
Marvel.com: What do the two of you have planned for the Mad Titan?
Donny Cates: We have some pretty insane plans! When I first turned in my outline for the book, I was certain Marvel was going to make me tame it down or alter it—just because of the massive scope of everything. I put in all of the characters and big moments that I've always wanted to play with. I turned my synopsis in, and to my utter shock—and joy—all these insane things were approved.
We really went big with the Thanos Wins arc—and the subsequent arcs that follow it. It's really so much fun. Going big is the only way to deal with Thanos. Go big or go home.
Marvel.com: The previous THANOS series featured several regular supporting characters that constituted a "family," including Nebula, Starfox, and Thane. Which supporting characters might we see in your book?
Donny Cates: I really can't comment on this one actually, as a huge part of this upcoming arc depends on some rather shocking supporting characters. Rest assured, however, that as a massive Thanos fan myself, I want to get my hands on all of his supporting cast at some point. That being said, keep your eyes peeled for some great new characters as well. That's been the best part of all of this for me—getting to add to this incredible cosmic cast. I think people are going to have a great time with this book. I know I am!
THANOS #13, by Donny Cates and artist Geoff Shaw, drops on November 22!
The Hype Box
Can't-miss news and updates from across the Marvel Universe!