Comics
Published October 24, 2017
Thanos: Triumph of the Titan
New series writer Donny Cates dives into Marvel Legacy!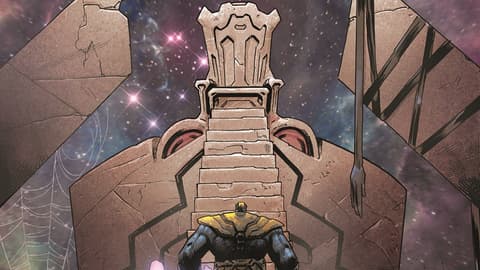 On November 22, the bad guy wins.
Marvel Legacy gets a taste of unrepentant villainy as the Mad Titan consolidates his power and threatens the Marvel Universe like never before in THANOS #13!
A dynamo new creative duo—writer Donny Cates and artist Geoff Shaw—take over the book, which kicks off with an arc ominously titled "Thanos Wins." And when Thanos wins, a lot of other people lose…
We spoke with Donny to get a clearer picture of the coming threat.
Marvel.com: We know that Thanos has an obsession with Death—but other than a fascination with the macabre, what makes the Mad Titan tick?
Donny Cates: Well, that's something that we'll be really diving into in this first arc. I've said in past interviews that I oddly (and perhaps worryingly) relate to the Mad Titan. And I think it comes down to his insane drive. I can relate to that (I'm writing like eight books right now) in a very real way. This idea that no matter how high Thanos climbs, it will never be enough for him. He's searching for something he will never find. I think there's something quite pretty about that.
In an evil murderous way, of course.
Marvel.com: How would Thanos describe his own legacy?
Donny Cates: Thanos has a very singular drive, right? He just wants her. So I don't know that he necessarily thinks about how he'll be remembered, you know? In his ideal world, everyone else is dead. So I think Thanos spends little time fretting over his legacy.
Marvel.com: The words "Thanos Wins" can't be good for everyone. What will those two words mean for the Marvel Universe?
Donny Cates: I'll say this: as bad as you think it might be for your favorite characters, you can't imagine how horrific it's really going to be. This isn't a very nice book. I mean, its super fun…but yeah, don't read it late at night. It has been by far the most brutal thing I've ever written. It gave me nightmares.
Marvel.com: Will Thanos be he making any allies to achieve his goals?
Donny Cates: There will be one ally that I think people will get a kick out of. He's this cosmic lunatic with a flaming skull and a super rad space motorcycle. He's my favorite character of all time. He's very…mysterious. I look forward to people trying to figure out who he really is.
I can't wait for this book to actually come out so I can answer your questions honestly! [Laughs] This book has been so much fun, and it's my favorite thing I've ever written, and I want to talk about it so bad, but, alas…
Marvel.com: Last question: would you describe Thanos as misunderstood or just totally insane?
Donny Cates: Yes.
Join Donny Cates and artist Geoff Shaw for THANOS #13 on November 22!
The Hype Box
Can't-miss news and updates from across the Marvel Universe!