Comics
Published August 10, 2018
The Fantastic Four Wedding Is Definitely Going to Happen... Right?
Marvel Executive Editor Tom Brevoort promises that everything will go according to plan on Ben and Alicia's big day!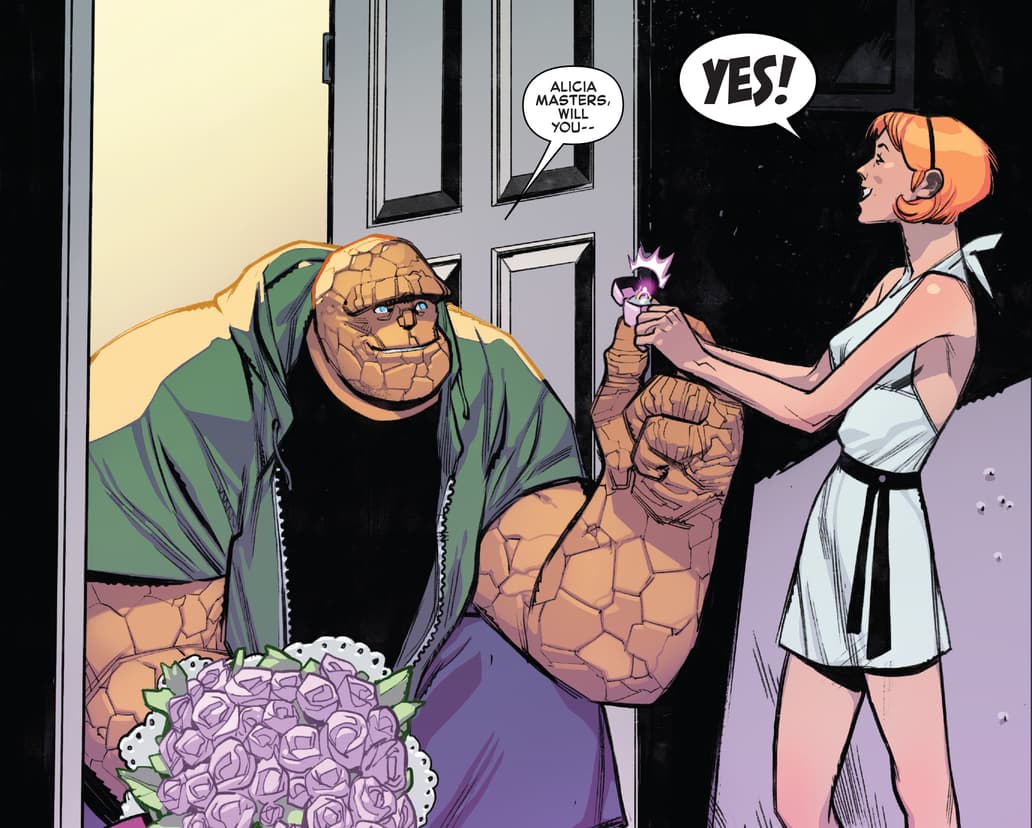 The first issue of the new FANTASTIC FOUR series featured a milestone for one member of Marvel's First Family -- Ben Grimm aka Thing dropped to one knee and proposed to Alicia Masters! It's a happy moment that's been years in the making, but as everyone knows, Marvel weddings rarely go off without a hitch. Even Reed and Sue Richards can attest to that! So can Marvel fans safely save the date for the Grimm-Masters wedding? During an appearance on This Week in Marvel, Marvel Executive Editor Tom Brevoort and series editor Alanna Smith wanted to reassure everyone that YES -- the wedding is on, vows will be recited, the bride will be kissed, and Ben and Alicia will be husband and wife.
Brevoort said: "There's a proposal in FF #1, and there will be a wedding in FF #5, which is also #650. And it's actually a wedding, and this is perhaps a first for comics, where the actual wedding will take place. … In 2018, the only wedding in comics that's going to go down just the way it's advertised."
Smith added: "I think the FF are in kind of an unusual position for us to be in because in a lot of our books, it's hard to really let characters grow and evolve and get married and have kids because comics have to be around for so long – the more baggage you create, the more baggage you have to deal with. But it's so built into the premise of FF that they grow, and evolve and have kids and get married that you can do so much more with them than you can with almost any other character you're dealing with. So we're definitely taking full advantage of that here."
You can listen to the entire episode here and watch a clip of the interview below!
FANTASTIC FOUR #1 is on sale now in comic stores and online! Get your copy today!
Subscribe to This Week in Marvel on Apple Podcasts or download the episode from Marvel.com/podcasts!
With new episodes every Friday, This Week in Marvel delivers all the latest Marvel discussion and news about comics, TV, movies, games, toys, and beyond! Tweet your questions and comments about the show to @AgentM, @jamiefrevele, or @Marvel with the hashtag #ThisWeekinMarvel!
The Hype Box
Can't-miss news and updates from across the Marvel Universe!