Comics
Published October 20, 2017
The Amazing Spider-Man: For the Love of Pete
Watch out as the "Fall of Peter Parker" continues!
The infamous Parker Luck has hit Pete hard recently—and it doesn't look like it'll stop any time soon.
Despite his budding romance with Mockingbird, Spider-Man's difficulties continue with "The Fall of Peter Parker, Part 3" in AMAZING SPIDER-MAN #791 written by Dan Slott with art by Stuart Immonen. The odds seem up against Spidey—so will he manage to escape this tough time with his new relationship intact?
We asked Spider-Man editor Devin Lewis to fill us in on what might be in-store for the Wallcrawler.
Marvel.com: Tell us about the "Fall of Peter Parker" story arc!
Devin Lewis: It's Peter Parker, and he's back and worse than ever! That's how the saying goes…uh, right?
Peter's been living the good life as the big brain behind Parker Industries—the preeminent technology company in the Marvel Universe for several months. But that position of power came with more responsibilities than he ever anticipated, and Peter found himself faced with new kinds of challenges: keeping his employees fed, his customers happy—heck, even operating within the bounds of international law became a headache!
For weeks, Peter's been carrying the weight of the world on his shoulders, and despite all his Spider Strength, everything's come crashing down around him! No more Baxter Building, no more gadgets, gizmos, or doohickeys. Peter Parker, heading back to square one.
I know what you might be asking yourself—will these changes impact Peter's wall-crawling, webslinging alter ego, Spider-Man? You betcha! Am I gonna tell you how? You betchanot!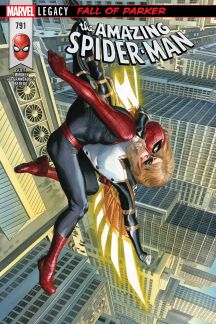 The Amazing Spider-Man (2017) #791
Marvel.com: How has Peter's love life been going before this recent development with Mockingbird? It's no secret that he's had more than his fair share of heartache in the past…
Devin Lewis: Oh, man, hasn't he? I can't think of many people who have been as unlucky in love as Peter Parker (but that's kind of what we like about him, right?).
Peter's love life has been especially difficult ever since he came back from SUPERIOR SPIDER-MAN. It's been simmering in the background of Dan's story—it can be hard for Peter to connect with people since getting his body back.
Before Bobbi, Peter involved himself with Lian Tang, one of his most trusted advisors at Parker Industries, who turned out to be a traitor working for the dangerous criminal organization called Zodiac. That probably didn't help Peter's intimacy issues…
Marvel.com: How did Peter and Mockingbird—A.K.A. Bobbi Morse—meet? Tell us about their history.
Devin Lewis: Despite running in the same super heroic circles, Mockingbird and Spider-Man never really interacted until 2015's AMAZING SPIDER-MAN #1, and we've been steadily building towards smooches ever since!
Initially, Peter and Bobbi had a professional relationship. Peter supplied S.H.I.E.L.D. with tech, and Bobbi served as Parker Industries' official S.H.I.E.L.D. liaison, handling communication between the company and Nick Fury. As Mockingbird, she also trekked across the globe and helped Peter track members of Zodiac and eventually put the organization down (or so it seems!) which seems like a pretty strong foundation for any relationship.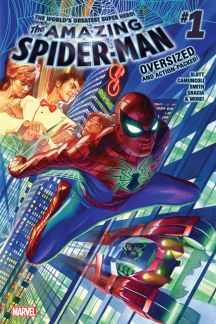 Marvel.com: This relationship seems a little different to Peter's previous attempts at love. Would you agree?
Devin Lewis: To his credit, Peter really tries these days. Especially in the chaos of his company's liquidation, Peter has been struggling to find the good in the world, but he tries nonetheless. And, fortunately, Bobbi acts as someone he can look to in order to see that there's goodness out there.
It helps, too, that Bobbi has been trying even harder than Peter. A bombshell in the epic AMAZING SPIDER-MAN #27, it emerged that Bobbi quit her job to make sure that Parker Industries could carry out an international operation. Mockingbird put Nick Fury in his place and proved her loyalty to Spider-Man and Peter. That's new—there haven't been many people who have cared about Peter enough to throw their lives away.
I dunno about you, but boy, I hope he doesn't screw it up.
Marvel.com: How does the Legacy storyline fit into all of this?
Devin Lewis: Heartache? Scraping to get buy? Punching bad guys!?
Heck, the only way this story could be Legacy-er would be if Pete ate wheatcakes!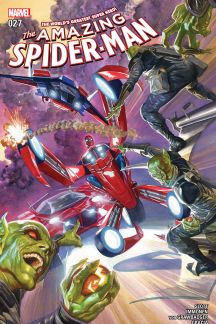 Marvel.com: What does the legacy of Marvel mean to you, as an Editor and as a fan?
Devin Lewis: One thing we talk about a lot here at Marvel—not just now during Legacy, but always—is that we stand on the shoulders of giants.
We're fortunate enough to tell stories about the greatest characters in the world, all taking place in an amazing, continuous science fiction universe thanks to creators like Stan Lee, Steve Ditko, Jack Kirby, and so many more I don't have the space to list. Their influence can still be felt in Marvel Comics today.
But many creators have added their voices to the Marvel chorus in the time since Stan and Jack ran things, and all of those voices have brought their own unique life experiences to Marvel's characters.
Through that kind of inclusivity of experience, the Marvel family has grown across the world—and you can never tell what Marvel story will bring a measure of happiness to a reader.
Speaking personally, I took great comfort in reading AMAZING SPIDER-MAN #36, the first issue of Spider-Man published after 9/11. As an 11-year-old kid at the time, I felt confused about what was going on in the country and the world. It was scary.
But when I read that issue, Spider-Man felt confused, too. He was angry, hurt, panicking. And most importantly, he was scared. Just like me. And that helped me be less afraid.
To me, that's what Marvel's legacy is.
The legacy continues with writer Dan Slott and artist Stuart Immonen's AMAZING SPIDER-MAN #791 on November 15!
The Hype Box
Can't-miss news and updates from across the Marvel Universe!