Comics
Published October 31, 2017
The Bad Guy Wins: A Thanos Sketchbook
Artist Geoff Shaw promises a Marvel Universe like you've never seen!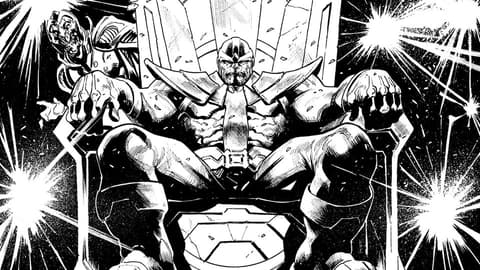 Every villain in history has wanted something. That ultimate goal or triumph that the heroes we know and love tend to get in the way of. But what happens if one of them wins? That's the story that the new THANOS creative team of writer Donny Cates and Geoff Shaw will explore this fall. The duo threatens to do what no one else ever has: let the Mad Titan achieve ultimate victory! However, to see what happens when the Death-obsessed warrior does next you'll have to check out the new run starting with THANOS #13 on November 22.
We talked with Shaw about working with longtime friend Cates, rooting for the bad guy, and offering up sights previously unseen!
Marvel.com: How does it feel to begin your Marvel art career drawing one of the most dangerous villains in the universe?
Geoff Shaw: It's unbelievable! Marvel has always been my dream job, and to start things off with their flagship villain is a surreal honor. I may need to be pinched.
Marvel.com: As an artist, what is it about Thanos as a character that intrigues you?
Geoff Shaw: There's something really exciting and challenging about drawing a villain over say, a super hero. On the one hand, you want to root for him; after all, I think everyone has fantasized about being the bad guy. As an artist, you really get to act out these characters to bring them to life, so it's been fun to jump into his boots.
At the same time he's the main character, and in a weird way you need to identify with and root for him, and there I think there is a depth to him that is endearing, albeit very disturbing.
Marvel.com: With a character as powerful as Thanos, is it difficult coming up with designs for characters or elements that will actually challenge and threaten him?
Geoff Shaw: Threatening for Thanos? That's a very short to-do list! [This story] is called "Thanos Triumphant" after all.
Marvel.com: You and Donny have worked together a number of times. How has your collaborative relationship evolved in that time?
Geoff Shaw: Aside from [Donny] being one of my best friends, creatively we share a very similar sensibility for storytelling and a strong love for character. Between the script and page, the process is very fluid. I've always loved Donny's writing and he really trusts my eye for the page. That creative comfort has only grown over time. Also, I think we both really love and believe in the stories we tell, so that makes all the difference.
Marvel.com: It looks like THANOS will deal with a lot of darkness both in color and tone. How is it dealing with all that on the page?
Geoff Shaw: A terrifying blast! Thanos does bring with him a darkness that we dive head first into. It's flat out brutal! That said, there is a surprising amount of fun here too.
We take Thanos to some insane places—places I never thought in a million years I would see, let alone get to draw! This is the Marvel Universe after all, but it's like you've never seen it before.
Donny Cates and Geoff Shaw explore the Mad Titan's victory march starting with THANOS #13 on November 22.
The Hype Box
Can't-miss news and updates from across the Marvel Universe!