Comics
Published December 4, 2018
The Birth of Erik Killmonger
Look at the character's comic book origin!
Long before he became "Killmonger," there was a boy known as N'Jadaka. A boy who was stolen from his home and taught only the world's cruelties. A boy who knew the Black Panther only as a fairy tale, a whisper from strangers. This is the story of a man who driven by revenge. This is the legend of Killmonger.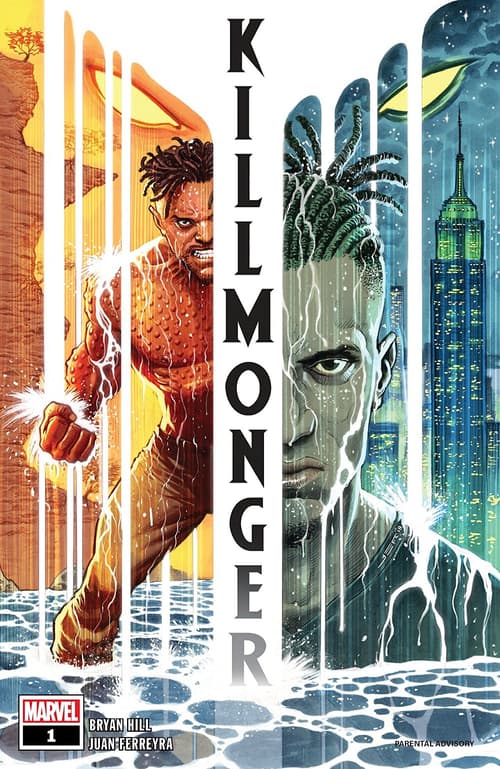 But where did the character get his start?
The character debuted back in 1973's JUNGLE ACTION #6-#8 by Don McGregor and Rich Buckler when Black Panther took up residency as the book's star. At the time, T'Challa had spent a great deal of time away from his homeland which lead to a great deal of political strife. Upon returning, he found an old man–who was loyal to the King–caged and tortured by agents of a new element led by Killmonger.
After hearing of this new threat and seeing the destruction he wrought, Black Panther finally faced Killmonger for the first time at Warrior Falls. The challenger not only admonished the king for forsaking his country, but shrugged off T'Challa's blows before sending his leopard, Preyy, to finish off the Panther. T'Challa defeated the animal, but still went over the falls with some help from Killmonger.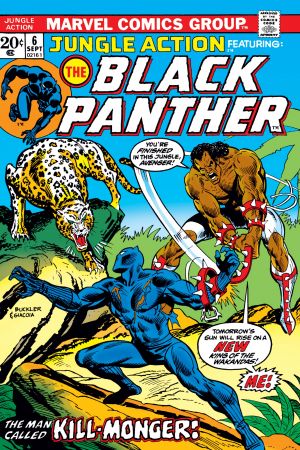 Assuming the king dead, Killmonger rallied his own forces–including the superhuman snake wrangler Venomm, the deadly Malice, and King Cadaver–to push their advantage.
Meanwhile, T'Challa healed with his counsel and relayed the origins of Killmonger, formerly known as N'Jadaka. During Klaw's attack on Wakanda as seen in FANTASTIC FOUR #53–which led to the death of previous king and T'Chall's dad, T'Chaka–N'Jadaka had been beaten and forced into slavery, but eventually broke free and made his way to Harlem where his hatred for T'Challa and Wakanda simmered for years. These events are presented in flashback later found in JUNGLE ACTION #16.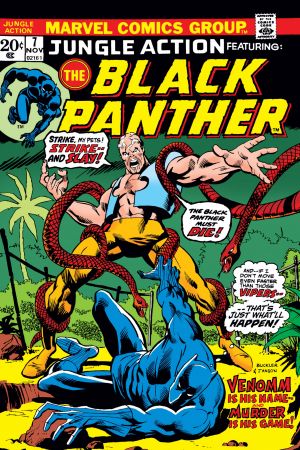 During Black Panther's first stint with the Avengers, the young man–then going by Erik Killmonger–spoke to T'Challa about their shared heritage and the king brought the young man back to their homeland, only to lose track of him. All of this proved part of Erik's plan to take control of Wakanda.
Looking to make amends for his mistake, T'Challa stalked Killmonger's Death Regiment until he found the true reason for Erik's efforts in Wakanda: a secret Vibranium mining operation. Though the villain dipped out from issue #9 to #11, he returned for issues #12-#17, and, after another fight, left T'Challa for dead while he amassed his own forces to take over Wakanda.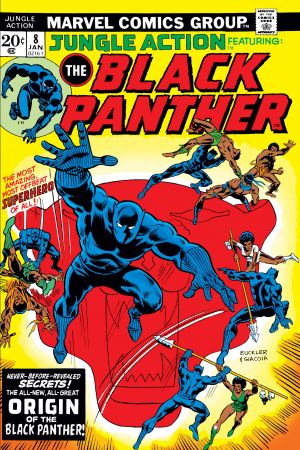 Finally meeting up again after a year of torment, Black Panther and Killmonger fought once again at Warrior Falls. The would-be conqueror nearly defeated his opponent, hoisting him up above the waterfall once again, only to find himself tumbling over thanks to a bull-rush from a young boy named Kantu whose village Erik destroyed.
Killmonger may have fallen to his death that day, but would go on to get the resurrection treatment from none other than Mandarin in IRON MAN ANNUAL #5. Since then, he's become the one person who seems to always have T'Challa's number...
The Hype Box
Can't-miss news and updates from across the Marvel Universe!