Comics
Published September 6, 2018
The Comics History of Steel Serpent
Dive into Davos' hard-hitting past, as Iron Fist's friend-turned-foe steals the spotlight!
Family feuds tend to be the most bitter, and the term takes on a whole new meaning when delving into the relationship between Davos and Danny Rand, aka Steel Serpent and Iron Fist. The former felt it was his destiny to become the mystical city of K'un-Lun's immortal weapon and champion, but had his hopes dashed by interference from the Rand family, sending him on a path of revenge. 
Steel Serpent has a notable history with Danny Rand in Marvel Comics going back decades, and now serves as the inspiration for the character Davos (played by Sacha Dhawan) in Season 2 of "Marvel's Iron Fist," now streaming on Netflix. 
Let's take a look back at the history of Steel Serpent in the comics and his evolving dynamic with the Immortal Iron Fist...
Enter: Davos
Enter: Davos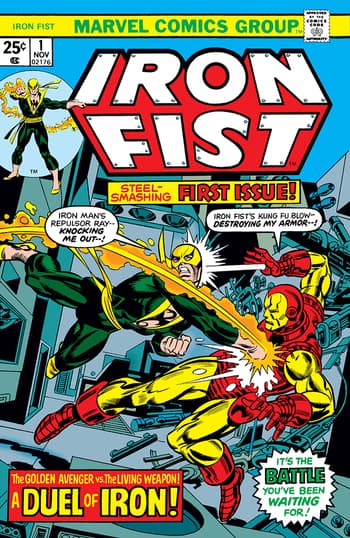 Before he took on the mantel of the Steel Serpent and confronted Danny Rand face-to-iron fist, Davos ran into his rival's ally, Colleen Wing, at JFK Airport in New York, dropping the Daughter of the Dragon with a series of strategic strikes in IRON FIST #1. Before handing the fallen Wing over to minions of the malevolent Master Khan, the mysterious martial artist talks tough and ensures his own escape. Later, Davos confronts Ward Meachum, another Rand rival, and begins to put into motion his machinations against Iron Fist…
Collision
Collision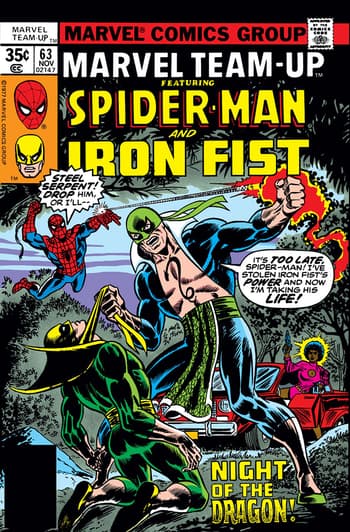 After months of stalking his prey, Steel Serpent issues a full-on challenge to Iron Fist in MARVEL TEAM-UP #63, invoking K'un-Lun and other aspects of Rand's past to draw Danny in. Before the two duel, Davos reveals his relationship to Danny's trainer, Lei Kung: that of a disgraced and disowned offspring, driven from home by his foe's father, Wendell Rand. The Serpent manages to siphon some of Iron Fist's power, then uses ill-timed interference from Spider-Man to nearly finish off his opponent for good; only the fortuitous appearance of Misty Knight saves Danny's life.
Round Two
Round Two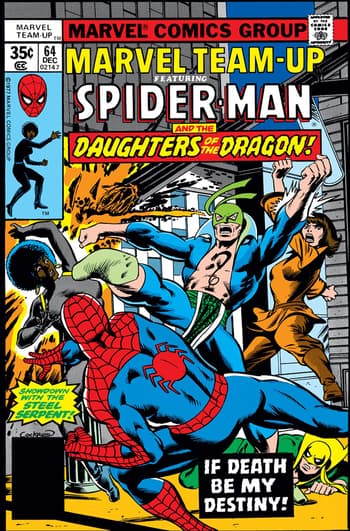 In MARVEL TEAM-UP #64, a triumphant Steel Serpent reflects back on his past, being raised by Lei Kung alongside Wendell Rand, then being spurned of the opportunity to claim the power of the Iron Fist in favor of his outsider "brother."Against his father's orders, Davos unsuccessfully challenged the mystical dragon Shou-Lao, barely escaping with his life and earning banishment from K'un-Lun. Back in the present, the Serpent manages to hold off a combined assault from Spider-Man and the Daughters of the Dragon before Iron Fist recovers and resumes their grudge match; ultimately, the younger Rand dispatches Davos by turning the power he stole against his corrupt counterpart.
Return Engagement
Return Engagement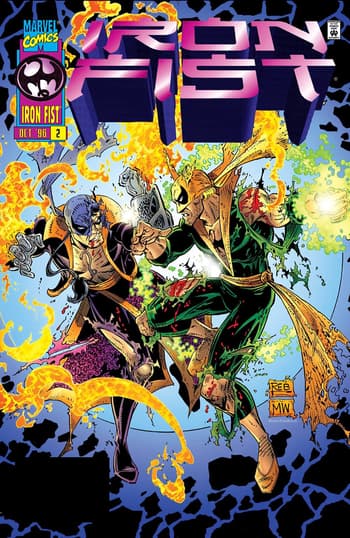 Long after their initial encounter, in IRON FIST #1 and #2, Davos manipulates Danny, as well as the cosmic being known as the Contemplator, into restoring his physical form. Returning to K'un-Lun, Steel Serpent once again bested Iron Fist, and confronted his father, Lei Kung, demanding he be made the mystical city's new protector. Rand managed to rally, beating back the threat of his ferocious foe, and ultimately choosing not to end Davos'life despite having the opportunity; the Serpent slinks away in defeat, spurning reconciliation with his family and vowing to pursue "a greater destiny."
Rivalry Renewed
Rivalry Renewed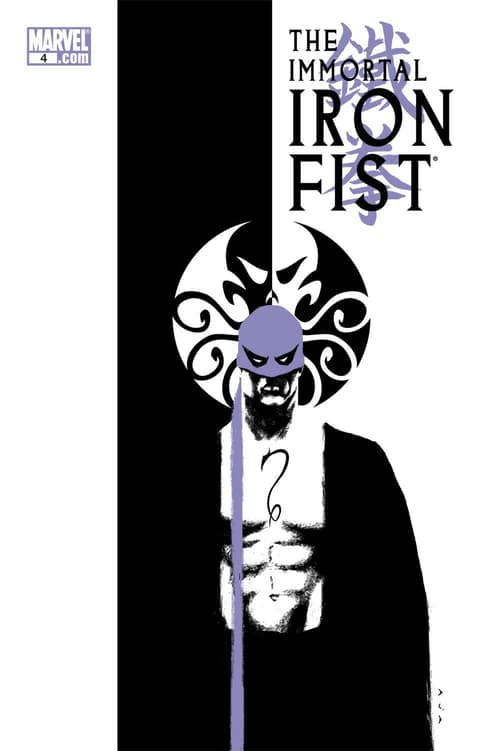 Resurfacing as a disciple of the Crane Mother, one of K'un-Lun's ancient enemies, in IMMORTAL IRON FIST #1 - #6, Davos allies with Hydra terrorists to target his home while also again confronting Danny Rand and taking up their eternal battle once more. This time around, the Serpent strikes a killing blow, defeating and slaying Orson Randall, a previous holder of the Iron Fist; however, Davos'dealings backfire when Rand receives additional chi from his perishing predecessor and manages to drive off his enemy—for now.
Redemption
Redemption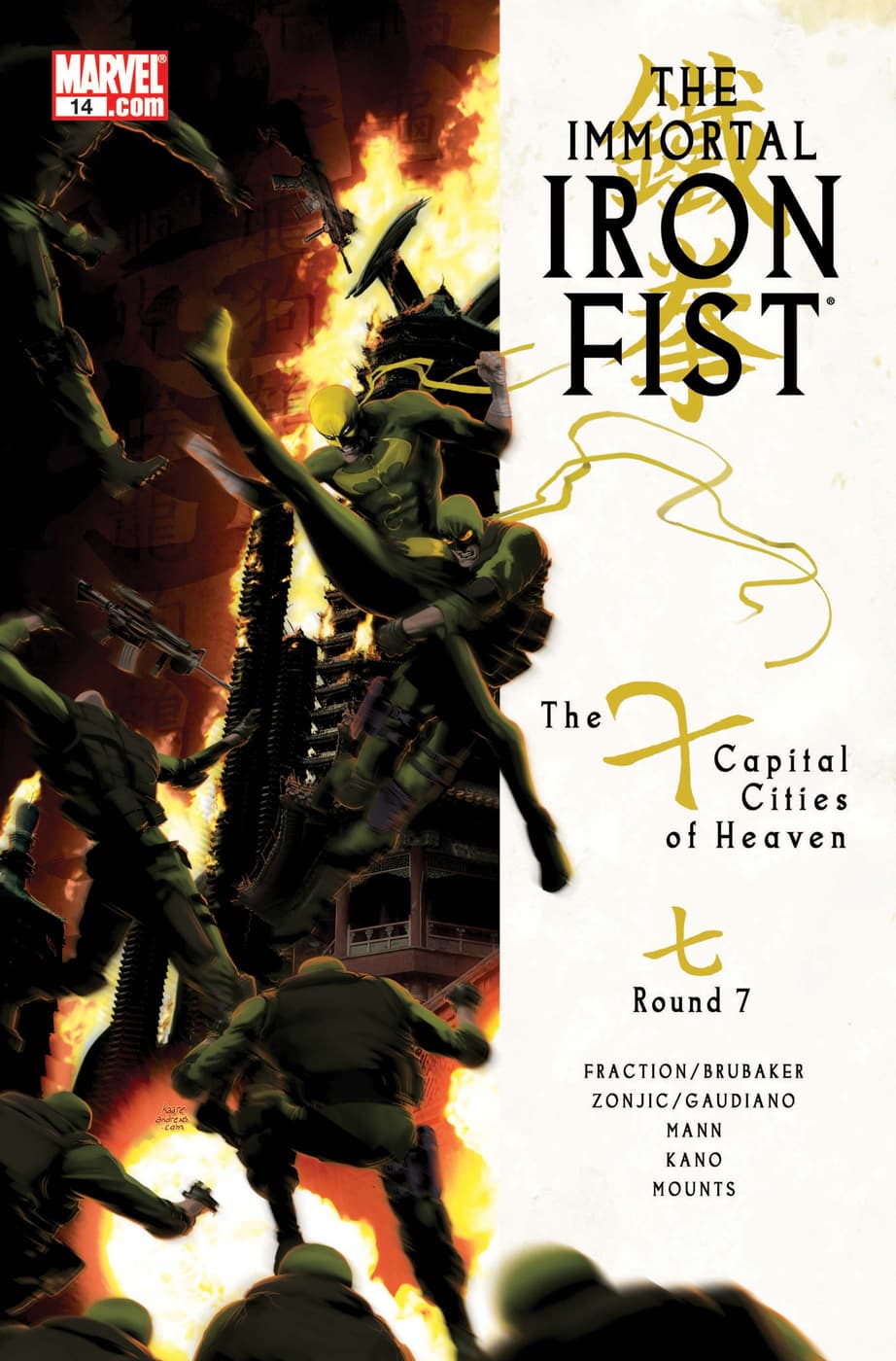 Davos enters the Tournament of the Heavenly Cities in IMMORTAL IRON FIST #8 - #14, representing Crane Mother and rebranding himself as the Steel Phoenix. Demonstrating his devastating new power, K'un-Lun's disgraced former son brutally beats Tiger's Beautiful Daughter, badly injuring his opponent. An angry Prince of Orphans then challenged the Phoenix, seeking revenge for his fallen fellow Immortal Weapon, and putting the boy in his place, knocking him out of the competition and breaking his jaw. When Hydra lays siege to K'un-Lun under the direction of a traitorous Yu-Ti, Davos finally has a change of heart, reuniting with Lei Kung and actually battling alongside Iron Fist to save their shared home. In the aftermath of the battle, the Steel Serpent once more takes on the solitary task of guarding a valuable dragon's egg in hopes of finding solace.
The Hype Box
Can't-miss news and updates from across the Marvel Universe!