Comics
Published April 22, 2019
The Ducked Up History of Howard the Duck
From Spider-Man to Ghost Rider, look through a list of Howard's wildest team-ups!
Howard the Duck's a pretty gregarious goose when he wants to be...which isn't often. In fact, he's a duck who makes his own decisions most times, but somehow has gained an eclectic group of friends and allies.
Should we call them team-ups? Maybe quack-ups?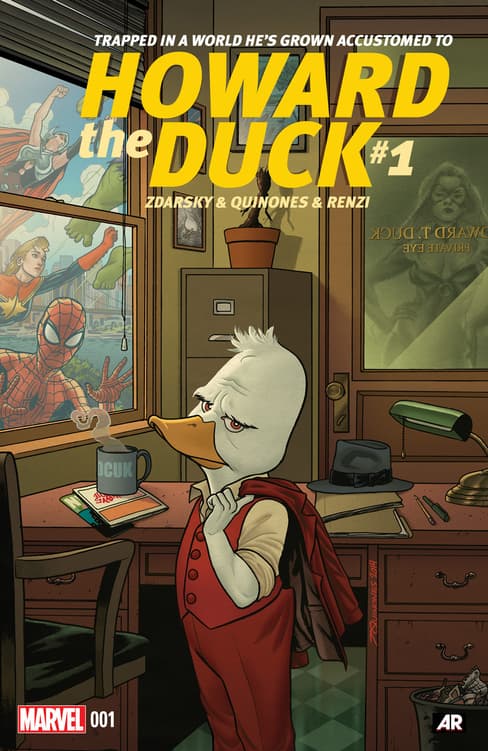 Whatever you call them, here are a few of the most fun, frantic, and infamous Howard happenings, either as a guest-star or with a guest-star.
Man-Thing
Of all the denizens of the Marvel Universe, it came down to the macabre Man-Thing to meet our dear duckie on his first go-round.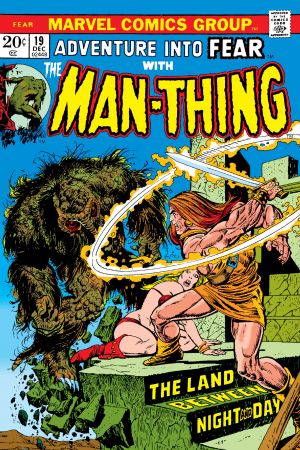 In ADVENTURES INTO FEAR #19 and MAN-THING #1, Howard was plucked from his duck-world and tossed into the muck-monster's swamp, only to be whisked away to another dimension by a sorcerer where the little guy promptly slipped off a floating stepping stone to land up in…Cleveland?
Spider-Man
In the by-now-classic HOWARD THE DUCK #1, the main mallard ran afowl of the financial wizard Pro-Rate and his Cosmic Calculator, but also met his soon-to-be-soulmate Beverly Switzer and a certain friendly neighborhood web-head who absolutely didn't know what to make of the wondrous web-foot.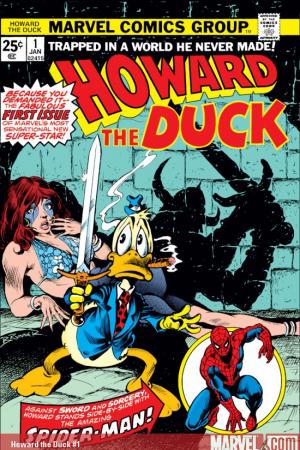 Waugh!
The Defenders
The majority of Marvel's great, big Treasury books offered choice reprints, but writer Steve Gerber and artist Sal Buscema pulled out all stops in MARVEL TREASURY EDITION #12 to pluck the duck in an all-new saga detailing Howard's teaming with the Defenders and their titanic tussle with Dr. Angst, the Spanker, Tillie the Hun, Sitting Bullseye, and the horribly sucky Black Hole.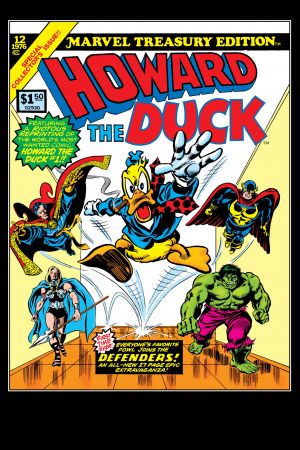 Marvel Treasury Edition (1974) #12
published

added to marvel unlimited

penciller

writer

penciller (cover)
What is Marvel Unlimited?
Did Howard actually help out the super squad in their fight against this goofy group of baddies? Well...it's a matter of interpretation!
She-Hulk
Some see it as a match made in Marvel heaven, but however viewed, the cataclysmic convergence of Howard the Duck and the jade giantess in SENSATIONAL SHE-HULK #14-17 cannot be equaled by other comics' mere story arcs.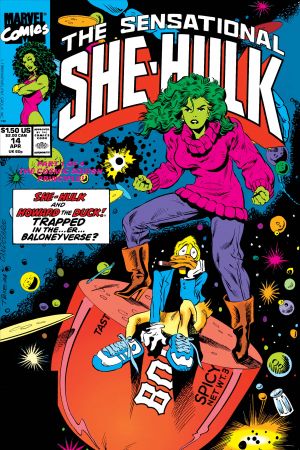 Sensational She-Hulk (1989) #14
published

added to marvel unlimited

writer

penciler

letterer

colorist

artist

inker

penciller (cover)
What is Marvel Unlimited?
Where else can you get an anthropomorphic duck, giant green woman, a Golden Age hero out of retirement, a divergent Watcher, and the otherworldly awesomeness of the Cosmic Squish? Nowhere, that's where!
Generation X
Yeah, this really happened.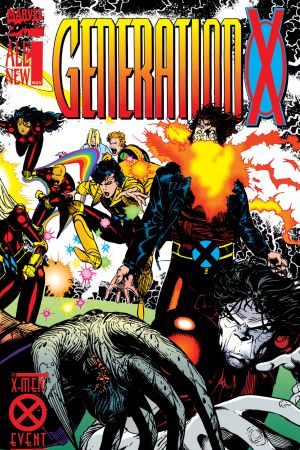 In GENERATION X #20 Howard picked up some hitchhikers—never do this at home, kids!—who happened to be the mutants Skin and Chamber, and by GENERATION X #25 our feathered friend was fighting Black Tom with the help of the Man-Thing. Oh, and somehow it all lead into a funky little mini-series called DAYDREAMERS.
Ghost Rider
The Dan Ketch version of the skulled-cyclist teamed up with Howard in GHOST RIDER #81-82 and just for good measure added sorceress Jennifer Kale, the Valkyrie, and Devil Dinosaur, and Moon Boy into the mix just for grins and giggles.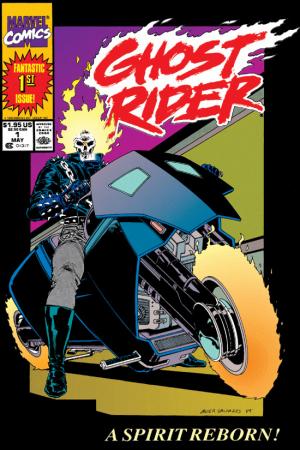 Except it wasn't very funny, 'cause they had to battle Black Rose and Blackheart and they're mean.
Read these Howard the Duck issues and more on Marvel Unlimited right now!
The Hype Box
Can't-miss news and updates from across the Marvel Universe!