Comics
Published October 4, 2017
The History of Kirby: 1969-1970
The King's Silver Age Marvel work comes to a close with a milestone for the Fantastic Four and more.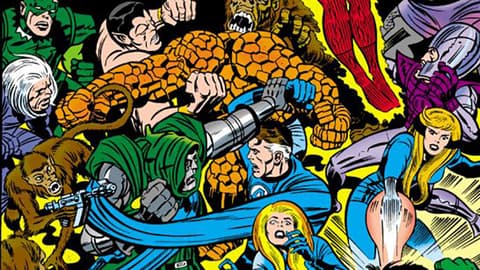 In celebration of Jack "King" Kirby's 100th birthday, we're reviewing the man's legendary creations with a year-by-year examination of his unparalleled career at Marvel Comics. Read on and witness the work that made him comic book royalty.
The year 1969 became a turning point in the career of Jack Kirby as the legendary artist began what would be his final Marvel projects during the Silver Age of Comics.
Jack wound down his output even more in the last year of the Swingin' Sixties, passing CAPTAIN AMERICA off to newer artists like Barry Windsor Smith and concentrating on his landmarks, FANTASTIC FOUR and THOR. With Stan Lee, Jack dove into an appearance by the mysterious Inhumans in FANTASTIC FOUR #82, as well as a new Doctor Doom saga that began in FANTASTIC FOUR #84. Later in the year, he and Lee created a planet of Skrulls who'd adopted an early-20th century gangster lifestyle in FANTASTIC FOUR #92, which led to the Thing battling a fantastic new Kirby creation, the robot Torgo, in FANTASTIC FOUR #93.
In CAPTAIN AMERICA #109, jack provided a big send-off for the Sentinel of Liberty with a retelling of his origin, then returned for a single story of super heroes' remembrances of Cap in CAPTAIN AMERICA #112.
One Jack greatest co-creation, Galactus, returned in THOR #160 to bedevil the Thunder God as well as another Kirby stand-out character, Ego the Living Planet. Later, in THOR #165, Thor battle Him before Galactus returned once more to stomp his way through the rest of the year.
As 1970 dawned, Jack made plans to leave Marvel. He'd already logged artwork for upcoming issues of his books and finished more in the first few months of the year. This provided Marvel and its fans a few more chances to see "The King" on their favorite characters before his departure.
Jack had drawn many a spooky witch in his early days on monster and horror anthologies, but perhaps his superlative success with the them came in the form of Agatha Harkness, introduced in FANTASTIC FOUR #94. A few issues later, Stan and Jack celebrated one-hundred installments of "The World's Greatest Comic Magazine" in FANTASTIC FOUR #100, and then followed that up with a clash between the FF and Namor the Sub-Mariner with his new ally Magneto.
Over in THOR, Jack surrounded the Thunder God with the flames of Surtur in THOR #176, and then ended his run on the book with the incredible cover of Thor in all his glory on THOR #177.
One fascinating footnote of Jack's last days at Marvel arrived in the form of a new anthology Stan called AMAZING ADVENTURES. In the first four issues, Jack not only drew an amazing solo adventure of his Inhumans, but also scripted it, too. This rare combination of writing and art put a singular capstone on Jack Kirby last collaborations with Marvel in the 1960s. From there, he made his way to DC, but by no means did he shut the door on ol' Marvel for good…
The Hype Box
Can't-miss news and updates from across the Marvel Universe!