Comics
Published May 18, 2017
The History of Spider-Man: 1965
Spidey lands in a gang war with The Green Goblin and much more!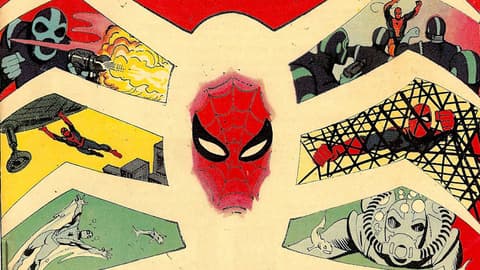 For over 50 years, Spider-Man has been a sensational standout in the Marvel Universe, and this summer, the web-slinger swings onto the silver screen once more in "Spider-Man: Homecoming"! In celebration of this stories history, we present Spidey's spectacular step-by-step story!
Cantankerous publisher J. Jonah Jameson hired a scientist to create a menace to destroy the wall-crawler in AMAZING SPIDER-MAN #20. The result, a new criminal called The Scorpion, proved his mettle against the hero, but ultimately failed in his mission.
Peter Parker's life intercepted that of the Fantastic Four when he visited the campus of State University and ran into The Thing and The Human Torch in FANTASTIC FOUR #35, and learned of Reed Richards and Sues Storm's engagement in FANTASTIC FOUR #36. Later, he helped out against a clutch of crooks who tried to wipe out the happy couple's wedding in FANTASTIC FOUR ANNUAL #3.
The Beetle arrived seeking revenge on the Torch in AMAZING SPIDER-MAN #21, prompting another helping hand from Spidey. Afterward, the Circus of Crime tried to go solo without The Ringmaster in AMAZING SPIDER-MAN #22, and The Green Goblin returned in AMAZING SPIDER-MAN #23 to take over Lucky Lobo's criminal gang.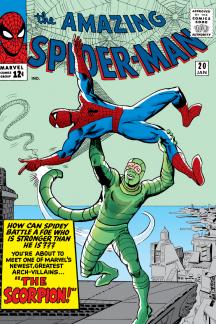 The Amazing Spider-Man (1963) #20
Published: January 10, 1965
Added to Marvel Unlimited: November 13, 2007
What is Marvel Unlimited?
Mysterio concocted a scheme to drive Spidey insane and reveal his identity in AMAZING SPIDER-MAN #24, and a professor named Smythe approached Jameson with a mechanical Spider-Slayer to squash our hero in AMAZING SPIDER-MAN #25. Things really heated up in AMAZING SPIDER-MAN #26 when the web-slinger found himself in the middle of a war between The Green Goblin and a new menace known as The Crime Master. When the dust cleared from that one, The Crime Master lay dead and the Goblin escaped with his own secret identity still intact in AMAZING SPIDER-MAN #27.
Even the dire danger brought on by Molten Man in AMAZING SPIDER-MAN #28 couldn't quite suck all the joy out of Peter's graduation from high school. Still feeling a sense of freedom, Spidey stood by Doctor Strange's side to battle the evil Xandu in AMAZING SPIDER-MAN ANNUAL #2, and later blocked a plan of revenge by an escaped Scorpion on J. Jonah Jameson and himself in AMAZING SPIDER-MAN #29.
When Jameson offered a $1000 reward for the capture of a burglar known as The Cat in AMAZING SPIDER-MAN #30, Peter swung into action to snag the bounty, still reeling from learning of Betty Brant and Ned Leeds' engagement. Now an official college student in AMAZING SPIDER-MAN #31, Peter saw his life grow even more complicated by the arrival of The Master Planner to throw a spanner into the works to gum them up.
The Hype Box
Can't-miss news and updates from across the Marvel Universe!