Comics
Published May 25, 2017
The History of Spider-Man: 1966
Doc Ock, Green Goblin, Rhino, and more spell trouble for the Web-Slinger!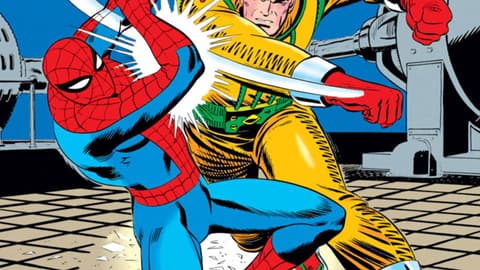 For over 50 years, Spider-Man has been a sensational standout in the Marvel Universe, and this summer, the web-slinger swings onto the silver screen once more in "Spider-Man: Homecoming"! In celebration of this stories history, we present Spidey's spectacular step-by-step story!
Spider-Man sought the expertise of Dr. Curt Connors in AMAZING SPIDER-MAN #32 to help him devise a serum to cure Aunt May's poisoned blood, but Doctor Octopus stood in his way when he stole the isotope that would insure the formula's potency. Later, trapped in rubble from a battle in Ock's base, the Wall-Crawler used all his spectacular strength and resolve to free himself in AMAZING SPIDER-MAN #33 and save his ailing aunt.
Kraven the Hunter returned for a rematch in AMAZING SPIDER-MAN #34, as well as Molten Man in AMAZING SPIDER-MAN #35, but the webbed wonder dispatched both with little fuss. Later, Spidey tangled with Daredevil in DAREDEVIL #16, but the two costumed champions buried the hatchet in DAREDEVIL #17 to join forces against the real menace: The Masked Marauder.
Norman Osborn, businessman father to Peter Parker's friend Harry Osborn, ducked and covered in AMAZING SPIDER-MAN #37 to avoid the wrath of Professor Stromm's robot, and a man named Joe Smith attracted the Web-Slinger's interest when his new acting career turned sour due to an unfortunate electrical accident in AMAZING SPIDER-MAN #38. Meanwhile, Norman placed a hefty pricetag on Spidey's life that brought creeps out of the woodwork to collect.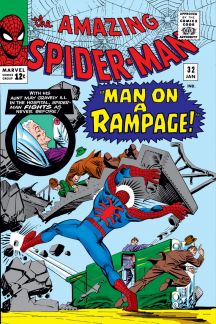 The Amazing Spider-Man (1963) #32
Published: January 10, 1966
Added to Marvel Unlimited: November 13, 2007
What is Marvel Unlimited?
Alas, Parker found bigger things to worry about when none other than The Green Goblin swooped down out of the skies in AMAZING SPIDER-MAN #39 to capture the youth and inform him that he knew our hero's secret identity. In AMAZING SPIDER-MAN #40 the crazed tycoon regaled Peter with a tale of an explosion that created his Goblin persona, but when he suffered exposure to another blast during his subsequent battle with Spider-Man, the Green Goblin persona faded from his memory, seemingly forever.
The rampaging Rhino attempted to abduct astronaut John Jameson in AMAZING SPIDER-MAN #41, prompting the Wall-Crawler to swing to the rescue. Afterward, Jameson gained super-strength from space-spores and tried to capture Spidey for the public good in AMAZING SPIDER-MAN #42. To add insult to injury, Rhino busted out of lock-up in AMAZING SPIDER-MAN #43 to claim his revenge on our hero.
Earth's Mightiest Heroes convened in AMAZING SPIDER-MAN ANNUAL #3 to ponder membership for Spidey, and after a recommendation from Daredevil decided to test the Web-Slinger. Ultimately, Spider-Man failed his trial when he refused to capture The Hulk, believing the jade giant's alter ego Bruce Banner to be too sickly to stand scrutiny by the Avengers.
Not long after, the X-Men approached the young crusader to bolster their own ranks against a new mutant menace in UNCANNY X-MEN #27, but Spider-Man turned them down, claiming he'd been too busy of late to focus on such things.
The Hype Box
Can't-miss news and updates from across the Marvel Universe!