Comics
Published May 31, 2017
The History of Spider-Man: 1967
The Shocker and The Kingpin debut, Lizard and Doc Ock return, plus much more!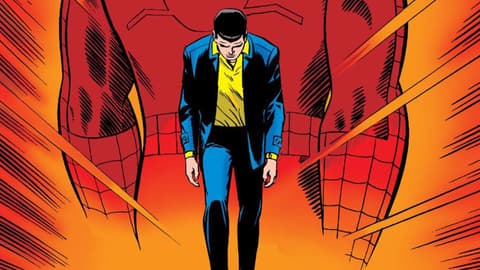 For over 50 years, Spider-Man has been a sensational standout in the Marvel Universe, and this summer, the web-slinger swings onto the silver screen once more in "Spider-Man: Homecoming"! In celebration of this stories history, we present Spidey's spectacular step-by-step story!
Our friendly-neighborhood Spider-Man took off after his friend Dr. Curt Connors in AMAZING SPIDER-MAN #44 when The Lizard, the doctor's alter-ego, reappeared. With a sprained arm from their first scuffle and smart from being framed by Lizard for a robbery, the web-slinger still managed to save the day in AMAZING SPIDER-MAN #45 and cure Connors of his scaly self.
A new costumed criminal calling himself the Shocker challenged Spidey in AMAZING SPIDER-MAN #46, and Peter Parker moved in with his pal Harry Osborn while avoiding Frederick Foswell of the Daily Bugle skulking around as "Patch." Meanwhile, the wallcrawler helped the Man Without Fear in DAREDEVIL #27 by battling Stilt-Man, freeing Daredevil up to smash The Masked Marauder.
Kraven the Hunter decided all his recent woes fell on the shoulders of Norman Osborn in AMAZING SPIDER-MAN #47, but when he attempted to kidnap the businessman's son Harry for revenge he met defeat once again at the hands of the webbed wonder. The web-spinner heard the news of the Supreme Hydra threatening the world with a Death Spore Bomb in STRANGE TALES #156, but left it to Nick Fury and S.H.I.E.L.D. to juggle the whole mess.
Blackie Drago became the new Vulture in AMAZING SPIDER-MAN #48 and beat an ill Spidey senseless. When Kraven caught wind of it, he went after Drago in AMAZING SPIDER-MAN #49 to prove his superiority, but the web-slinger recovered enough to crash their party and put them both down. Even with that win under his belt, the hero saw the fear in ordinary people's eyes in AMAZING SPIDER-MAN #50 and gave up his super hero career to concentrate on his grades and Aunt May. Fortunately, Peter reclaimed his Spider-Man suit to fight on when The Kingpin came to prominence in the city.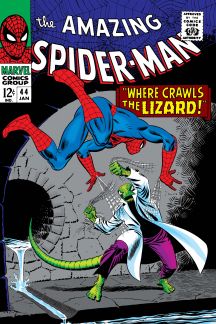 Frederick Foswell sucked up Kingpin in AMAZING SPIDER-MAN #51, and when the crime boss kidnapped J. Jonah Jameson to silence the Daily Bugle, the wallcrawler crept in to his headquarters for a personal, one-on-one match. Spidey lost that one, but managed to escape a watery death-trap with Jameson in AMAZING SPIDER-MAN #52 and chase Kingpin away. Foswell, on the other hand, lost his life that day.
After tussling with the young X-Men over another case of mistaken identity in UNCANNY X-MEN #35, our hero finally took Gwen Stacy out on a date in AMAZING SPIDER-MAN #53, a fine time interrupted by Doctor Octopus' scheme to steal a new "nullifier" device. Later, the wall-crawler mixed it up with The Human Torch in AMAZING SPIDER-MAN ANNUAL #4, but his mind kept returning to tracking down Octopus.
Spidey found the devilish doctor renting a room from Peter's Aunt May in AMAZING SPIDER-MAN #54, which led to a knock-down, drag-out fight that spilled over into AMAZING SPIDER-MAN #55 and the ultimate indignity for Spider-Man: amnesia and the suggestion of a new criminal career from none other than Doctor Octopus…
The Hype Box
Can't-miss news and updates from across the Marvel Universe!