Comics
Published June 8, 2017
The History of Spider-Man: 1968
Peter Parker protects his loved ones from The Kingpin, plus much more!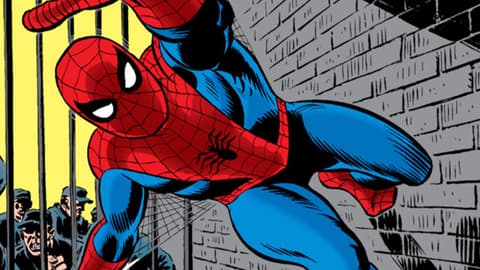 For over 50 years, Spider-Man has been a sensational standout in the Marvel Universe, and this summer, the web-slinger swings onto the silver screen once more in "Spider-Man: Homecoming"! In celebration of this stories history, we present Spidey's spectacular step-by-step story!
Suffering from amnesia and tricked into thinking himself part of Doctor Octopus' gang, Spider-Man avoided further indignity in AMAZING SPIDER-MAN #56 and escaped Ock's fury in AMAZING SPIDER-MAN #57. A knock-out blow from Ka-Zar returned our hero's memory in AMAZING SPIDER-MAN #58, but a revised Spider-Slayer threatened everything he'd fought and suffered for.
Peter Parker offered an explanation for his long disappearance to the police in AMAZING SPIDER-MAN #59 in just enough time to catch Mary Jane's new go-go dancer act. Behind the curtain lurked The Kingpin, though, and the crime boss' scheme to brainwash Captain Stacy exploded in AMAZING SPIDER-MAN #60 when Peter sold photos of the duped detective's criminal activity to the Daily Bugle.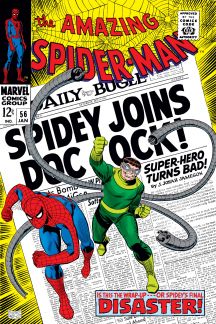 The captain revived in AMAZING SPIDER-MAN #61, but when he and his daughter Gwen found themselves kidnapped by the Kingpin's goons it fell to the wallcrawler and his unexpected ally Norman Osborn to rescue them. After duking it out with the Fantastic Four during a plot by Doctor Doom in FANTASTIC FOUR #73, the webslinger tussled with Medusa's living tresses in AMAZING SPIDER-MAN #62.
The original Vulture flew in to gain revenge on his successor in AMAZING SPIDER-MAN #63, which placed Spidey smack dab in the middle of their war and brought injury to Peter's friend Joe Robertson. Gwen Stacy sought reconciliation with Peter in AMAZING SPIDER-MAN #64, but when the webbed wonder passed out in the middle of the street and wound up in prison in AMAZING SPIDER-MAN #65, it took more than the love of his friends to extricate him from the predicament.
In AMAZING SPIDER-MAN ANNUAL #5, Spidey learned that his parents operated as spies for The Red Skull before their untimely deaths and zipped off to Europe to uncover evidence of their real status as loyal CIA agents and clear their names. When he returned to the States in AMAZING SPIDER-MAN #66, Mysterio awaited the wallcrawler with a new attempt at revenge. Our hero awoke from a battle with the illusionist to find himself shrunk down into a miniature amusement park in AMAZING SPIDER-MAN #67, but soon discovered the reality of it and beat Mysterio at his own game.
The Hype Box
Can't-miss news and updates from across the Marvel Universe!