Comics
Published June 29, 2017
The History of Spider-Man: 1971
Harry Osborn in peril, extra arms for our hero, and much more!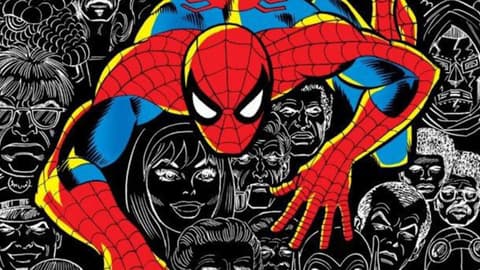 For over 50 years, Spider-Man has been a sensational standout in the Marvel Universe, and this summer, the web-slinger swings onto the silver screen once more in "Spider-Man: Homecoming"! In celebration of this stories history, we present Spidey's spectacular step-by-step story!
The X-Men's Iceman clashed with Spider-Man in AMAZING SPIDER-MAN #92, but after realizing his mistake, joined forces with our hero to put the kibosh on Sam Bullit, a crooked politician wooing Gwen Stacy following the death of her father. Spidey stood alongside Earth's Mightiest Heroes at a charity event in AVENGERS #85, but when Gwen announced a permanent move to London in AMAZING SPIDER-MAN #93, he tried to drown his sorrows in a rematch with The Prowler.
After a bout with The Beetle in AMAZING SPIDER-MAN #94, and making up his mind to fly to London to bring Gwen back, Peter Parker changed to his alter-ego in AMAZING SPIDER-MAN #95 to put down some British criminals. Back home again in CAPTAIN AMERICA #137, the Web-Slinger held off an attack by The Falcon, then teamed with the high-flying hero and Captain America versus Stone Face in CAPTAIN AMERICA #138.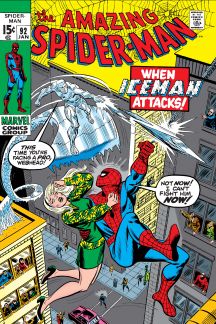 Peter took a job with Norman Osborn in AMAZING SPIDER-MAN #96, but the business tycoon allowed the pressures in his head to explode and reawaken his other self, The Green Goblin. He battled Spidey in AMAZING SPIDER-MAN #97, while unbeknownst to the two combatants, Norman's son and Peter's friend Harry fell under the spell of a drug dealer. The Wall Crawler crashed the pusher's party in AMAZING SPIDER-MAN #98, and made Norman see the light of reason by forcing him to face his son's pill problem.
Spider-Man helped out Daredevil in a fracas with Namor the Sub-Mariner in DAREDEVIL #77, then broke up a prison riot in AMAZING SPIDER-MAN #99. Later, weary of his role as a super hero, Peter concocted a potion to be rid of his spider-powers in AMAZING SPIDER-MAN #100, but instead gave himself an extra four arms. Now sporting as many limbs as an actual spider, the young hero stumbled into the path of Morbius the Living Vampire in AMAZING SPIDER-MAN #101, and felt immense relief when his friend Dr. Curt Connors cured him of his multiple arms in AMAZING SPIDER-MAN #102.
Desiring nothing more than a chance to get away from it all, Peter flew with Gwen and his boss J. Jonah Jameson to the Savage Land in search of a legendary monster in AMAZING SPIDER-MAN #103. When they found the creature, it took the timely intervention of Ka-Zar to unstick them from the web they'd fallen into.
The Hype Box
Can't-miss news and updates from across the Marvel Universe!