Comics
Published July 6, 2017
The History of Spider-Man: 1972
The face of Peter Parker revealed, Spider-Slayer and more!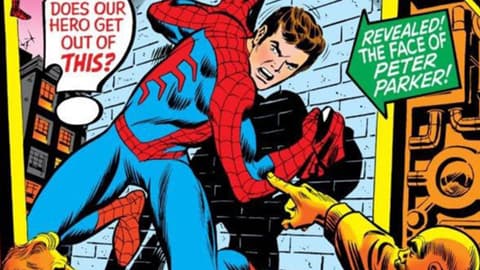 For over 50 years, Spider-Man has been a sensational standout in the Marvel Universe, and this summer, the web-slinger swings onto the silver screen once more in "Spider-Man: Homecoming"! In celebration of this stories history, we present Spidey's spectacular step-by-step story!
Still stuck in the Savage Land in AMAZING SPIDER-MAN #104, the wondrous web-head somehow managed to snatch victory from the jaws of an alien monster and rescue both Gwen Stacy and J. Jonah Jameson. Back home again, Spidey saw action alongside his old sparring partner the Human Torch versus the slippery Sandman in MARVEL TEAM-UP #1.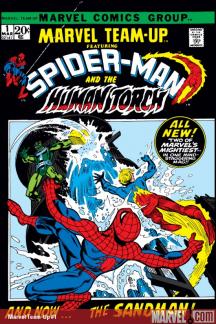 The unappreciative Jameson once again hired Professor Smythe and his Spider-Slayer in AMAZING SPIDER-MAN #105, which forced the webslinger to act fast to protect his secret identity in AMAZING SPIDER-MAN #106 and to hold off the mobsters Smythe'd fallen in with in AMAZING SPIDER-MAN #107.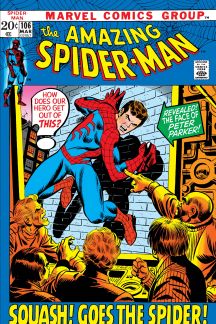 Spidey put up with Johnny Storm again in MARVEL TEAM-UP #2 to protect the Negative Zone portal at the Baxter Building from the Frightful Four. Later, the mystery of Peter Parker's high school tormentor Flash Thompson deepened in AMAZING SPIDER-MAN #108, and so Spidey stepped in to save the day with a little help from Doctor Strange in AMAZING SPIDER-MAN #109.
Morbius the Living Vampire flew in for a bite in MARVEL TEAM-UP #3, but not even still more assistance from the Human Torch provided the wallcrawler with the manpower to take him down. It fell to the uncanny X-Men in MARVEL TEAM-UP #4 to shine some light on the situation and help Spidey put the final nail in Morbius' coffin.
A well-meaning young man named Marty Blank told Spider-Man he wanted to become a super hero in AMAZING SPIDER-MAN #110, but our hero unfortunately laughed him off, leaving a gap big enough for Kraven the Hunter to leap into and push Marty into becoming the villainous Gibbon in AMAZING SPIDER-MAN #111.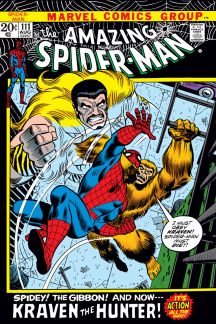 After another public smear-campaign against the webslinger by J. Jonah Jameson in AMAZING SPIDER-MAN #112, Peter wrestled with a worsening ulcer while Doctor Octopus hit town with his latest crime spree in AMAZING SPIDER-MAN #113. When Ock's war with crime boss Hammerhead heated up in AMAZING SPIDER-MAN #114, Spidey swung in for a direct confrontation in AMAZING SPIDER-MAN #115 with the eight-limbed maniac, only to wind up on the wrong end of a gun wielded by the doctor's new housekeeper…Pete's dear old Aunt May.
By the time the dust cleared and Ock ended up back behind bars, a tussle with both the android Vision and the hulking Monstroid in MARVEL TEAM-UP #5 seemed like a walk in the park to our young wallcrawler.
The Hype Box
Can't-miss news and updates from across the Marvel Universe!