Comics
Published August 9, 2017
The History of Spider-Man: 1974
The Punisher, a new Green Goblin and the Spider-Mobile make their debut.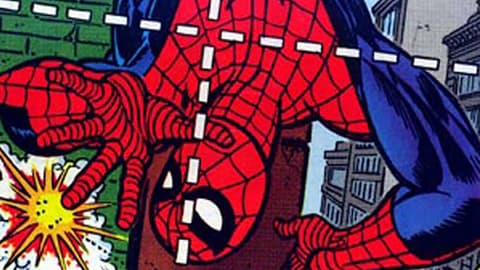 For over 50 years, Spider-Man has been a sensational standout in the Marvel Universe, and this summer, the web-slinger swings onto the silver screen once more in "Spider-Man: Homecoming"! In celebration of this stories history, we present Spidey's spectacular step-by-step story! 
The Vulture dropped our hero from a great height, and after the webslinger saved himself in AMAZING SPIDER-MAN #128, he set out to prove a new man stood in for his old flying foe. Not long after, the wily Jackal convinced an assassin named the Punisher to track down and kill Spidey in AMAZING SPIDER-MAN #129, but the mysterious hit-man finally realized the villain lied.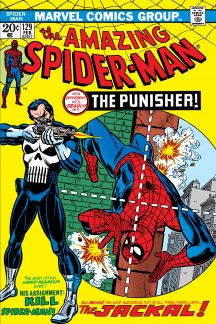 Spider-Man sailed to the Savage Land in MARVEL TEAM-UP #19 to aid Ka-Zar against Stegron the Dinosaur Man, and when their armor-plated antagonist took his prehistoric playthings to New York City in MARVEL TEAM-UP #20, the wallcrawler enlisted the help of the Black Panther to shut down Stegron's Broadway boogie.
The Human Torch unveiled Spidey's new Spider-Mobile in AMAZING SPIDER-MAN #130, but before the paint was dry on it, Hammerhead hammered it into the river. Later, the young hero received the shock of his life in AMAZING SPIDER-MAN #131 when he witnessed the wedding of his Aunt May to Doctor Octopus, as well as the seeming deaths of Dock and nemesis Hammerhead in a nuclear blast.
After mixing it up with Xandu to stop his raid on Doctor Strange's home in MARVEL TEAM-UP #21 and helping Hawkeye against the living computer Quasimodo in MARVEL TEAM-UP #22, Spidey faced off against a very molten Molten Man in AMAZING SPIDER-MAN #132 and worked his way through sickness to defeat the fiery felon in AMAZING SPIDER-MAN #133.
Morbius gained the aid of the Man-Wolf versus the webbed wonder in GIANT-SIZE SUPER-HEROES #1, and the wallcrawler flew off to an ocean-bound cruise ship—complete with Dracula as a passenger—to retrieve a doctor's serum to save Aunt May in GIANT-SIZE SPIDER-MAN #1. While on a day-trip with his friends in AMAZING SPIDER-MAN #134, Peter Parker ran afoul of the Tarantula and his thugs, and suffered through the Punisher's help in squashing the bug in AMAZING SPIDER-MAN #135. Meanwhile, Peter's roommate Harry Osborn grew more mentally unstable and discovered Peter's "other" job as Spider-Man.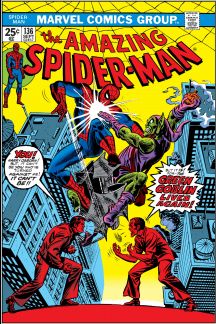 The webslinger fought side-by-side with Brother Voodoo against Moondog in MARVEL TEAM-UP #24, and with Daredevil against the Unholy Three in MARVEL TEAM-UP #25. One of our hero's worst nightmare's then came true in AMAZING SPIDER-MAN #136 when Harry Osborn snapped completely and took on his father's role as the Green Goblin. After kidnapping Flash Thompson, Mary Jane Watson, and Aunt May in AMAZING SPIDER-MAN #137, Harry tried to expose Peter's secret identity as Spidey.
Shang-Chi first fought and then befriended the wallcrawler in GIANT-SIZE SPIDER-MAN #2, and our hero spun a mighty big web to stop the Hulk from helping the Chameleon spring a friend from prison in MARVEL TEAM-UP #27. Later, Spidey battled the mental might of the Mindworm in AMAZING SPIDER-MAN #138, the baffling mystery of a stolen New York City in MARVEL TEAM-UP #28, and a wrestler out for revenge on J. Jonah Jameson in AMAZING SPIDER-MAN #139.
The Hype Box
Can't-miss news and updates from across the Marvel Universe!