Comics
Published August 18, 2017
The History of Spider-Man: 1976
Spidey teams with Howard the Duck, Doctor Strange, and many more, and makes a Spectacular debut!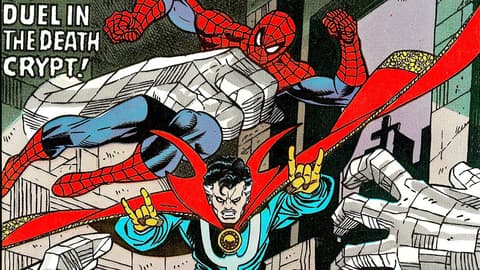 For over 50 years, Spider-Man has been a sensational standout in the Marvel Universe, and this summer, the web-slinger swings onto the silver screen once more in "Spider-Man: Homecoming"! In celebration of his memorable history, we present Spidey's spectacular step-by-step story!
Following a wild encounter with a certain web-footed fowl in HOWARD THE DUCK #1, Spider-Man stumbled into an even wilder adventure in MARVEL TEAM-UP #41 when he trailed the Scarlet Witch and found himself flung through time to Salem in the year 1692 where he fought alongside the Vision in MARVEL TEAM-UP #42, Doctor Doom in MARVEL TEAM-UP #43, and the mysterious Moondragon in MARVEL TEAM-UP #44.
Having wrapped up his Salem side-trip, the webslinger traveled to an alternate future in MARVEL TEAM-UP #45 to aid Killraven against Martian invaders, and to yet another divergent future to meet Deathlok in MARVEL TEAM-UP #46. When he finally landed feet-first in his own time in MARVEL TEAM-UP #47, a volcano brought him and The Thing together to battle the Basilisk in MARVEL TWO-IN-ONE #17.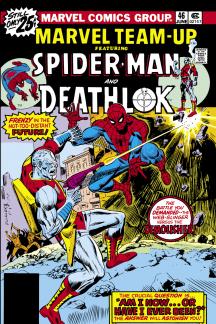 AMAZING SPIDER-MAN #152 revived the Shocker for a tussle with Spidey, and a returned Sandman engrained his fists on the wallcrawler's face in AMAZING SPIDER-MAN #153. Our hero shook it off to dig deep into a locked-room mystery in AMAZING SPIDER-MAN #154, and attend Betty Brant and Ned Leeds' wedding in AMAZING SPIDER-MAN #155.
The dreaded Doctor Octopus popped up in AMAZING SPIDER-MAN #156, but when it appeared that the ghost of his arch-rival Hammerhead haunted him in AMAZING SPIDER-MAN #157, it took Spider-Man to dope out the details and discover the flat-topped thug's out-of-phase existence in AMAZING SPIDER-MAN #158. When things seemed darkest in the war between Doc Ock and Hammerhead, they blew each other up all over again in AMAZING SPIDER-MAN #159.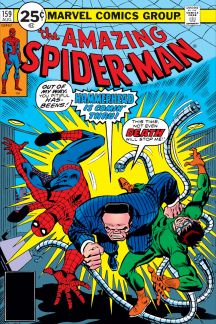 Spidey teamed with Iron Man in MARVEL TEAM-UP #48 to investigate a new menace called the Wraith, a conundrum that spilled over into MARVEL TEAM-UP #49, and a visit from Doctor Strange in MARVEL TEAM-UP #50. Finally, in MARVEL TEAM-UP #51, the wallcrawler saw justice done and the Wraith redeemed in a courtroom clash that made the history books.
The Terrible Tinkerer restarted the Spider-Mobile in AMAZING SPIDER-MAN #160 to drive home his point to the webbed wonder. Later, Spidey swung into a tangled web with the mutant Nightcrawler in AMAZING SPIDER-MAN #161, but it fell to the Punisher to really confuse the issue between the two in AMAZING SPIDER-MAN #162 before the return of the Kingpin himself in AMAZING SPIDER-MAN #163.
Our hero barely found time to breathe after a demon heated things up for him and Captain America in MARVEL TEAM-UP #52 and the Tarantula crawled back out from under a rock in PETER PARKER, THE SPECTACULAR SPIDER-MAN #1.
The Hype Box
Can't-miss news and updates from across the Marvel Universe!