Comics
Published January 29, 2021
The King in Black Comes to Hell's Kitchen in 'Daredevil' #26
The new Daredevil has her hands full, and not even Matt Murdock can sit out of this fight!
The times are changing in Hell's Kitchen. All the way back in DAREDEVIL #1, Matt Murdock accidentally killed Leo Carraro, a street crook. Wracked by guilt, Matt accepted a two-year prison sentence in issue #24. That's one of the reasons there's a new Daredevil in Hell's Kitchen. Elektra Natchios needs Matt's trust, so she claimed DD's identity as her own while he's stuck behind bars.
In this week's DAREDEVIL #26, writer Chip Zdarsky and artists Marco Checchetto and Mike Hawthorne pick up the radically different status quo. But if Matt and Elektra were hoping for an easy transition then the joke is on them. KING IN BLACK is upon us, and Knull's conquest of Earth will have severe consequences for both Daredevils.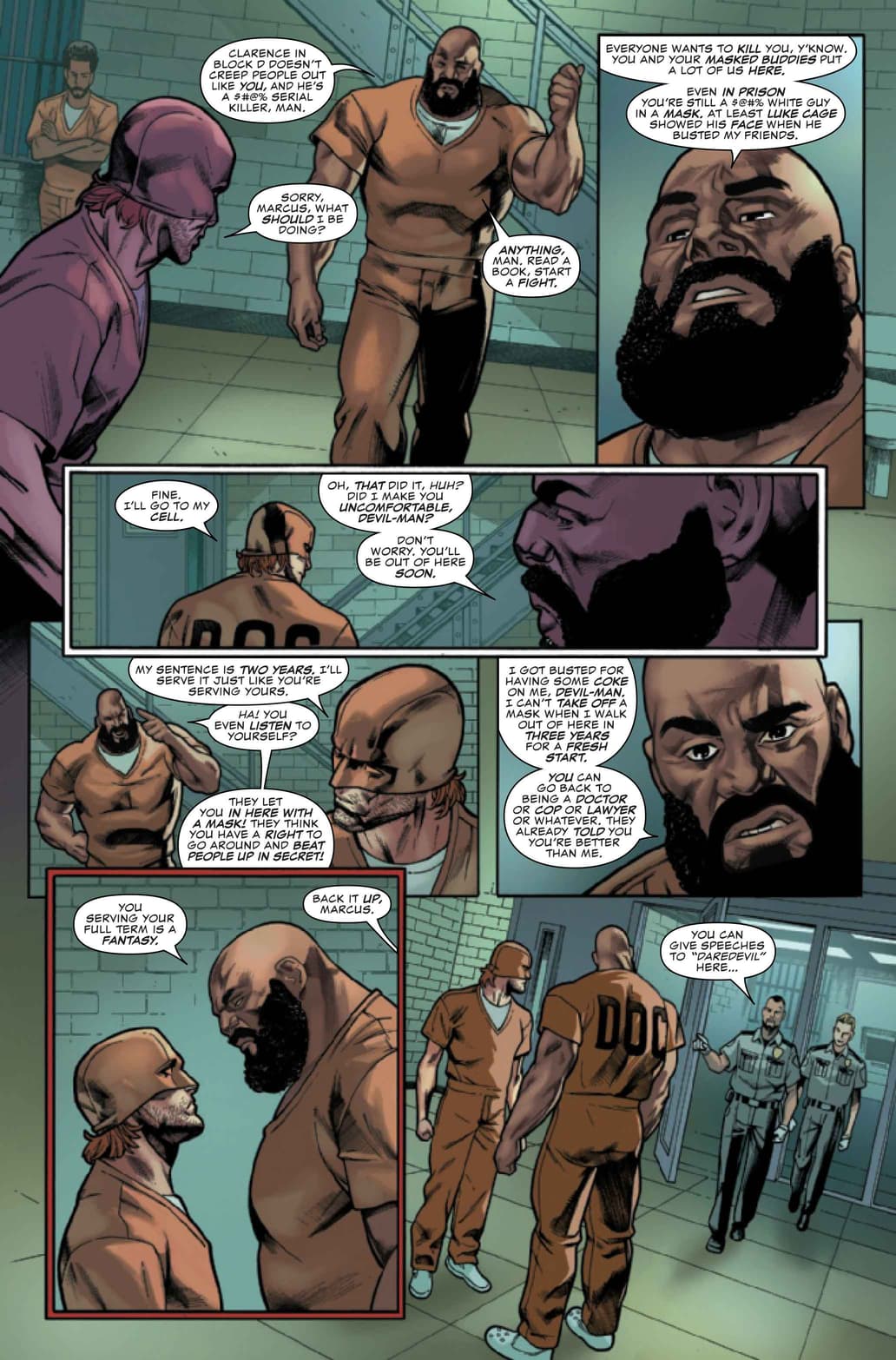 Within the opening pages, Matt's powers give him an even greater insight into the criminals serving with him. Thanks to a special arrangement with the prosecutors, Matt also gets to wear his mask to preserve his secret identity. This privilege has already earned him the ire of Marcus. It's not that Marcus has a personal enmity towards Matt or Daredevil, but he knows that Matt is likely to be released before his sentence is up. Daredevil's mask is just a symbol of that privilege.
Shortly thereafter, Matt formally meets Warden Hollis. If the name sounds familiar, it's because Hollis' son, Mason Hollis, was a former Assistant District Attorney who adopted the criminal persona Crime-Wave in DAREDEVIL (1964) #57-59. As Daredevil, Matt had to bring Mason to justice. Although the elder Hollis claims that he has no ill will towards Matt, the smile on his face says otherwise. Even blind, Matt gasps at the realization that he may be killed during his time in prison.
Meanwhile, in Hell's Kitchen, Elektra is a bit off her game as the new Daredevil. She constantly has to fight her own lethal instincts in order to be a hero closer to Matt's ideology. It's a new experience for her, and she's also preoccupied by the idea of winning Matt's trust so that he will join her in the Fist to destroy the Hand. But she soon finds much bigger problems when Knull's symbiote army attacks New York City.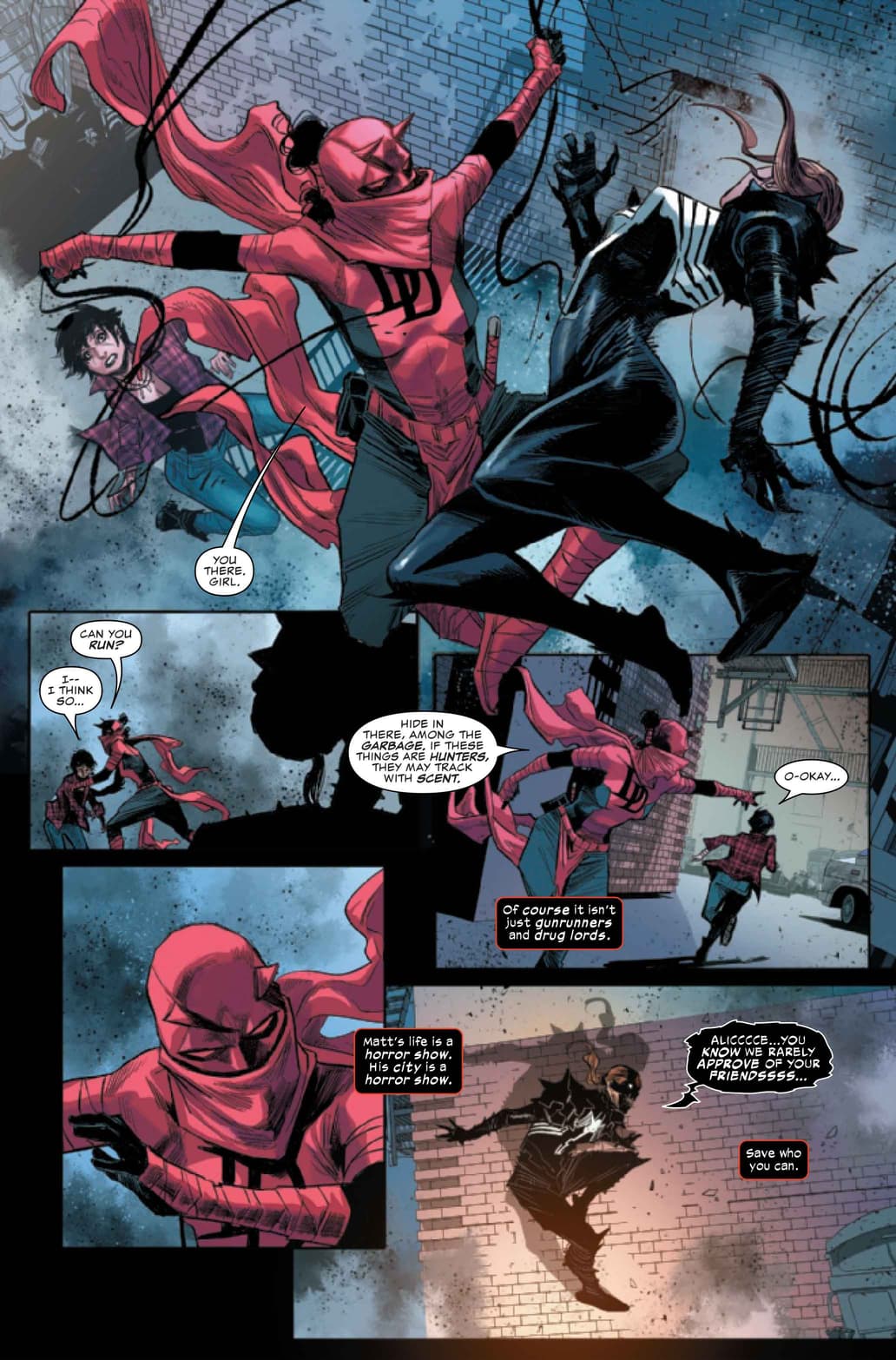 Elektra doesn't tend to get involved with these kinds of situations. But as Daredevil, she has little choice. She even takes it upon herself to protect Alice, a 16-year-old girl whose mother is possessed by one of Knull's symbiotes. It's an unnerving time for both Elektra and Alice, since the symbiote uses Alice's stepmother's persona and memories to torment her.
At the same time, Typhoid Mary and the Kingpin's security team tried to keep Mayor Wilson Fisk safe. And while Fisk got away, Mary was not as lucky. She suffered the same fate as Alice's mother and became just another member of Knull's army. The only key difference is that the possessed Typhoid Mary now wants a chance to take on Elektra herself.
Not even Matt's prison was spared by the symbiote invasion. With his hypersenses, Matt realized what was coming before it arrived. Unfortunately, none of the prison guards acknowledged his warnings until it was too late. Regardless of the consequences, Matt got out of his cell and tried to fight off the possessed prisoners by himself.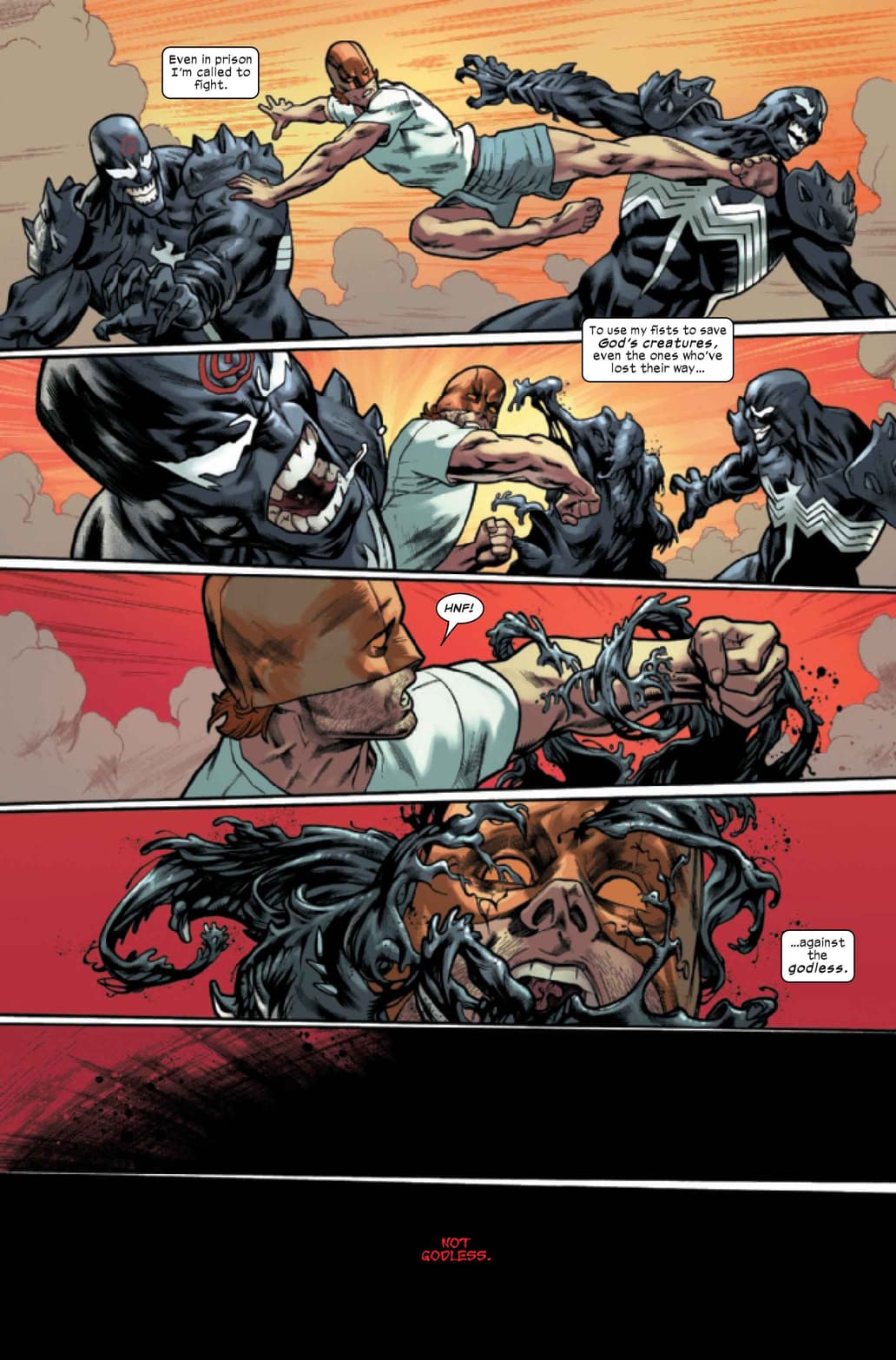 For all of his abilities, Matt is still just one man... and one man can't hold out forever against a symbiote army without being touched by their "god." For the first time, we see an interior monologue of a person when Knull invades their mind. Knull introduces himself to Matt against the backdrop of utter darkness, and he tells Matt that they are bonding. Matt's consciousness subsides as Knull declares that "you are a man without fear. I am pure power. As one... we are unstoppable!"
That may not be an idle boast, as Knull's symbiote has turned Matt into an even more demonic incarnation of Daredevil. It's a living nightmare for Matt, but there may be no way for him to resist his transformation.
What will happen next? Find out in DAREDEVIL #27 on Wednesday, February 10!
DAREDEVIL #26, written by Chip Zdarsky with art by Marco Checchetto and Mike Hawthorne, is on sale now online and at your local comic shop!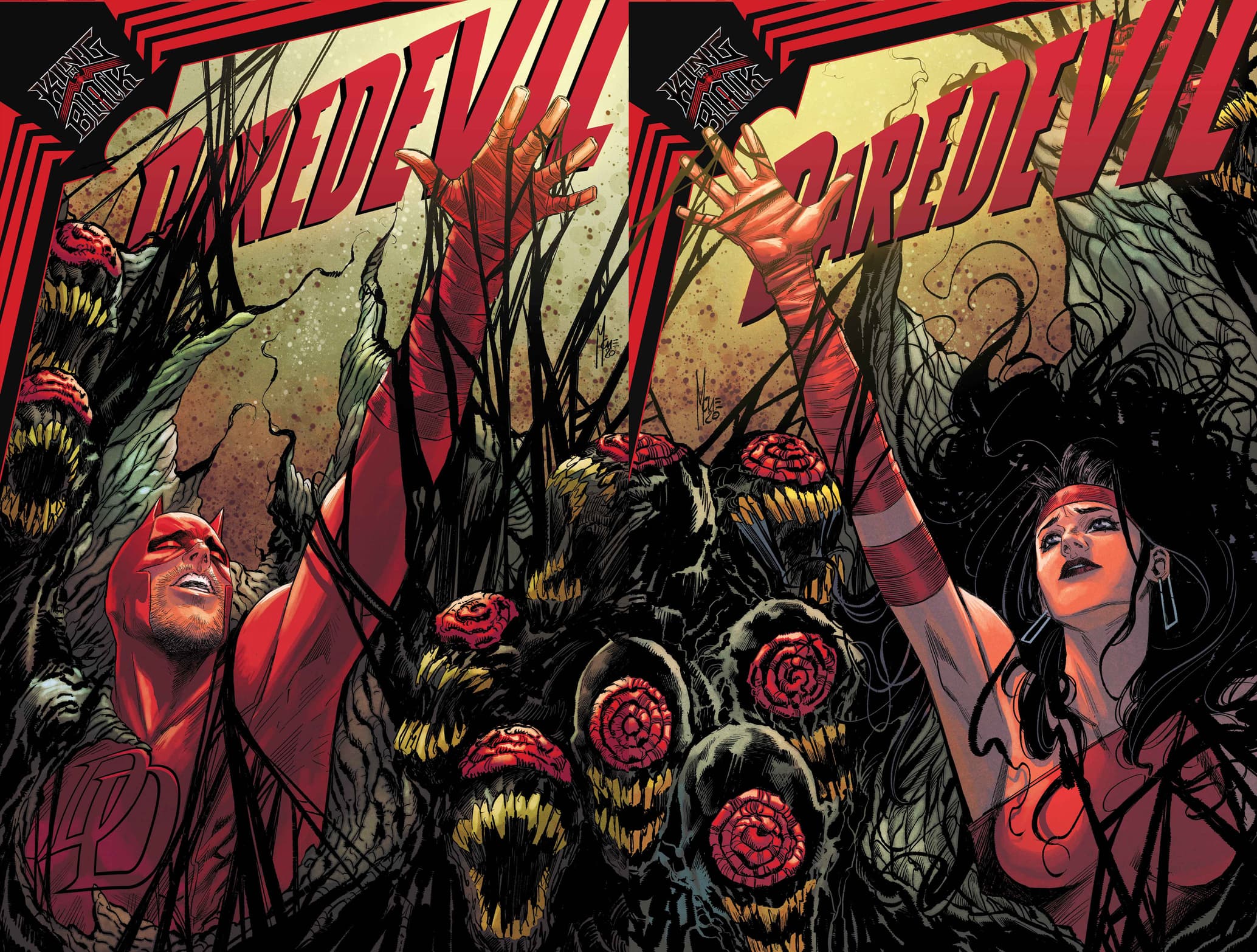 Be sure to ask your local comic book shop about their current business policies to observe social distancing or other services they may offer, including holding or creating pull lists, curbside pick-ups, special deliveries and other options to accommodate. Find and support your local comic book shop at http://comicshoplocator.com or by visiting http://marvel.com/lovecomicshops.
For digital comics, all purchases in the Marvel Comics app can be read on iPhone®, iPad® and select Android™ devices! Our smart-paneling feature provides an intuitive reader experience, ideal for all types of mobile device and tablet users!
For Marvel's most up-to-date release schedule for your favorite comics, visit http://marvel.com/newcomics.
The Hype Box
Can't-miss news and updates from across the Marvel Universe!