Comics
Published October 26, 2018
The Marvel Monster Squad
Your handy guide to knowing the classic monsters who ruled comic stands in the 1970s.
For much of the '50s, scary comics ruled the newsstands. However, after the creation of the Comics Code Authority, the industry fell under a variety of intense restrictions including an all-out ban of everyone's favorite monsters: vampires, werewolves, and zombies.
Thanks to a loosening of the Comics Code in '71, companies could reopen their vaults and crypts to release the fiends! Utilizing the imaginations of the talented people working for the House of Ideas as well as looking back to some of the scariest characters from literary and film history, a new batch of monsters not only came to light, but established long-running series in many cases.
However, since we're dealing with characters old enough to run for president, it seems like the perfect time to present you, faithful reader, with an easy-to-follow guide explaining who these characters are, where they came from, and where you can read their adventures.
MAN-THING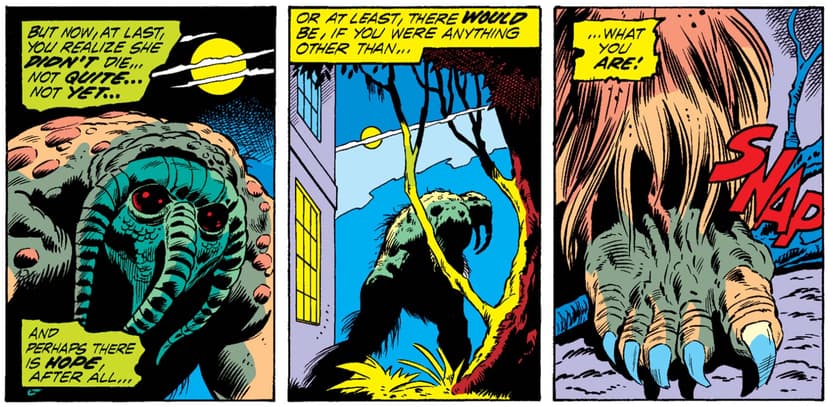 Scientist Ted Sallis thought he had it good with his swamp-adjacent lab, government contract, and beautiful girlfriend. However, he began to have second thoughts about his serum's destructive capabilities.
He should have been worried about his lady Ellen though, as she decided to steal the formula from him. During his escape, he injected the mysterious liquid into himself, crashed his car and came out a Man-Thing as seen in a story by Gerry Conway, Roy Thomas, and Gray Morrow in SAVAGE TALES #1 from 1971. Sallis lost his humanity, but gained a close connection to nature and an innate ability to burn those filled with fear if they came into contact with him.
Man-Thing skulked through ASTONISHING TALES #12 and #13 before a run in ADVENTURES INTO FEAR #10-#19. By the time he reached his first solo series, the muck monster found a true genius in writer Steve Gerber. More recently, Man-Thing's been a part of the Thunderbolts during Jeff Parker's run and even starred in a five-issue, self-titled limited series penned by R.L. Stine! 
WEREWOLF BY NIGHT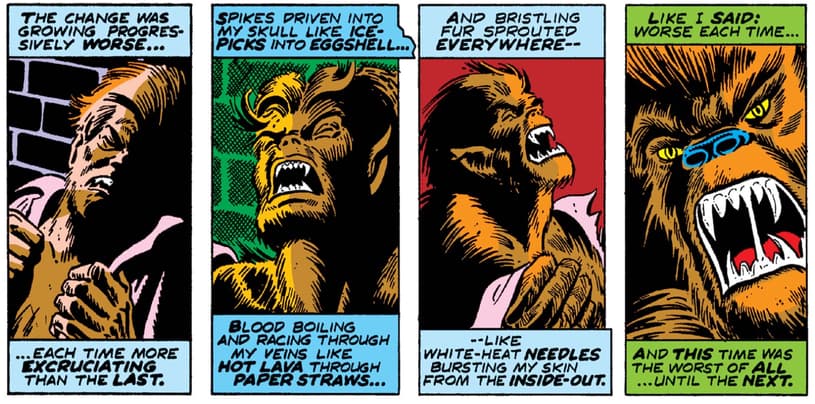 Upon turning 18, Jack Russell discovered a disturbing part of his family legacy: lycanthropy! Jack turned into the Werewolf by Night for the first time in 1972's MARVEL SPOTLIGHT #2 thanks to Gerry Conway and Mike Ploog. 
Like many of his big-screen counterparts, Russell usually turned three days out of the month: the day before, the day of, and the day after a full moon. He retained no control over his actions, but usually narrated the issues explaining what had happened.
From SPOTLIGHT, the wolf and his human alter ego earned an ongoing series called WEREWOLF BY NIGHT that ran for 43 issues between 1972 and 1977. More recently he's been a part of the Franken-Castle story wherein Punisher became a Frankenstein's Monster-style creature (PUNISHER #11-#16 from 2010) and also wolfed-out in X-FACTOR #222-#224 in 2011 though the larger story started in #220.
DRACULA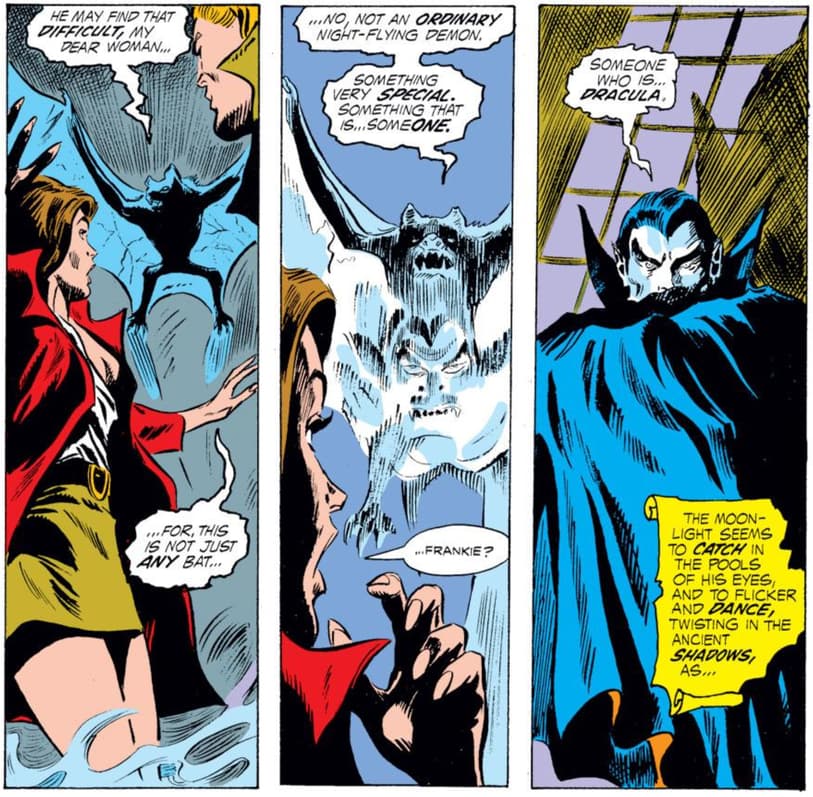 Bram Stoker's legendary literary bloodsucker may have appeared back in classic Atlas horror stories, but the version we all know and love debuted in 1972's TOMB OF DRACULA #1. In that series, helmed by Gerry Conway and Gil Kane, Vlad regained his afterlife in a new era. Unfortunately for him, though, plenty of people knew about his reign of terror and dedicated themselves to hunting him down over the book's 70-issue run, including a character who debuted in the tenth issue -- Blade!
More than many of the other '70s monsters, Drac made his presence known to the wider Marvel Universe. He fed on Storm in UNCANNY X-MEN #159 and again troubled her team in UNCANNY X-MEN ANNUAL #6. He moved around making trouble until he died along with all the other vampires on Earth in DOCTOR STRANGE #62.
Since then he's returned to the land of the unliving to appear in CAPTAIN BRITAIN AND MI13, the "Curse of the Mutants" crossover which was anchored in X-MEN #1-#6 from 2010 and even FEAR ITSELF: HULK VS. DRACULA. He's also spent a lot of time tangling with Deadpool of all people.
THE MONSTER OF FRANKENSTEIN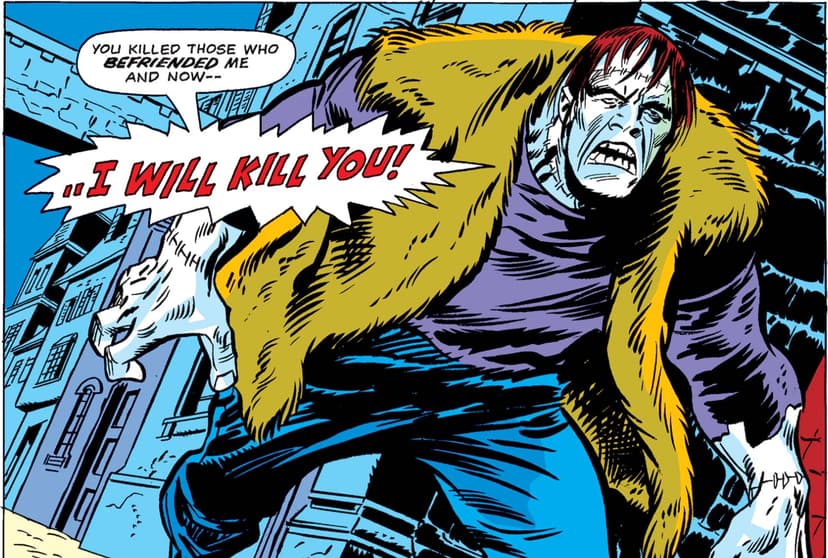 Like Dracula, versions of Frankenstein's Monster popped up a few times before scoring his own book, THE MONSTER OF FRANKENSTEIN. For the first three issues, Gary Friedrich and Mike Ploog essentially adapted Mary Shelley's groundbreaking novel while also bringing the action in 1898.
After several more adventures during that time – including a brief encounter with Dracula – the creature fell into icy water and thawed out in the '70s! His modern-day adventures carried on in the solo title, but also in the glorious black-and-white horror magazine from that time called MONSTERS UNLEASHED!
The monster hasn't shown up nearly as much in recent times as many of his counterparts, but he did get around in the '70s. See him battle Marvel's main hero team in AVENGERS #131-#132 as a member of the Legion of the Unliving, rumble with and then join forces with Spider-Man in MARVEL TEAM-UP #36-#37, and even fight Shell Head in IRON MAN #101-#102.
ZOMBIE
Garth appeared in all 10 issues of the mid-'70s mag and then spent another batch of decades in comic book limbo. In 2009 he was once again dug up, this time to star in MARVEL ZOMBIES 4 by Fred Van Lente and Kev Walker. Though controlled by others for most of that series, the villain Black Talon and witch Jennifer Kale used Simon as an undead containment unit for the zombie virus.
Earlier this month, though, Simon got back in on the action in MARVEL ZOMBIE #1 by W. Maxwell Price and Stefano Raffaele. In the new series, he's helping defend a world previously ravaged by the zombie virus with just a few heroes left alive.
LEGION OF MONSTERS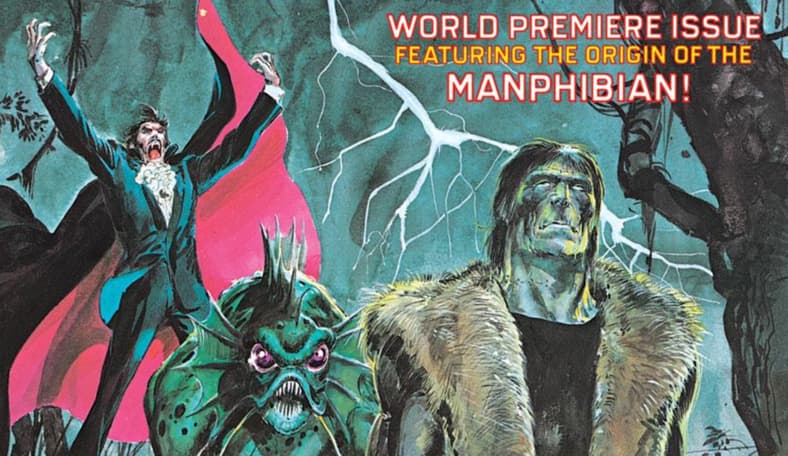 Many of the monsters joined forces on the cover of THE LEGION OF MONSTERS #1, a black-and-white magazine published in 1976 that wound up with only one issue. The one-off features a Frankenstein's Monster story, the first appearance of Manphibian, and a Dracula tale, but doesn't include a team-up.
The group – consisting of Ghost Rider, Man-Thing, Werewolf by Night, and Morbius the Living Vampire – fully came together first in MARVEL PREMIERE #28 and then again in another black-and-white magazine, MARVEL PREVIEW #8.
A new Legion of Monsters came about much later during the aforementioned Franken-Castle story. This time, the group included Werewolf by Night, Manphibian, Man-Thing, Satana, and N'Kantu, the Living Mummy who debuted in SUPERNATURAL THRILLERS #5 and eventually took over that book!  
The Hype Box
Can't-miss news and updates from across the Marvel Universe!