Comics
Published June 23, 2017
The Punisher: Blackout
Frank Castle braves a darkened New York City with writer Becky Cloonan!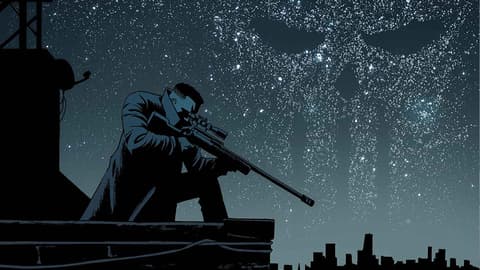 Start spreading the news…Frank Castle's leavin' today.
The Punisher Road Trip 2017 comes to an end in issue #14 of writer Becky Cloonan's PUNISHER with Frank's triumphant return home to the Big Apple as well as guest art by Kris Anka. While criminals can't say they've missed his unique brand of vigilante justice, they've been multiplying like cockroaches in his absence and that's something Frank can't allow to continue.
Moreover, he's got a citywide blackout to deal with and a key missing piece of his arsenal to find. In short, no one's throwing a cushy homecoming party for The Punisher. We spoke with former New York resident Cloonan about Frank's plans for shooting his way back to his rightful place as king of the hill, top of the heap.
Marvel.com: Since The Punisher is back in town, what's his first order of business other than destroying all of the crime in NYC, that is?
Becky Cloonan: Frank is welcomed back home by a bunch of criminals, who have no doubt missed him very much! He's no sooner back in the comfort of his own home, [when] he finds a piece from his arsenal has gone missing—and that's how it starts. So before he does anything, he's gotta find that gun.
Marvel.com: In that vein, what excited you most about bringing Frank back home?
Becky Cloonan: I spent 14 years living in New York, in Queens and Brooklyn respectively, before moving to Montreal and then Texas. Even though the city and I have done so much changing, I still feel like it's a second home. So in a way, this is a homecoming for both of us. It's been so much fun being back in the city—vicariously! [Laughs]
Marvel.com: Were you hoping to set a different tone from his time on the road? If so, can you elaborate on what that tone will feel like?
Becky Cloonan: This is The Punisher at his best, on home turf with the whole city at his disposal. He has to overcome new challenges and villains every issue, but that's not to say he won't see a familiar face from his time on the road…
Marvel.com: What's changed since he's been away? Have criminals been lulled into a false sense of security in his absence?
Becky Cloonan: Bad guys are crawling out of the woodwork! They are like cockroaches; if you see one, you can be sure there are a hundred more lurking just out of sight. Frank's got his hands full with everything from bored teenagers to career criminals, robbers and thugs—maybe even a serial killer for good measure! There's certainly enough crime in the Big Apple to keep Frank busy.
Marvel.com: What are the challenges Frank will face from a citywide blackout in PUNISHER #14? What are the advantages to such a situation?
Becky Cloonan: What would seem like an edge for the bad guys ends up being [an] advantage [for] Punisher. His main upper hand is the fact that the criminals think they have the upper hand. Frank uses this to his advantage. Oh, and since he wrecked his van on the last road trip, he had to get a new car. It's a lot of fun!
Marvel.com: Are any of his experiences away from the city haunting him or impeding his ability to fight?
Becky Cloonan: One thing I love about Frank is that he's not trying to save the world. To be honest, I don't even think he's trying to save the city. He doesn't need to protect anyone or anything. Instead, The Punisher is driven by an urge to destroy. It's this instinct that led him to chase his enemies up north and made him face his darker nature. If anything, he's even more of a force to be reckoned with now that he's back home. The Punisher is like a Jason Voorhees that only kills criminals, and he revels in it.
Marvel.com: Will Frank be staying in New York for the foreseeable future?

Becky Cloonan: He used all his vacation days on his trip up north, so yeah, I think he's gonna stick around for a bit.
Lock and load with THE PUNISHER #14 by Becky Cloonan and Kris Anka, available July 26!
The Hype Box
Can't-miss news and updates from across the Marvel Universe!