Comics
Published August 7, 2019
The Unstoppable Wasp Reaches New Heights In An All-New YA Novel in 2020
Get ready for a thrilling adventure with Nadia Van Dyne from author Sam Maggs!

Nadia Van Dyne, the Unstoppable Wasp, will continue to show off her indomitable spirit and her genius friends in 2020 with the release of YA novel from Marvel Press next year.
Following the lead of Jeremy Whitley's fantastic run on the comics, Sam Maggs will usher the teen Super Hero, her genius friends G.I.R.L. (Genius In action Research Labs), and her world into a new medium.
"I am thrilled and so honored to be taking the Unstoppable Wasp on her next adventure with Marvel Press," shared Maggs. "Nadia Van Dyne's scientific genius is matched only by her boundless optimism; she's an incredible role model and exactly the kind of Super Hero I think we need right now."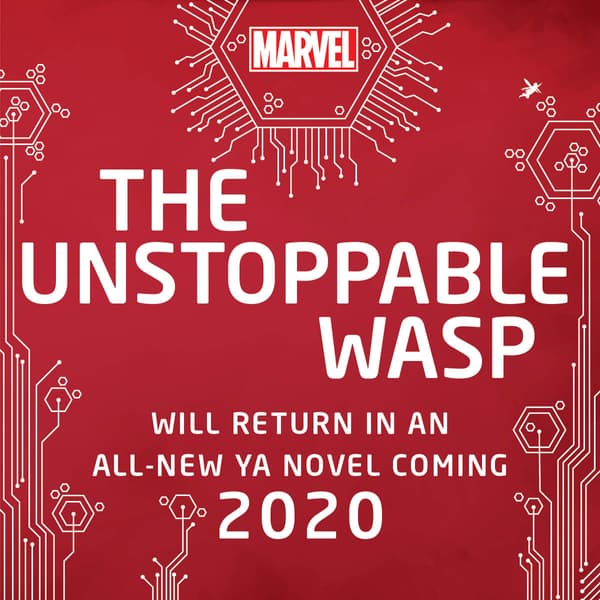 "With her brilliant and diverse G.I.R.L. squad by her side, there's nothing Nadia can't do. Or is there!?! Guess you'll have to pick up the novel to find out…" teased Maggs.
In this thrilling new adventure, Nadia is struggling with something we're all very familiar with – not having enough time to do all the things we want to do. Plus, she's new to all of this. New to being a Super Hero. New to being a real friend. New to being a stepdaughter (to one of the founding Avengers, no less). New to running her own lab. And new to being her own person, far away from the clutches of the Red Room.
Handling all this newness in stride, Nadia is thankfully gifted a virtual assistant, powered by the most cutting-edge technology the world has to offer, that allows her the opportunity to "do less, experience more."
With this device, Nadia has found the time to pursue her passion projects, focus on new discoveries, and chase down personal growth. However, our girl learns it's never that simple, and not everything is as it seems.
Sometimes the best way to effect big change is to think small – maybe even super small, Unstoppable Wasp-style.
With the help of her G.I.R.L. squad and found family, she's going to save herself and the entire world as we know it, NBD.
Just another day in the life of your way, way above average teenage Super Hero.
Coming 2020. Pre-order this Unstoppable Wasp YA novel from Sam Maggs wherever books are sold!
The Hype Box
Can't-miss news and updates from across the Marvel Universe!