Comics
Published June 29, 2022
The Young Avengers Are Back
Creators Anthony Oliveira and Jethro Morales herald the return of the super-team in an all-new story arc for Infinity Comics series 'Marvel's Voices'!
The anthology series renowned for its fresh take on "the world outside your window" launches a new, ongoing six-part story! Now available exclusively on the Marvel Unlimited app, MARVEL'S VOICES: YOUNG AVENGERS #5 launches in the exclusive Infinity Comic format. Fans clamored for it, and we're finally here to deliver: pop culture critic Anthony Oliveira finally puts his pen to the Young Avengers with up-and-coming artist Jethro Morales!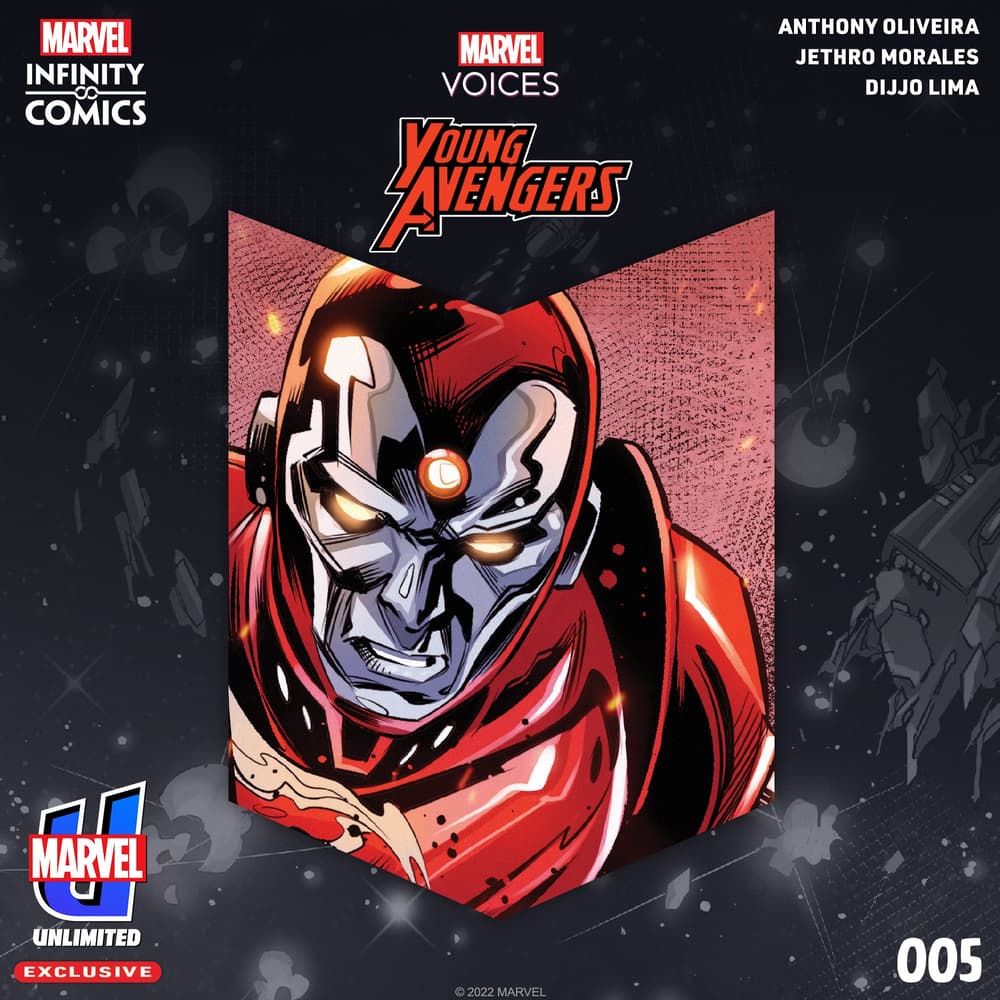 We spoke to the writer and artist about their personal Young Avengers fandom, what readers can expect from this all-new arc, and their favorite parts about bringing the super-team back into the forefront!
Young Avengers has a dedicated fan base who I'm sure are stoked to see the "Young Avengers" name reignited. What can readers expect from this story?
ANTHONY OLIVEIRA: Events transpire! Protagonists and antagonists clash! Scenes follow, one after another, though not always in order! And we will learn what power cannot do, and what forgiveness can. People are certainly very excited for the Young Avengers to be back, and absolutely no one more than me! But the years since have changed them, I think. These characters have been off on their own adventures for a while, and I wanted to really get to know them again. So for each of the characters we got, I tried to think really hard about the story each of them needs right now, and did my best to give it to them. If you don't know these heroes this is a great chance to befriend them; if you do, I think it will feel like catching up with an old best friend.
JETHRO MORALES: The fans can expect a lot of heartfelt moments with tons of action and fun in every panel and page throughout the arc. And, as one of the artists, I gave it my all to convey visually all the emotions and excitement masterfully written by Anthony that I hope the fans will appreciate.

What excited you the most about this project as creators?
ANTHONY OLIVEIRA: The Young Avengers have been one of the stories I have always wanted to work on, and the nature of this project (six individual character pieces, all forming one big story) meant we could really hit the taproot of each character and see what makes them tick. Working with editor Sarah Brunstad (along with Anita Okoye) and letterist Ariana Maher again is a dream come true, and getting to know Jethro and see his talent at work is a phenomenal treat. Our first issue also features some of Dijjo Lima's last colors, and I am so grateful and honored to have a gift like that grace a script I worked on. I will be forever thankful.
One thing that really excited me too was the form of the Infinity Comic; what happens when there is no page-turn, but an endless trajectory towards some final point? That really informed the superstructure of the story on a thematic as well as formal level: What if something wonderful and powerful and terrifying were hurtling ever downward, across space and time, towards a destination as uncertain as it is inevitable?
JETHRO MORALES: Working on a vertical comic layout is very new to me too, so that alone is both exciting and challenging! As for the Young Avengers, I really enjoyed drawing Hawkeye [Kate Bishop] and her fight scenes.
Any favorite Young Avengers runs or solo character series that you've appreciated as fans? (Or can recommend for Unlimited readers!)
JETHRO MORALES: It's Hawkeye for me. Simply amazing bow and arrow action.
ANTHONY OLIVEIRA: I have been reading YOUNG AVENGERS since the very first week it came out! I remember in those early days thinking it was impossible that what seemed to be happening with Wiccan and Hulkling was actually happening—queer people like us just weren't shown in comics or on TV. It was like a miracle.
Plus, one of the real joys of working on Marvel Unlimited for a huge nerd like me is knowing the audience has the back issues right there for them. This Young Avengers series is ready to go for people who don't need the deep lore, but if you're interested, you can dive right back in to the old WEST COAST AVENGERS and FANTASTIC FOUR and X-MEN back issues that informed it—or in some cases, even read the original scenes it's re-depicting! This story is full of deep cuts, weird continuity connections, and insider beats, and the pleasure of Marvel Unlimited is that great, glorious archive of back issues is all just a click away. It's all I ever wanted and dreamed of as a kid, and now it's come true. I can't wait for people to see it.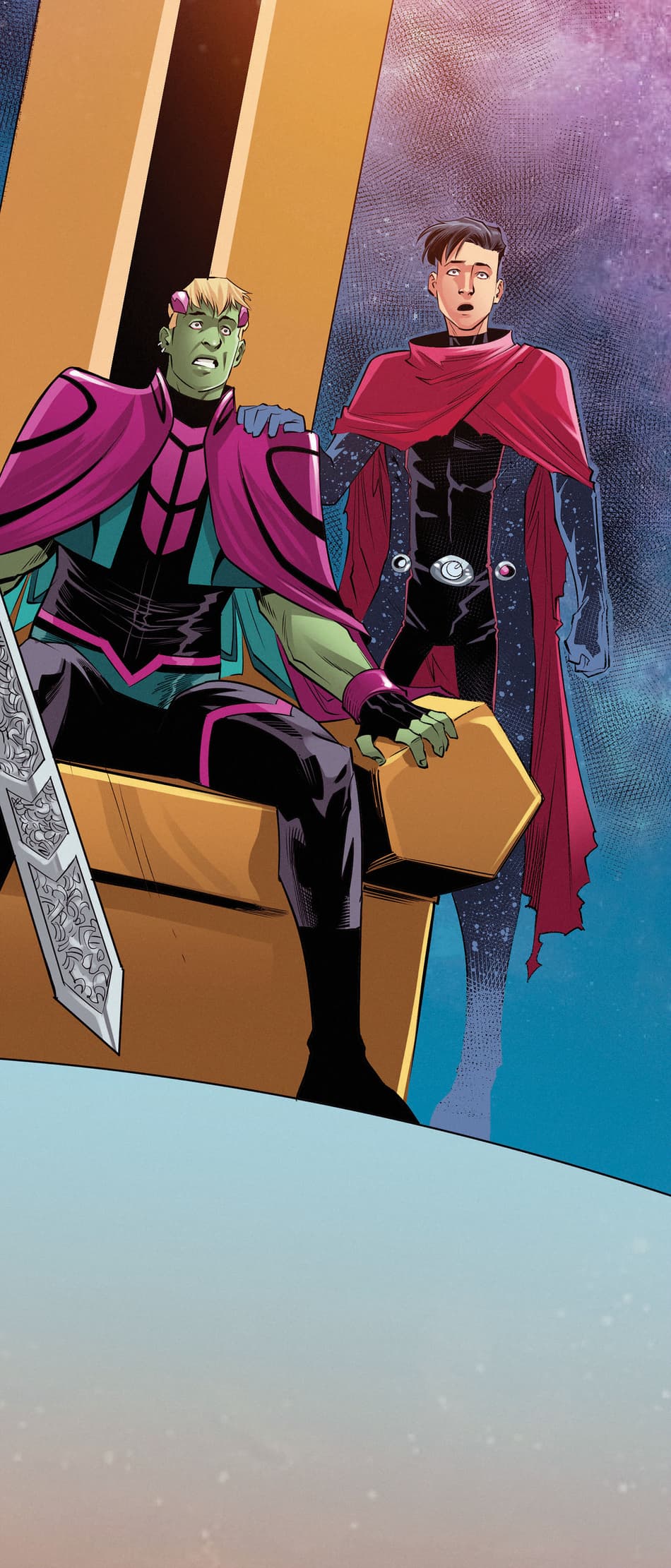 Read MARVEL'S VOICES: YOUNG AVENGERS INFINITY COMIC #5 on the Marvel Unlimited app now, and come back each Wednesday for new issues from the six-part arc!
Download the Marvel Unlimited app for iOS or Android devices now for more vertical comics starring favorite Marvel characters. You'll also gain instant access to 29,000+ digital issues spanning 80 years of Marvel Comics.
Follow Marvel Unlimited on Twitter and Facebook to stay tuned in to weekly announcements, articles, and more, all at @MarvelUnlimited. Follow us today to join the conversation with thousands of fellow fans, and let us know what you're reading!
The Hype Box
Can't-miss news and updates from across the Marvel Universe!