Comics
Published September 3, 2019
This 1980s Villain Team Is Back to Fight Captain America
Uncover the dark history of the Watchdogs as they attack in 'Captain America' #13!
Ever since Ta-Nehisi Coates launched CAPTAIN AMERICA (2018), he's been setting all manner of nefarious players against the Sentinel of Liberty. In the year since its launch, this series has not only seen Sharon Carter toyed with, but also the murder of Thaddeus Ross pinned on Cap and the revelation that the Power Elite controls…well, just about everything!
Carter and the Daughters of Liberty appeared to help the shield-slinger by busting him out of jail. But even though he's currently giving the Captain America identity a rest, Steve Rogers continues to fight the forces of evil and oppression. And in this week's CAPTAIN AMERICA #13—by Coates, Jason Masters, and Sean Izaakse—our hero found himself taking on a group of well-trained (and even better armed) terrorists called the Watchdogs...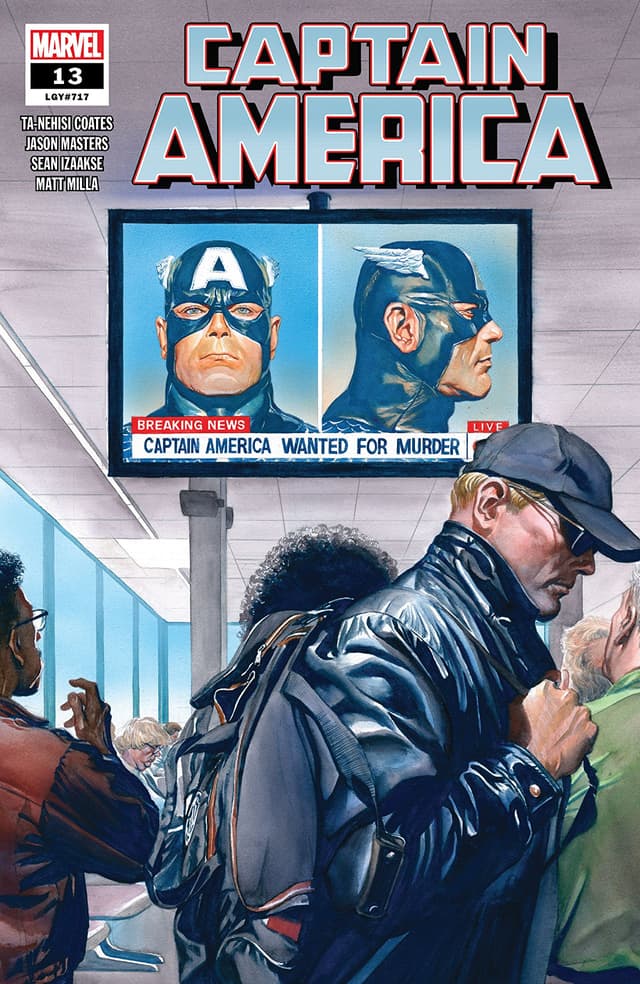 If this group sounds familiar that's because they, as Sharon notes in the issue, have been a thorn in America's side for a while now. The group first showed their ugliness in CAPTAIN AMERICA (1968) #335 in 1987 during the legendary Mark Gruenwald's decade-long run on the book.
This was during another era when Rogers gave up the Captain America identity, this time because he did not agree with the Commision's plan for him. The organization instead gave the gear to John Walker who worked with Lemar Hoskins as his Bucky.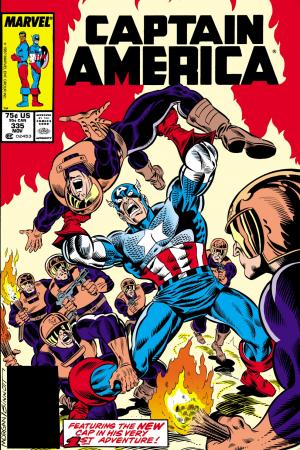 Captain America (1968) #335
published

added to marvel unlimited

writer

penciller (cover)

inker

colorist

letterer

editor
What is Marvel Unlimited?
Clad in matching uniforms with their faces covered, the Watchdogs made their debut by torching an adult book store in the South and executing its owner. The Commission gave the new Cap and Bucky orders to stop this group, which did not sit well with Walker (who grew up in the area and even agreed with some of their moral stances)...
Walker actually used his history in the area and a staged fight with Hoskins to infiltrate the group. He even took their oath of allegiance: "I solemnly vow to walk the virtuous path…to safeguard society from the forces that would corrupt it…and to destroy the enemies of decency…of morality, and of the values upon which our country was founded!"
The Watchdogs attempted to kill Lemar and burn down a library that didn't ban the books they wanted them to, but Walker eventually put a stop to them. Down the line—in ish #345—the Watchdogs broke into Walker's parents' house after his secret identity got out. John turned himself in to them, but broke free when they tried to murder him too! Tragically, as the villains opened fire, the Walkers were caught in the crossfire and were killed.
Rogers eventually returned to the Captain America identity and encountered the Watchdogs himself in CAPTAIN AMERICA (1968) #385-386, by Gruenwald and Ron Lim, after they decided to target a hip-hop record label in Manhattan. It turned out that one of his neighbors, Mike Farrel, was a member of the hate group who spilled his guts to Steve's girlfriend Bernie Rosenthal. The Watchdogs listened in and sent a squad after them, but Cap intervened. Still, they made off with Bernie. Though with some help from U.S. Agent, the Sentinel of Liberty saved her and shut down that branch.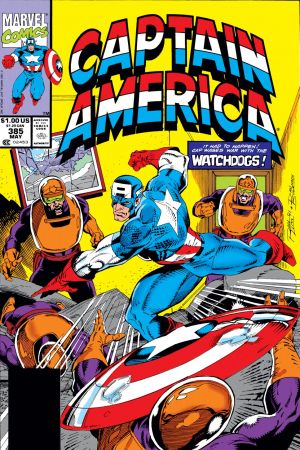 Captain America (1968) #385
published

added to marvel unlimited

writer

penciller

penciller (cover)

inker

colorist

letterer

editor
What is Marvel Unlimited?
During Bucky Barnes' stint in the red, white, and blue, he came up against a higher-tech version of the group in CAPTAIN AMERICA (2004) #601-605 by Ed Brubaker and Luke Ross. William Burnside, the man who was turned into Captain America in the '50s (before being put into cryostasis) even joined the group after seeing how his hometown in Idaho had changed over the decades. But Barnes took them on, backed by Sam Wilson. Together, the heroes succeeded in their mission—for the time being.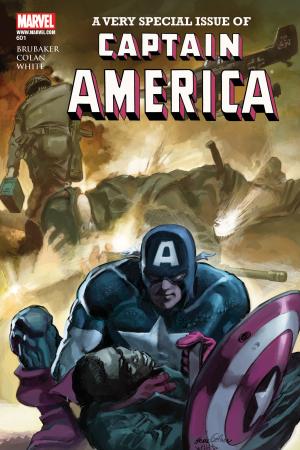 Captain America (2004) #601
published

added to marvel unlimited

writer

penciller

inker

colorist

letterer

other
What is Marvel Unlimited?
The Hype Box
Can't-miss news and updates from across the Marvel Universe!