Comics
Published July 10, 2019
This October, Relive History with 'Fantastic Four: Grand Design'
Acclaimed cartoonist Tom Scioli re-examines the First Family's past with a new series!
Members of the Merry Marvel Marvel Society, rejoice! The humble House of Ideas is havin' a party on Yancy Street this October as a new vision of the FF is on the way in FANTASTIC FOUR: GRAND DESIGN!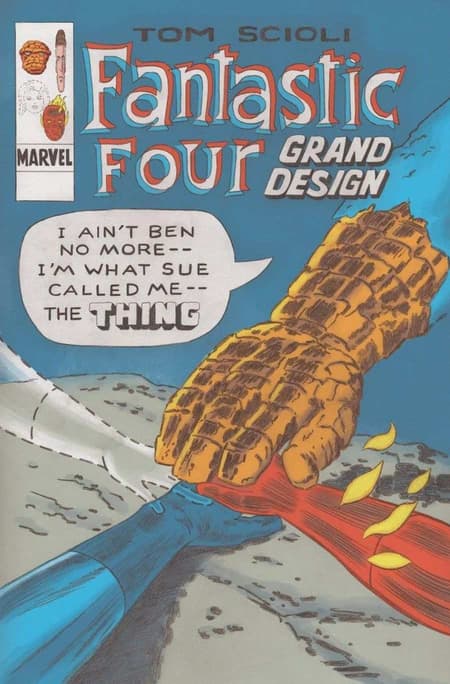 As announced yesterday on ComicBook.com, critically-acclaimed cartoonist Tom Scioli has been tasked with redefining the history of Marvel's First Family! Following the model crafted by Ed Piskor with his three X-MEN: GRAND DESIGN collections, FANTASTIC FOUR: GRAND DESIGN will weave a single cohesive narrative from over 58 years of Reed, Sue, Johnny, and Ben's vast and varied exploits.
"Fantastic Four is like the Magna Carta of Marvel, this founding document, so being allowed to get my hands on it is thrilling. They've given me a tremendous amount of creative freedom to just go for it," Scioli tells ComicBook.com. And as the writer, penciller, colorist, and letterer of the series, Scioli already has Fantastic Four fanatics flippin' out about what's to come!
This October, join the Watcher and witness how it all began… Including appearances by the biggest names in Marvel history: Doctor Doom! Black Panther! Namor! Galactus! Mole Man! The Inhumans! And much more!
Look through two variant covers and three interior pages of FANTASTIC FOUR: GRAND DESIGN #1 below! Then keep an eye out at your local comic shop this October to pick the ish up yourself!
The Hype Box
Can't-miss news and updates from across the Marvel Universe!