Comics
Published October 16, 2017
Thor Lore: Days of Rage
Revisit the time Thor and a mindless Hulk threw down in NYC!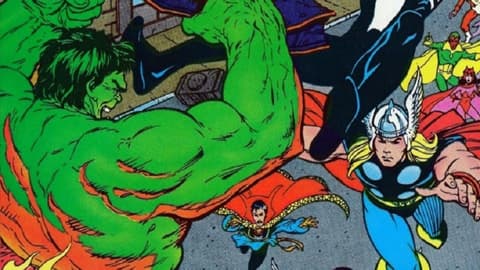 Thor and Hulk have always had a tumultuous relationship.
In the short time they served on the Avengers together, the two didn't get along too well…though, since then, they've adopted a healthy—though sometimes begrudging—respect for each other. Below, we scope out one of their most epic battles—in 1984's INCREDIBLE HULK #300 by writer Bill Mantlo and artist Sal Buscema.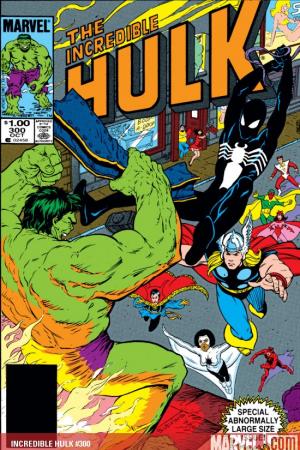 At the time, Bruce Banner thought he'd done away with the Hulk's rage-filled personality. However, when Nightmare decided to torment Doctor Strange, the green guy came back as Banner decided to change into the Jade Giant to stop the villain's dark schemes.
The issue began with The Hulk rampaging across New York City. In response, the U.S. government deemed it appropriate to use any means to take him down—including the use of chemical fire bombs dropped by S.H.I.E.L.D. ships.
The chaos forced a few local New York heroes to respond to the situation as well—Daredevil saved a child from the reverberating danger, Spider-Man caught a couple of plummeting pilots as they fell from the sky, and Doctor Strange escaped Nightmare to search for an alternate dimension in which The Hulk might be contained.
Meanwhile, The Human Torch, Luke Cage, Iron Fist, and the Avengers tried to handle the problem with a more confrontational approach. While none stood a chance against The Hulk, Thor stood tall and matched the might of the Giant. Despite summoning lightning and hurling Mjolnir in the battle, Thor realized that the only way to finally stop The Hulk would be the most drastic measure of all—to kill him.
The battle raged, and the two combatants flung fists and nearby cars as the fight seemed like it'd never end. As the war of attrition seemed most hopeless, however, Doctor Strange reemerged to enact his other-dimensional contingency—and sent The Hulk to another space and time.
Ragnarok and Roll
For an equally epic—though more recent—Thor and Hulk throw down, check out the 2011 event Fear Itself, in which Bruce Banner's alter ego picked up one a personality-warping hammer and transformed into Nul: Breaker of Worlds. And joining The Hulk with an evil new ego was The Thing—who became Angrir: Breaker of Souls. In FEAR ITSELF #5, Nul and Angrir confronted Thor in a hammer-shattering encounter for the ages.
The Hype Box
Can't-miss news and updates from across the Marvel Universe!