Comics
Published October 21, 2020
Three More Champions Emerge in 'X of Swords'
Spoiler alert! Read through the ramifications of 'Excalibur' #13 and 'X-Men' #13!
WARNING! THIS ARTICLE CONTAINS SPOILERS FOR TODAY'S EXCALIBUR #13 and X-MEN #13, SO READ ON AT YOUR OWN RISK, FRANTIC ONES!
X OF SWORDS hasn't quite reached its midpoint yet, but the stakes are clear. Apocalypse's original Horsemen have ravaged Otherworld in a deadly march towards Krakoa. If Krakoa's mutant nation is destroyed by the Arakkii then Earth will also fall. Saturnyne, the cruel mistress of the Starlight Citadel and the Omniversal Majestrix, has given the X-Men one chance to prevent this disaster. If ten champions of Krakoa can emerge with ten swords of prophecy, then they will get an opportunity to face the ten champions of the Arakkii in battle to determine the winner.
Thus far, Magik, Wolverine, Storm, Cypher, and Cable have earned their place in Krakoa's casting circle. Five spots remained to be filled before this week's chapters. In EXCALIBUR #13, writer Tini Howard and artist R.B. Silva revisited Saturnyne as she took the opportunity to strike at the heart of the Braddock family...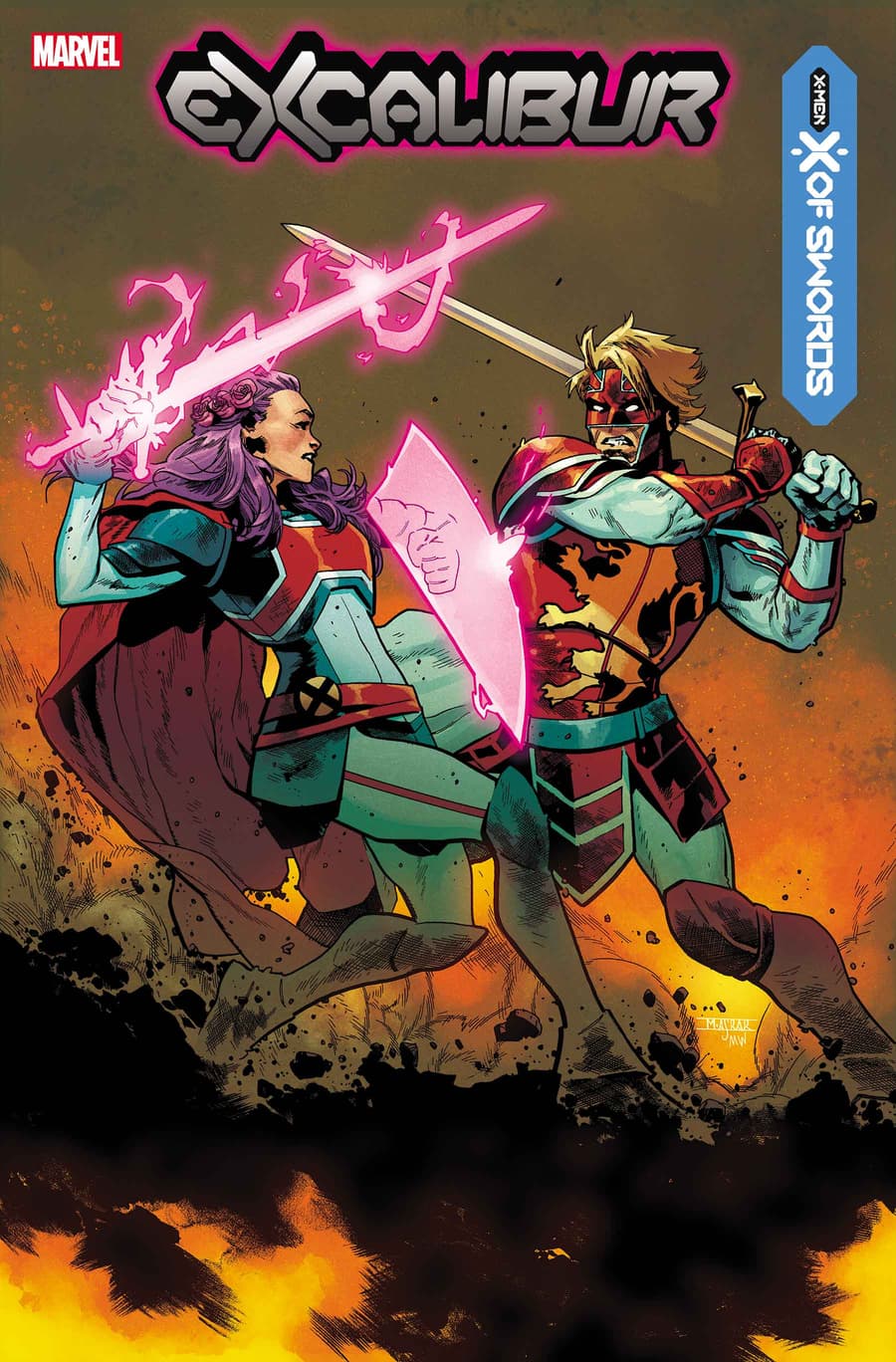 Saturnyne has made no secret of her contempt for the current Captain Britain, Betsy Braddock. Nor has Saturnyne hidden her lust for the prior Captain Britain, Brian Braddock. Saturnyne confirmed in this issue that she specifically crafted the prophecy to bring Brian into her grasp. Saturnyne also found it convenient to accuse Betsy of heresy and condemn her to death in front of her brothers.
The sibling rivalry between Betsy and Brian was a critical part of CAPTAIN BRITAIN (1985). That was also the series where Betsy first had a chance to become Captain Britain herself. But she never really settled into the role the way she has in EXCALIBUR (2019). That's one of the reasons Betsy seems so upset about Brian potentially reclaiming the mantle; Betsy likes being Captain Britain, and she's not willing to simply give it up.
Regardless of Saturnyne's intentions towards the Braddock twins, she was far more wary of their older brother, and the new king of Avalon, Jamie Braddock. As recently as EXCALIBUR #10, Jamie manipulated alternate timelines to create a new Captain Britain Corps composed of Rogue, Gambit, Jubilee, and Rictor. These heretical Captain Britains repaid the "favor" by attempting to assassinate Jamie in the Starlight Citadel.
Unfortunately for the new Captain Britain Corps, Jamie was only briefly caught off guard before he rendered them helpless and murdered the alternate Jubilee. When Betsy intervened to save the alternate Corps, Saturnyne ordered her to be executed at dawn alongside them. However, Betsy was able to destroy the Amulet of Right. Theoretically, that prevents Saturnyne from creating another Captain Britain.
As for Brian, he found himself in Saturnyne's bedroom as she created the Starlight Sword, which was crafted from a piece of the Starlight Citadel itself. Regardless, Brian resisted Saturnyne's temptation and embraced his new role as Captain Avalon. Along with a new name and a new costume, Brian accepted the Sword of Might as his own. The Braddocks left Saturnyne fuming as they returned to Krakoa as the island's newest champions.
Writer Jonathan Hickman and artist Mahmud Asrar continued the X OF SWORDS saga in X-MEN #13.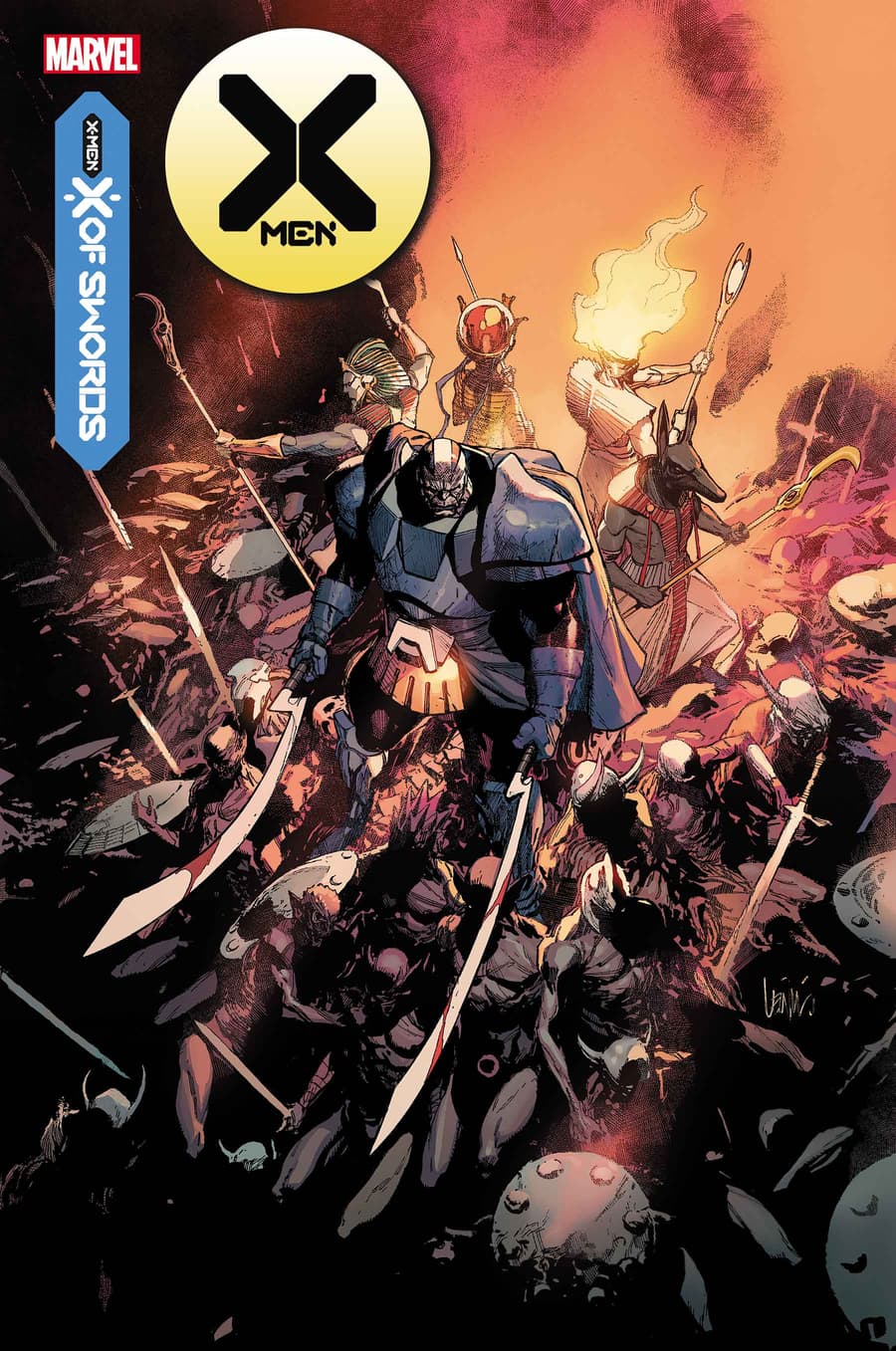 This issue was largely a spotlight on Apocalypse, and it offered a new perspective on the story we first heard in POWERS OF X #4. Hope Summers and the Morlock Healer attempted to treat the grievous wounds that Apocalypse suffered in X OF SWORDS: CREATION #1 when his own children tried to kill them. As he felt the physical pain, Apocalypse revisited the emotional wounds he suffered when Okkara, the one land, became Krakoa and Arakko.
Ages ago, a demonic force invaded Okkara. Apocalypse and his wife, Genesis, led their children and their followers into battle. Together, they saved this world from being overrun. They were so effective that the Amenth sued for peace. It was then that Apocalypse and his family saw their true enemy... Anyone who wears the Golden Helm of Amenth becomes possessed by the leader of the horde. It may even be some kind of elder god, but its power is immense. And it was not impressed by Apocalypse or his family.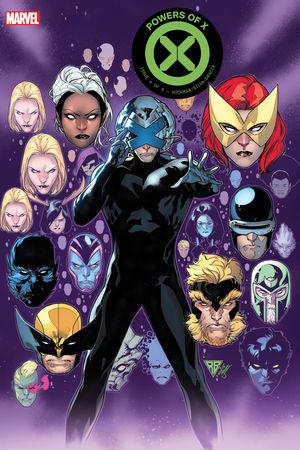 Powers of X (2019) #4
published

added to marvel unlimited

colorist

colorist (cover)

editor

letterer

writer

inker

inker (cover)

penciler

penciler (cover)
What is Marvel Unlimited?
Intriguingly, Apocalypse wasn't privy to the deal that Genesis struck on behalf of their family. But it's more important to note why Apocalypse was forced to stay behind when Krakoa and Arakko were separated. Genesis told Apocalypse that he wasn't strong enough to come with them. And she meant emotional strength, as even in the present, the memory moves Apocalypse to tears. Before she left, Genesis told Apocalypse to test the people of their world to ensure their strength if the invasion ever resumed. This gives additional context to Apocalypse's survival of the fittest creed. It's not just mutant supremacy, it's his way of saving the world.
Once healed, Apocalypse reclaimed his sword, Scarab, and destroyed the monument that he had built for his family. The only emotion that Apocalypse felt was anger as he became the eighth champion of Krakoa.
Two more champions remain to be found, as the crossover continues in X OF SWORDS: STASIS #1 on Wednesday, October 28. Once that happens, the main event will begin!
Stay tuned to Marvel.com for more! Pax et Justitia!
The Hype Box
Can't-miss news and updates from across the Marvel Universe!