Comics
Published September 12, 2014
Titans Collide in Hulk Vs. Thanos
Jim Starlin prepares to pit two of Marvel's mightiest against one another and an array of guests later this year!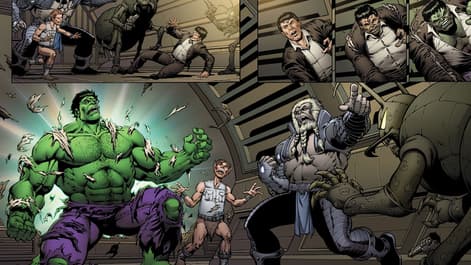 Jim Starlin's got his hands and plate full with his new four-issue limited series, THANOS VS. HULK, out later this year.
The story, if you've already guessed, pits our favorite green giant against the cosmos' greatest villain in a winner-takes-all contest—who wins? Who loses? Who survives? We sidled up to Starlin for a few clues.
Marvel.com: Jim, does THANOS VS. HULK lead off from any previous tales of yours? Can an interested reader come in cold?
Jim Starlin: A reader only has to know who the Hulk and Thanos are—which is just about anyone who knows the name Marvel these days. The story is self contained, even though it is part of the tale begun in THANOS ANNUAL and the INFINITY REVELATION original graphic novel. Strangely enough, though, this story takes place before INFINITY REVELATION, as did THANOS ANNUAL.
Marvel.com: Inquiring minds want to know: which version of the Hulk are you using in the series?
Jim Starlin: I based this story's Hulk on the version Mark Waid was writing in INDESTRUCTIBLE HULK. That's what editorial sent me to read, in order to catch up on what Mean & Green has been up to. The only thing I changed was giving him longer hair than that series had.

Marvel.com: We heard that things kick off with Pip the Troll abducting Hulk—why would he do that?
Jim Starlin: Annihilus has something Pip terribly wants and so he kidnaps Bruce Banner to trade for that something. Buyer's regret sets in and the story continues onward.
Marvel.com: Wait—Annihilus? How big of a part does he play in the story? Why is he a great villain to use?
Jim Starlin: Annihilus is throughout the series. He wants the Hulk/Banner for his own nefarious reasons. Telling you any more than that would prove a spoiler. I'm using him in the story because he's already a great villain that could be even scarier than he already is.
Marvel.com: What are some of the places we'll travel to in THANOS VS. HULK?
Jim Starlin: Starts on Earth, goes to Starlin's Bar, then onto the Negative Zone and ends back on Earth. There's also a little spell where we hang in what may or not be Bruce Banner's psyche. So the scope is rather large and diverse.
Marvel.com: How will you bring Thanos into it? What kind of past history does he have with the Hulk?
Jim Starlin: It's not his history with the Hulk that brings Thanos into the tale. Long-time readers will recall that the Titan and a certain troll have a past affiliation. The fact of the matter is that Pip plays as big a role in this tale as any of the other characters, including the Hulk. So some unusual twists and turns should be expected.
Marvel.com: What other characters will guest-star?
Jim Starlin: Iron Man makes an appearance along with certain members of S.H.I.E.L.D. You'll also find many of the usual suspects hanging around Starlin's Bar. Yes, it's pure ego that drives me to add that location to the story.
Marvel.com: Hey, who could blame you? So, for a project like this, what's the biggest advantage for you to both write and draw? What if any are the challenges?
Jim Starlin: The advantages of this arrangement keep fights between the writer and artist down to a minimum. The challenges?  When a fight does break out between the writer and artist it gets very bloody very fast. Still healing from the final issue.
Look for HULK VS. THANOS by Jim Starlin later this year!
The Hype Box
Can't-miss news and updates from across the Marvel Universe!