Comics
Published October 15, 2019
Today in Marvel History: The Birth of the Guardians of the Galaxy
Fifty-one years ago today, the legendary team made their debut!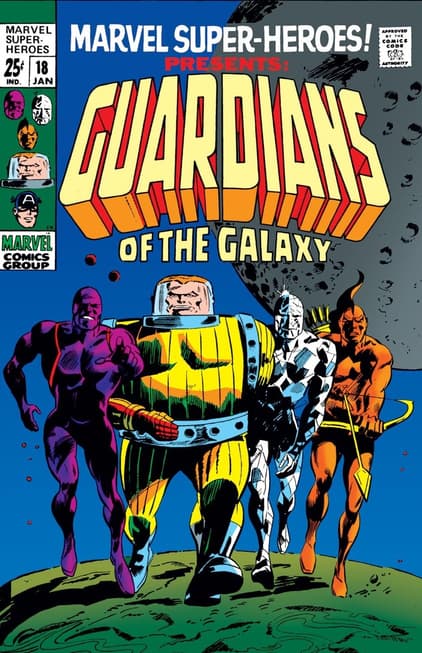 Featuring mind-melting panel layouts and cosmic cacophony across this 22-page tale, the book opened with an piece of text introducing the reader to the status quo and their new lead character...
"It is the year 3007! A single flag flies over the U.L.E.--the United Lands of Earth--and over the dozens of planets in the ULE Federation! Wars among nations long ago ceased--but the war of the star systems has only begun...
"This is Charlie-27, fifth generation of his family born on planet Jupiter--after space-migrating from Earth! Like all pioneers, Charlie-27's human body was adapted at birth to withstand Jupiter's conditions--eleven times the mass and three times the gravity of Earth--!"
Marvel Super-Heroes (1967) #18
published

added to marvel unlimited

editor

writer

penciller

penciller (cover)

colorist

inker

letterer
What is Marvel Unlimited?
The issue took readers on an intergalactic journey, and introduced them to Charlie-27 as well as his unlikely (and sometimes unstable) new team; new characters Major Vance Astro, Martinex, and Yondu Udonta each made their first appearances in the Marvel Universe in MARVEL SUPER-HEROES #18.
While the makeup of this team has changed many times across the years, this issue cemented an ethos for the squad that's lasted to this day—one that could only emerge from the happenstance introduction, reluctant unification, but ultimate sacrifice that defined this first Guardians tale.
Read this issue on Marvel Unlimited right now! Then visit Marvel.com/marvel80 for more!
The Hype Box
Can't-miss news and updates from across the Marvel Universe!