Comics
Published April 18, 2017
Unbeatable Squirrel Girl: Faceoff
Five reasons Doreen Green has met her match from writer Ryan North!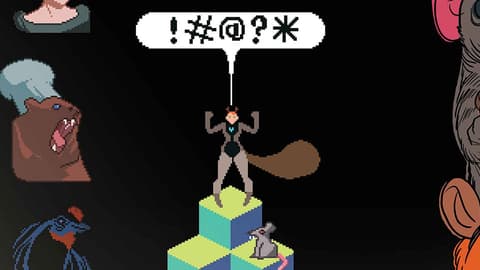 Squirrel Girl may be everyone's favorite chipper, upbeat super hero, but as we know, Doreen Green's adventures go far beyond fun and games. She has squared off against some pretty impressive villains. And we'll soon see her ultimate confrontation with evil entrepreneur Melissa Morbeck in UNBEATABLE SQUIRREL GIRL #20, available May 17.
We caught up with writer Ryan North, who filled us in on why Doreen's battle with Melissa promises to be her biggest yet!
Melissa has all the world's animals on her side
"She's put chips in their brains that lets her control them. Squirrel Girl can control squirrels, but they are, I am sad to say, pretty useless against lions. I thought maybe they could do some damage but even a pretty wimpy lion can handle them no problem."
She knows Squirrel Girl's secret identity
"Doreen Green has been kinda okay at keeping her activities as Squirrel Girl secret, but not kinda okay enough—Melissa has figured it out. And that means she knows how to mess up both Doreen and Squirrel Girl. It turns out dressing up as an animal to go out and punch crime in the face isn't smiled upon by all branches of law enforcement, despite its strong historical pedigree?"
Melissa has been manipulating Doreen's life for a while now
"Squirrel Girl got a new flying suit from Melissa, only to find out too late that Melissa could disable it at will. And while she made friends with Chipmunk Hunk and Koi Boi at ESU, it turns out they only met because Melissa wanted them to as well. What does she have planned? And why is she so into being a jerk all the time?"
The world is watching
"A faceoff in New York City between Squirrel Girl and Melissa has gotten the world media's attention, including J. Jonah Jameson, who is not exactly known for his fair and balanced reporting on animal-themed super-heroes. Sorry, JJJ, but we've all seen your Spider-Man articles! Spider-Man was clearly helping that old lady across the street, and I must say your 'WEB-HEAD MENACE DRAGS SENIOR CITIZEN ACROSS FIVE LANES OF TRAFFIC! / TRAFFIC HAPPENED TO BE STOPPED AT RED LIGHT: ONLY REASON LITTLE OLD LADY STILL ALIVE' headline fundamentally misrepresents what happened."
And finally, Doreen has faced off against Galactus before, but even that was easier
"…so you might think that was her biggest face-off ever, but they only fought for a little bit before becoming pals. Melissa, much like everyone on reality television, did not come here to make friends. So that's a challenge!"
Grab some nuts and sit back for the final showdown between Doreen Green and Melissa Morbeck, coming to UNBEATABLE SQUIRREL GIRL #20 on May 17, courtesy of Ryan North and Erica Henderson!
The Hype Box
Can't-miss news and updates from across the Marvel Universe!