Comics
Published June 8, 2017
Unbeatable Squirrel Girl: Into the Savage Land
Ryan North dispatches Doreen Green into a prehistoric playland!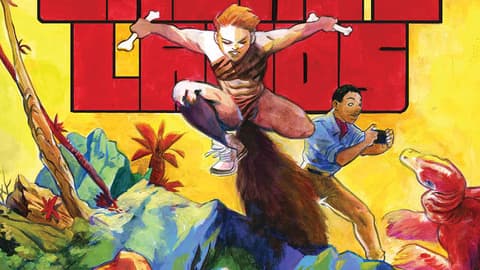 Doreen Green has pretty amazing powers, including the ability to communicate with squirrels. Too bad that knack doesn't extend to other animals like, say, dinosaurs!
In the upcoming UNBEATABLE SQUIRREL GIRL #22 on July 12, Doreen and Nancy Whitehead will find themselves smack in the middle of the Savage Land, fighting dinos and other baddies. Writer Ryan North fills us in on what we can expect.
Marvel.com: Doreen and Nancy will get thrown into the Savage Land pretty abruptly. How will they handle it?

Ryan North: Well, they're going there because they won a "Mysterious Programming Contest," so they have time to, you know, pack bags and get excited and stuff.  What they don't have time to prepare for is what they find when they arrive, which I don't want to spoil but which absolutely involves dinosaurs and/or the fighting of dinosaurs.
Marvel.com: Dinosaurs live in the Savage Land as you mentioned. How well do you think Doreen's powers will equip her to go up against them?
Ryan North: She's got speed, agility, and strength—but then dinosaurs have speed, agility, and strength too, plus the ability to be two stories tall and have a giant mouth filled with teeth. So unlike her regular foes, an angry dinosaur can credibly threaten her in precisely the way a man in a Rhino costume can't. That said, squirrels and dinosaurs have never actually battled before, so this does present a once in a lifetime opportunity to see what happens when a tiny mammal goes against a Jurassic apex predator.
Marvel.com: What would you consider the top three challenges Doreen and Nancy will have to face in Savage Land?

Ryan North:
Seeing dinosaurs.
Fighting dinosaurs.
 Getting to go to the gift shop right away so she can get official Savage Land merchandise and dress like a dinosaur hunter.
Marvel.com: So often, extreme situations like this teach us something about ourselves. What will Doreen learn during her time in Savage Land?
Ryan North: Doreen's not just fighting dinosaurs: there's a big bad we haven't revealed yet, and this is one that she can't really reason with.  So it's going to be a chance for Doreen to really let loose with her physical powers in a way she can't in a heavily populated city like New York. So I'm hoping Doreen will learn that she is even more powerful than she thinks, and also that dinosaurs are awesome—though she already knew that; we all already knew that.
Marvel.com: In addition to dinosaurs, lots of other prehistoric animals live in the Savage Land. Will we get to see any prehistoric squirrels, and can Doreen communicate with them?
Ryan North: [Laughs] No, no prehistoric squirrels! Though the first thing [artist] Erica [Henderson] and I came up with was an explanation for why all the dinosaurs in the Savage Land look like 60s versions of dinosaurs and not the modern reconstructions where they're feathered bird-like creatures. So rest assured we have a really valid explanation for why our dinosaurs may appear to be less than scientifically accurate.
Marvel.com: Would you like to mention or tease anything else?

Ryan North: This Savage Land arc begins with our issue after next, and it has an amazing painted cover by Erica that is one of my favorite things she's done. But before we hit that issue we've got a special stand-alone installment of SQUIRREL GIRL that's a Brain Drain + Chipmunk Hunk + Koi Boi extravaganza. It's gonna be so good: Doreen and Nancy are on vacation so it's up to the sidekicks to save the day all by themselves. It's got Brain Drain, aka Brian Drayne, aka a nihilistic brain in a jar on a weird giant robot body. So if you like dinosaurs or robots, you should definitely check out UNBEATABLE SQUIRREL GIRL!
Pick up UNBEATABLE SQUIRREL GIRL monthly from Ryan North and Erica Henderson!
The Hype Box
Can't-miss news and updates from across the Marvel Universe!