Comics
Published October 12, 2017
Unbelievable Gwenpool: Doom Awaits
Christopher Hastings explains why Gwen won't stand a chance against the Doctor!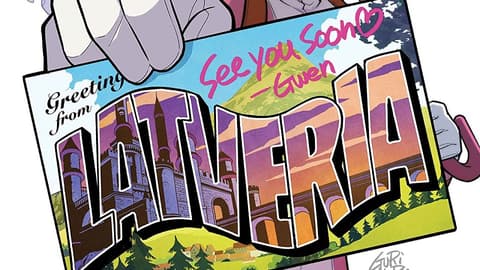 Gwenpool taking on Doctor Doom seems like a bad idea…but nobody told her that!
Both writer Christopher Hastings and artist Irene Strychalski have made themselves complicit in this ominous setup for Gwen—and on November 8, in GWENPOOL #22, we'll find out just how bad things will get for the fourth wall-shattering super hero.
Ahead of the showdown, we had Hastings analyze six reasons why taking on Victor Von Doom won't end well for Gwenpool.
Doctor Doom has long proven himself to be a master of technology.
"Yeah—and Gwen's pretty much limited to whatever she can buy or steal," the writer acknowledges, "Doom has the advantage here!"
Victor Von Doom has also demonstrated an incredible talent with sorcery.
"And Gwen knows none! However, Gwen's awareness that she exists in a comic book has reached new levels, granting her the ability to manipulate the panels and pages, or as everyone else sees it, reality itself." Though he admits, "She's still figuring it out."
The Doctor does not enjoy facing lighthearted or wacky opponents.
"Gwen infuriates Doom—which may inspire a swift end to this battle," teases the writer.
He seems pretty committed to being a good guy now—and Gwenpool hasn't been great at committing to the concept of "hero."
"Gwen likes the idea of being a hero, but she's just learning to be a decent person in the Marvel Universe—that's been a slow and painful process. But I'd say the same for Doom. Their difficulties 'trying to be better' manifest themselves very differently, but I can see some parallels."
Given that Gwen remains relatively new to the Marvel Universe, she might have missed that Doom no longer stands as the number one baddie around.
Christopher agrees: "This might be a major issue. Gwen showed up at some point around Secret Wars, which means she has not read any comics since then—she still thinks she's going up against classic Von Doom."
Doctor Doom has been one of the most disciplined figures in the Marvel Universe for years. Gwen…not so much.
"Yeah, Gwen carries swords around but I don't think she's learned anything about how to wield them since the one time she watched some YouTube tutorials."
Well…good luck, Gwen!
GWENPOOL #22, by Christopher Hastings and artist Irene Strychalski, throws down on November 8!
The Hype Box
Can't-miss news and updates from across the Marvel Universe!