Comics
Published March 15, 2017
The Fantastic Four Battle Mole Man
Can the first family of comics stop the fury of the Mole Man?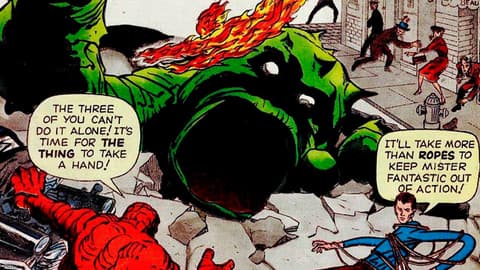 Some might think that the rebirth of the super heroes at Marvel with FANTASTIC FOUR #1 rang an immediate death knell for the giant monsters who had ruled the roost for the previous few years, but that's not quite the case. In fact, the two carried on side by side for a while.
FANTASTIC FOUR #1 marks an interesting merging of the two genres as Stan Lee and Jack Kirby pitted their brand new first family of comics up against, you guessed it, giant monsters. Just look at the cover if you don't believe us!
The issue from 1961 began with each member of the team already equipped with their powers out in New York City until a mysterious figure sent out a Fantastic Four flare that grabbed their attention.  Upon the group getting together the reader discovered that Reed Richards called the meeting. After recounting their cosmic ray-filled trip to outer space that granted them amazing powers, the quartet focused on the task at hand: stopping The Mole Man from sending his enormous monsters surface-side to destroy nuclear plants.
Reed tracked the creatures to a place called Monster Isle and all four set out to investigate. There they first encountered incredible creatures and then their leader, Mole Man. He explained that the surface world had shunned him because of looks, so he retreated underground where an accident left him mostly blind. Still, he turned the negative into a positive and soon mastered control of the subterranean creatures.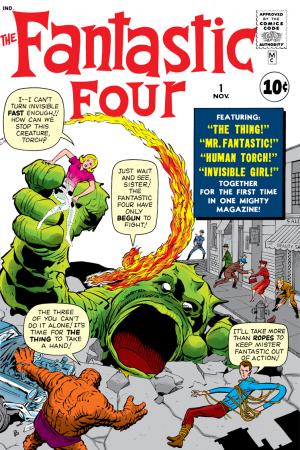 He ordered them to destroy the nuclear plans in hopes of sending his minions on a full-on destruction mission. This, of course did not sit well with the fledgling heroes who soon made a break for the exit with Human Torch sealing up the tunnel after them along with their leader.
Mole Man has returned numerous times with his monsters to fight the Fantastic Four as well as other heroes in the Marvel Universe. While this marked the first time the FF has gone up against the kinds of monsters that preceded them, it would be far from the last.
Creators in the early 60's like Stan Lee and Jack Kirby quickly learned the popularity of huge, wild creatures which has inspired writers and artists to continue mixing them with super heroes in a variety of ways including Monsters Unleashed!
The Hype Box
Can't-miss news and updates from across the Marvel Universe!