Comics
Published July 26, 2019
'Valkyrie' #1: What Critics Are Saying
"'Valkyrie' #1 feels like the start of something memorable."
The beginning of Jane Foster's newest journey was forged this week with the release of VALKYRIE #1, written by Jason Aaron and Al Ewing with art by CAFU and Jesus Aburtov. The WAR OF THE REALMS has ended, the Valkyrior are dead -- until former Thor Jane Foster was visited by the spirits of the Valkyries and offered the responsibility of carrying the mantle as Valkyrie herself. Not one to turn away from a call of duty, Jane became the new -- and last -- Valkyrie. But while she has a new role as a Super Hero, Jane must also juggle her medical practice in the civilian world. This is where we meet her in VALKYRIE #1 -- and the reviews are in!
Monkeys Fighting Robots: "I can't wait to see Jane navigating the world of the dead and see what horrors she comes back with. CAFU's art in this first installment is absolutely gorgeous and Aburtov brings out the best in the art by blending the colors so realistically almost every millimeter of every page is a different color or different shade. Bringing the art alive with glowing eyes and shimmering weapons is exactly what you would expect from a story about a former God. "
Comics: The Gathering: "Expertly delivered exposition, interesting questions about the future, and personal stakes are a perfect recipe for a new beginning. Top notch art solidifies the book in its place in the charts, sure to be one of Marvel's biggest hits. "
AiPT!: "For readers old and new, this is an excellent starting point."
Beyond the Panel: "Just like MIGHTY THOR, VALKYRIE #1 feels like the start of something memorable, just like MIGHTY THOR. Right now, there is no one tearing down the walls to the mythos of iconic heroes better than Al Ewing and Jason Aaron. After reading this first issue? I put this book down understanding that we never knew Valkyrie as much as we should have! ."
Inside Pulse: "AWESOME art with a compelling story."
Newsarama: "...CAFU and Aburtov deliver big, splashy action intermingled with strikingly emotive quiet scenes. Believe the hype, Midgardians, VALKYRIE: JANE FOSTER #1 is wall-to-wall awesome."
The Beat: "This issue is beautifully paced. Joe Sabino's lettering effortlessly marks the transition from Jane's internal monologue to her speech as Valkyrie to her speech as herself. CAFU's art is dynamic, action-packed and balanced, especially with Jesus Aburtov's colors gracing the page. Likewise, the script is compelling and works perfectly in tandem with the art and design. Nothing feels out of place — not even the surprise villain who makes an appearance at the end of the issue. ... I loved this book from cover to cover and the cliffhanger made me scream out loud."
Word of the Nerd: "This has been a long journey for Jane Foster. And a long journey for her fans, too, for that matter. But it has been a blast. I think that this series is the perfect follow-up for any fans of the Goddess of Thunder. ... I can't wait to see how Jane handles the new… dilemma that has been thrown her way."
VALKYRIE #1, written by Jason Aaron and Al Ewing with art by Cafu and Jesus Aburtov, is on sale now online and at your local comic shop.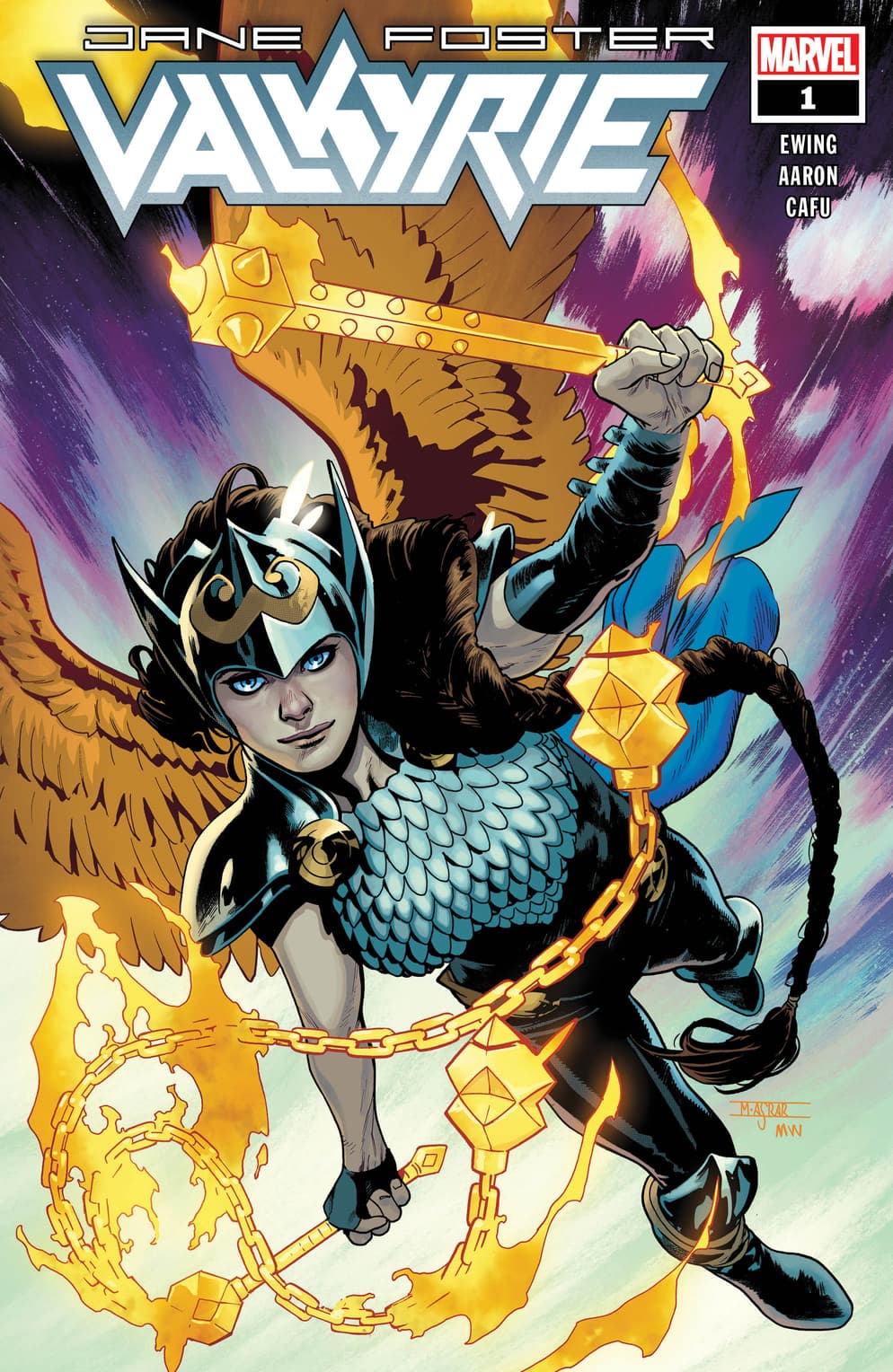 The Hype Box
Can't-miss news and updates from across the Marvel Universe!