Comics
Published December 11, 2020
'Venom' #31 Strikes at the Heart of Eddie Brock
The King in Black has come for Venom's host and the entire planet!
WARNING! THIS ARTICLE CONTAINS SPOILERS FOR VENOM #31, SO READ ON AT YOUR OWN RISK, TRUE BELIEVERS!
There's no series more in tune with KING IN BLACK #1 than VENOM. This was the series that introduced Knull, the creator and god of the symbiotes. It's also been the comic that has put Eddie Brock AKA Venom on a more heroic path than ever before. He's been an antihero for years, but now Venom is welcome among the ranks of the Avengers and recognized as a hero. Additionally, Eddie has found some measure of redemption thanks to his young son, Dylan Brock.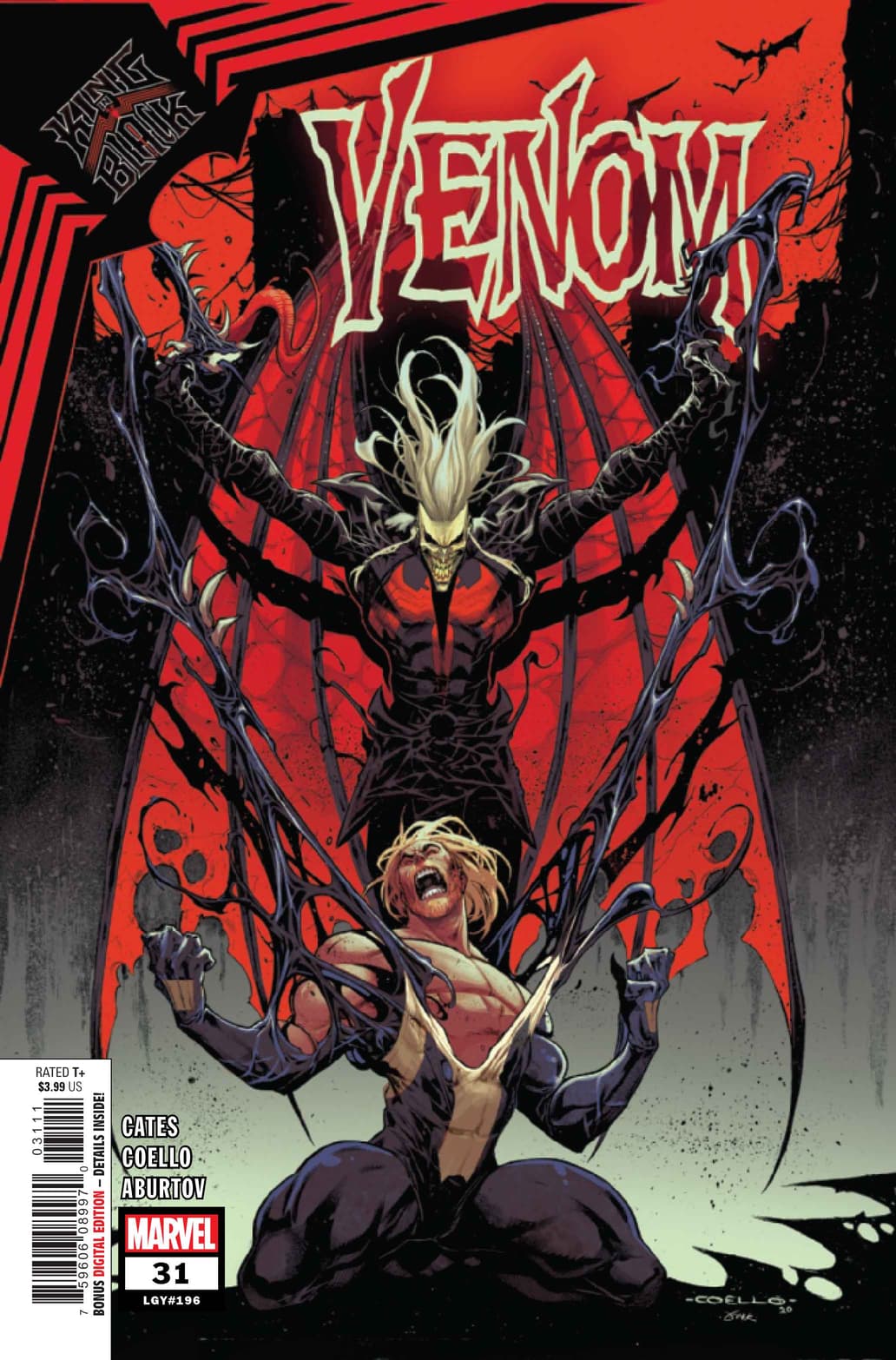 Those beautiful developments came crashing down with Knull's arrival, literally. In this week's VENOM #31, writer Donny Cates and artist Iban Coello pick up the action mere moments after the end of KING IN BLACK #1. In that issue, Knull finally arrived on Earth with an army of symbiote dragons. Even with months of preparation in place, and the genius of Tony Stark AKA Iron Man and others, New York City was overwhelmed in minutes. Not even the combined might of the Avengers, the Fantastic Four, the X-Men, and several other heroes was able to slow down Knull's advance.
Eddie tried to do the right thing by hiding Dylan from Knull in a nuclear vault, before confronting the symbiote god himself. Knull showed no mercy and ripped the Venom symbiote from Eddie's body before letting him fall from a very tall building. That's where we begin in VENOM #31, and the entire issue plays out over the course of 32 seconds.
In flashback, we see a familiar face that hasn't appeared in a while: Rex Strickland. Rex was introduced in VENOM #1-6, and his backstory was explored in WEB OF VENOM: VE'NAM (2018) #1. The short version is that Rex was among the first soldiers joined with symbiotes during the Vietnam War. While Rex's men were overwhelmed by Knull's influence, his symbiote felt remorse for its actions. That's why the symbiote assumed Rex's life for decades after the real Rex met his end in the conflict.
Rex's recording fills the narration for most of the issue, as he openly admits that he doesn't really know or trust Eddie. Flash Thompson was the Venom that Rex wanted to recruit, and he was also a more formidable warrior with military training. Eddie Brock is just a disgraced journalist who happened to be at the right time and place to receive Spider-Man's black costume symbiote, before becoming the wall-crawler's greatest nemesis in AMAZING SPIDER-MAN (1963) #300.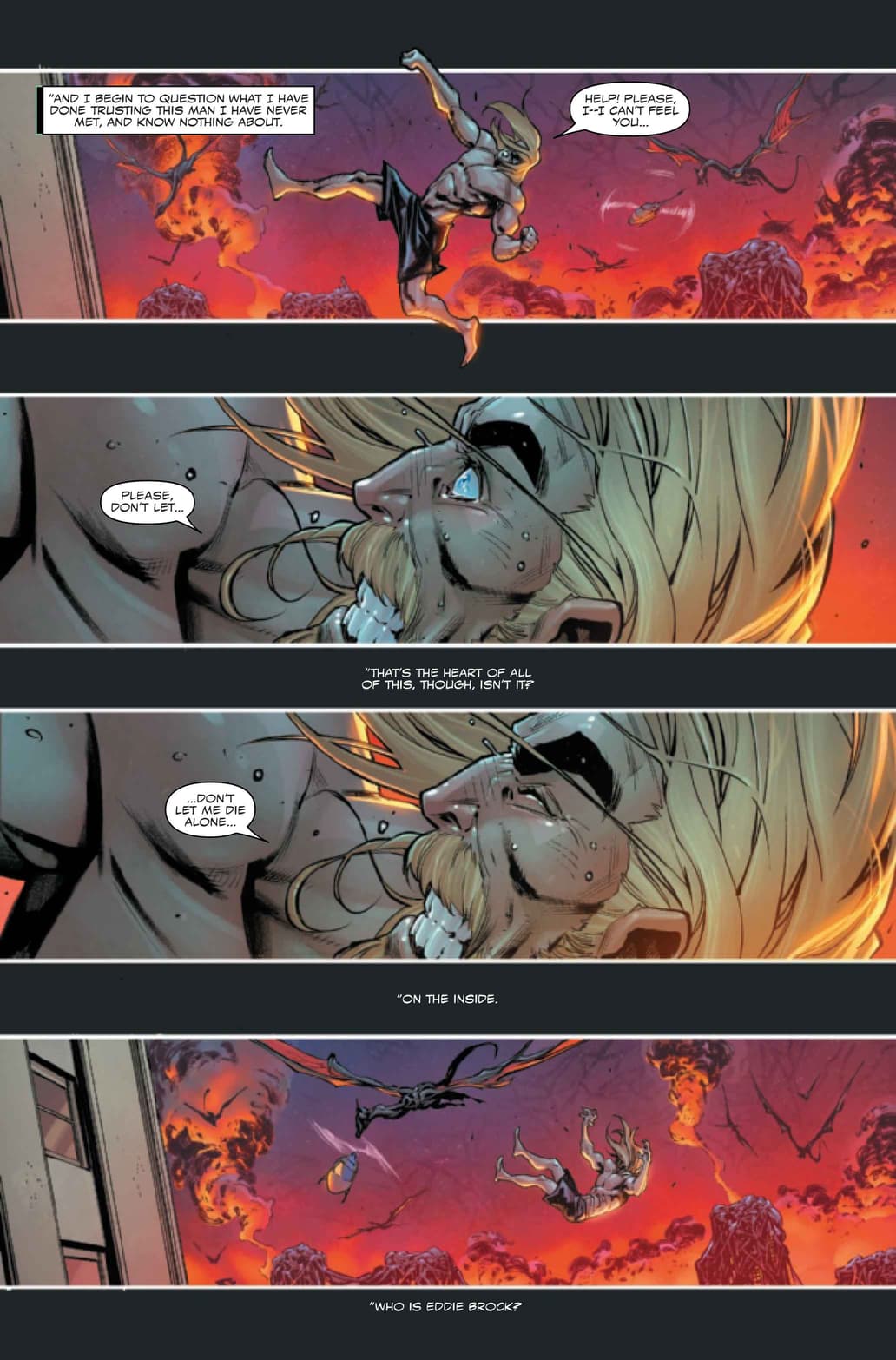 To illustrate just how far Eddie has come, he uses his scant final seconds of life to try to save lives. While falling, Eddie attempted to warn the occupants of a helicopter to land before Knull's dragons destroyed them. Eddie failed to save them, but in those moments, he was more concerned about them than his own pending demise.
Back in the nuclear vault, Dylan saw Eddie's defeat on television and reached out to him via the symbiotic hive. Because Eddie and the symbiote have been forcibly separated, only the symbiote answered Dylan. More importantly, the Venom symbiote disconnected Dylan from the hive before Knull could sense his presence. This is key because Dylan is the only person on Earth that Knull wants to find. As a hybrid child of Eddie, his late ex-wife Anne Weying, and the Venom symbiote himself, Dylan has the ability to remotely control symbiotes that only Knull has previously demonstrated. Attempting to find Eddie may have ultimately tipped Knull off about Dylan's hidden location.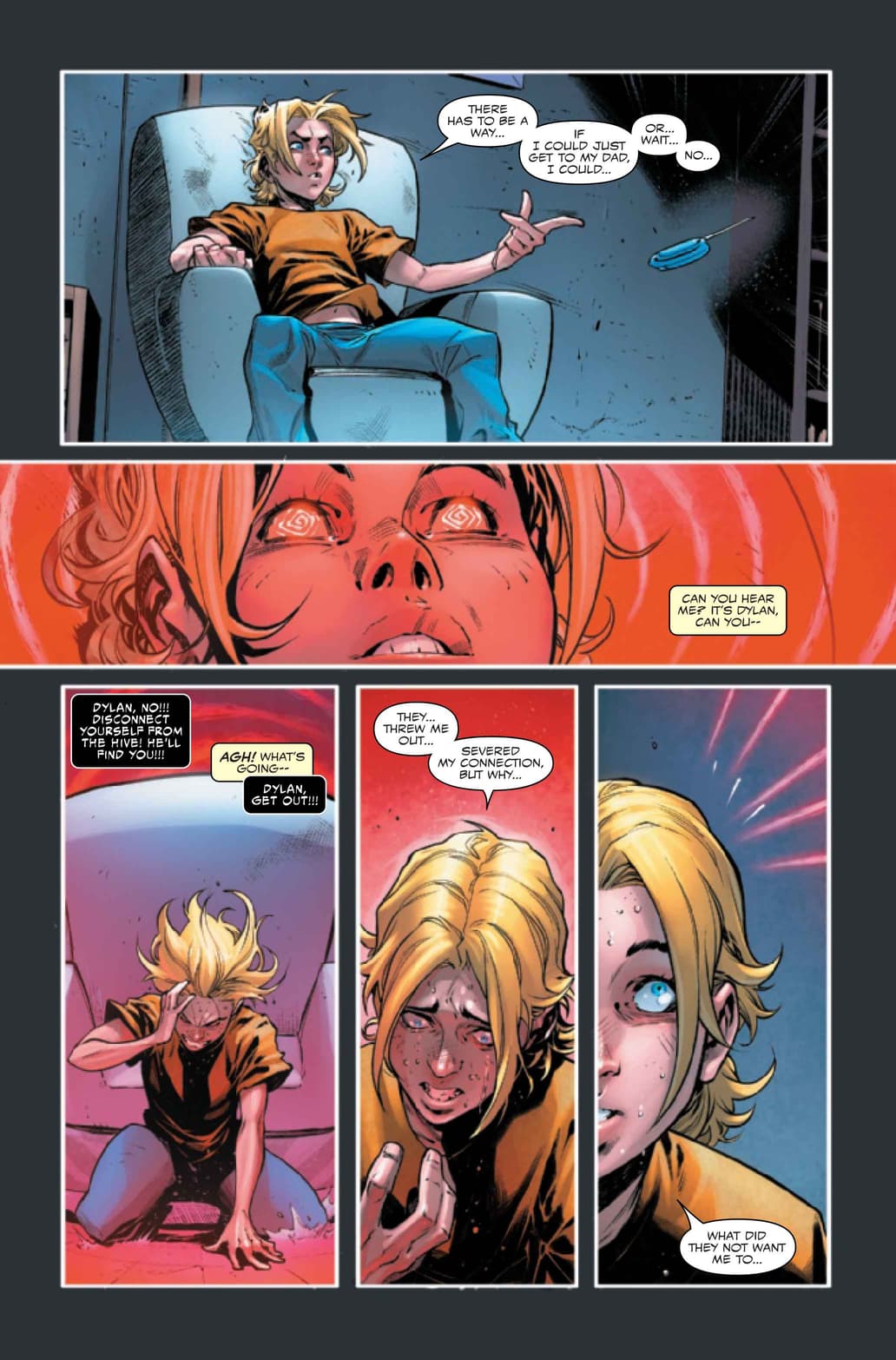 The issue closes with Eddie mere moments away from a fatal landing, as Rex's recording concludes that Venom's second chances will eventually run out and he will be "just another dead man wearing his own coffin." We'll have to wait until THE KING IN BLACK #2 in order to see if Eddie has any hope of getting out of this intact.
VENOM #31, written by Donny Cates with art by Iban Coello, is on sale now online and at your local comic shop!
Be sure to ask your local comic book shop about their current business policies to observe social distancing or other services they may offer, including holding or creating pull lists, curbside pick-ups, special deliveries and other options to accommodate. Find and support your local comic book shop at http://comicshoplocator.com or by visiting http://marvel.com/lovecomicshops.
For digital comics, all purchases in the Marvel Comics app can be read on iPhone®, iPad® and select Android™ devices! Our smart-paneling feature provides an intuitive reader experience, ideal for all types of mobile device and tablet users!
For Marvel's most up-to-date release schedule for your favorite comics, visit http://marvel.com/newcomics.
The Hype Box
Can't-miss news and updates from across the Marvel Universe!