Comics
Published August 12, 2021
Who Wields the Shield: The Many Versions of Captain America
Get to know the Sentinel of Liberty from across the Marvel Multiverse!
Have you tried Marvel Unlimited yet? It's your all-access pass to over 28,000 Marvel comics, all available at your fingertips. Sign up now to enjoy your favorite stories just three months after they're in stores.
This year marks the 80th anniversary of Captain America: Steve Rogers! Across eight decades he has remained one of the most inspiring heroes in comics history, a creation by Joe Simon and Jack Kirby that has withstood the test of time. While few characters can match the mettle of Steve Rogers, his example continues to inspire a new generation of heroes as shown in THE UNITED STATES OF CAPTAIN AMERICA (2021).
But in the vast Marvel Multiverse, not every Captain America is Steve Rogers. Regardless, almost every version of Cap shares his sense of purpose. These special men and women also have Steve's ability to inspire hope. And they will never back down in the face of adversity or danger. These are the heroes who are worthy to wield the shield no matter what world (or dimension) they call home. And, thanks to Marvel Unlimited, we can revisit some of the most memorable Caps from across creation!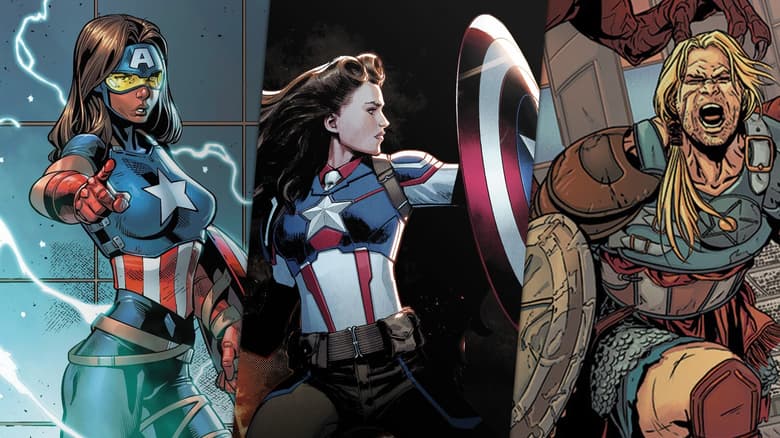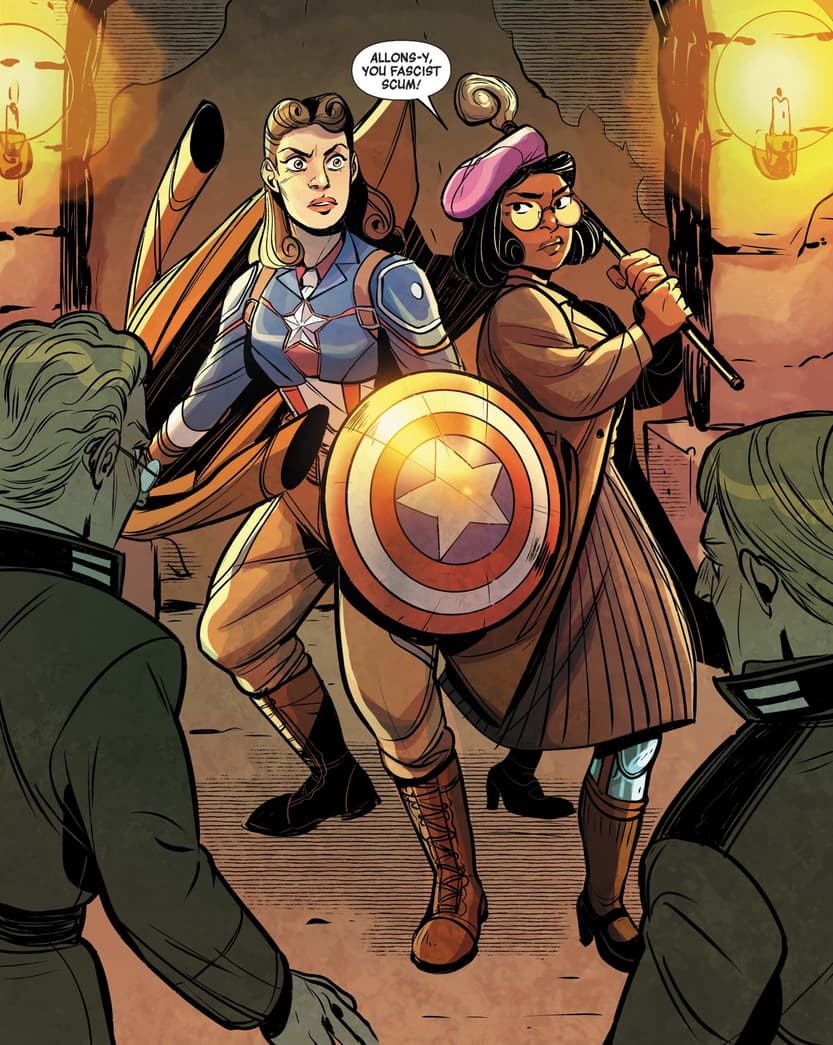 Surely you all know Peggy Carter. In the majority of Marvel's timelines, Agent Carter was a member of the French Resistance during World War II, and she won the heart of a young Captain America. But in one world, Steve Rogers and Professor Erskine, the creator of the Super-Soldier Serum, were both assassinated. To avenge them, Peggy became the new candidate for Project: Rebirth, and she received the Super-Soldier Serum instead!
While it would have been understandable if Peggy decided to go by Captain Britain, she chose to be called Captain America. In addition to keeping the Allies in the war, Peggy also joined a team of Exiles when they needed help to save all of time and existence.  More recently, Captain Carter returned to the frontlines in WOMEN OF MARVEL (2021) #1, this time with a new spy partner at her side!
CAPTAIN AMERICA: DANIELLE CAGE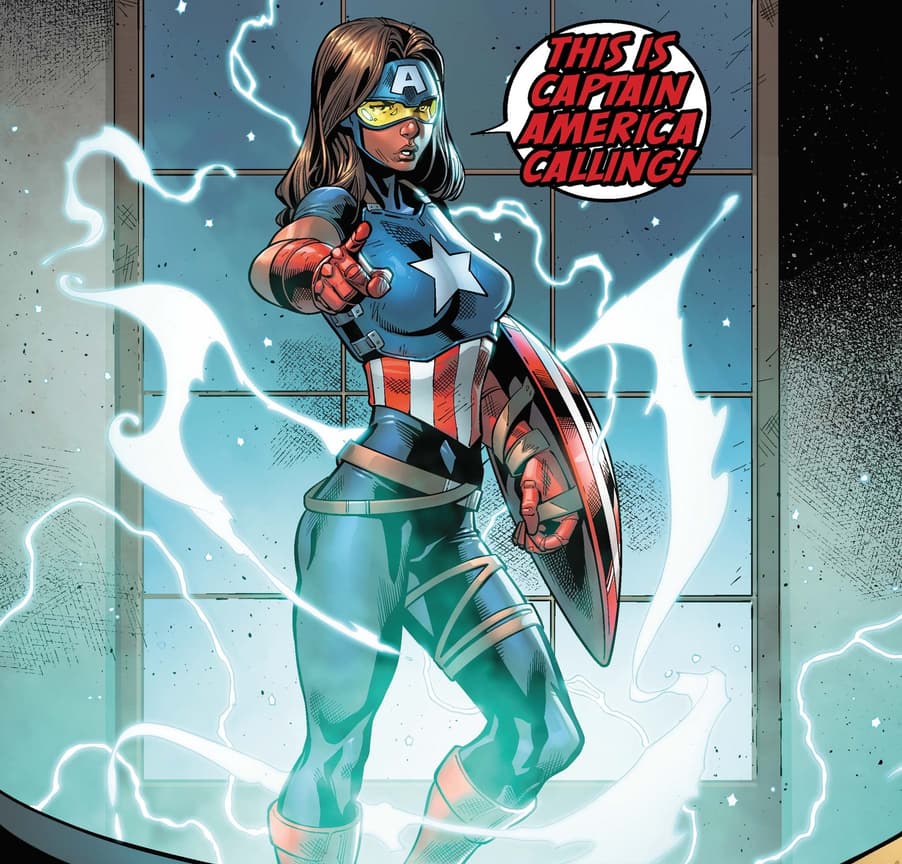 As the child of two Super Heroes, Luke Cage and Jessica Jones, everyone expects big things from Danielle Cage. And in one possible future, Danielle exceeded all expectations by taking up the mantle of Captain America! She was among the heroes who were summoned to the future to end All-Father Ultron's tyrannical reign. In U.S.AVENGERS (2017) #2-3, Danielle even paid a visit to the modern Marvel Universe when her nemesis, Golden Skull, briefly escaped into the primary timeline.
EARTH X STEVE ROGERS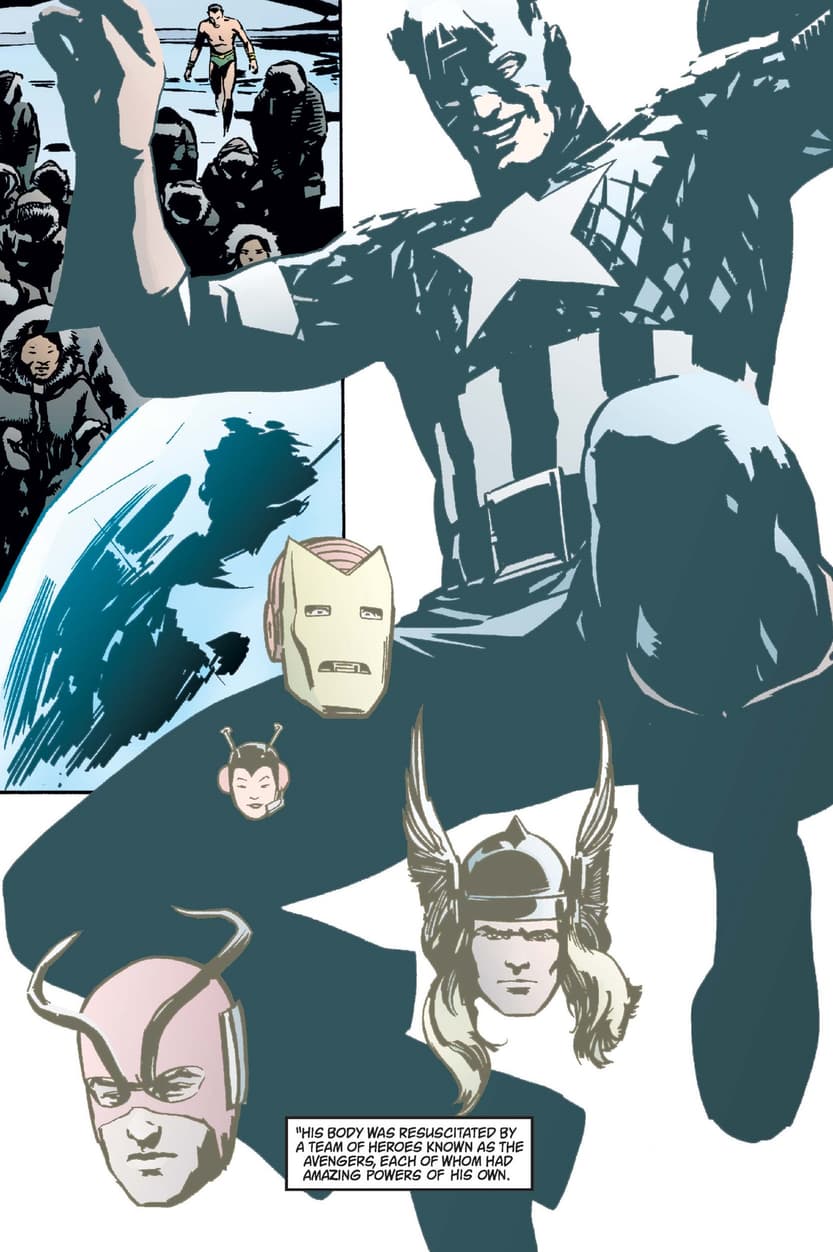 Comics master Alex Ross offers his dark vision of the Marvel Universe's future! Within the EARTH X timeline, Steve Rogers fought the Red Skull one last time and permanently ended his evil reign. However, Steve felt that killing the Red Skull meant that he was no longer worthy of being an Avenger. That's why he survived while his former teammates did not. As a much older, battle-scarred hero, Cap still fought for a better world. Even his own death didn't prevent Captain America from returning to fight for the Paradise that humanity deserved in the afterlife.
COMMANDER A: KIYOSHI MORALES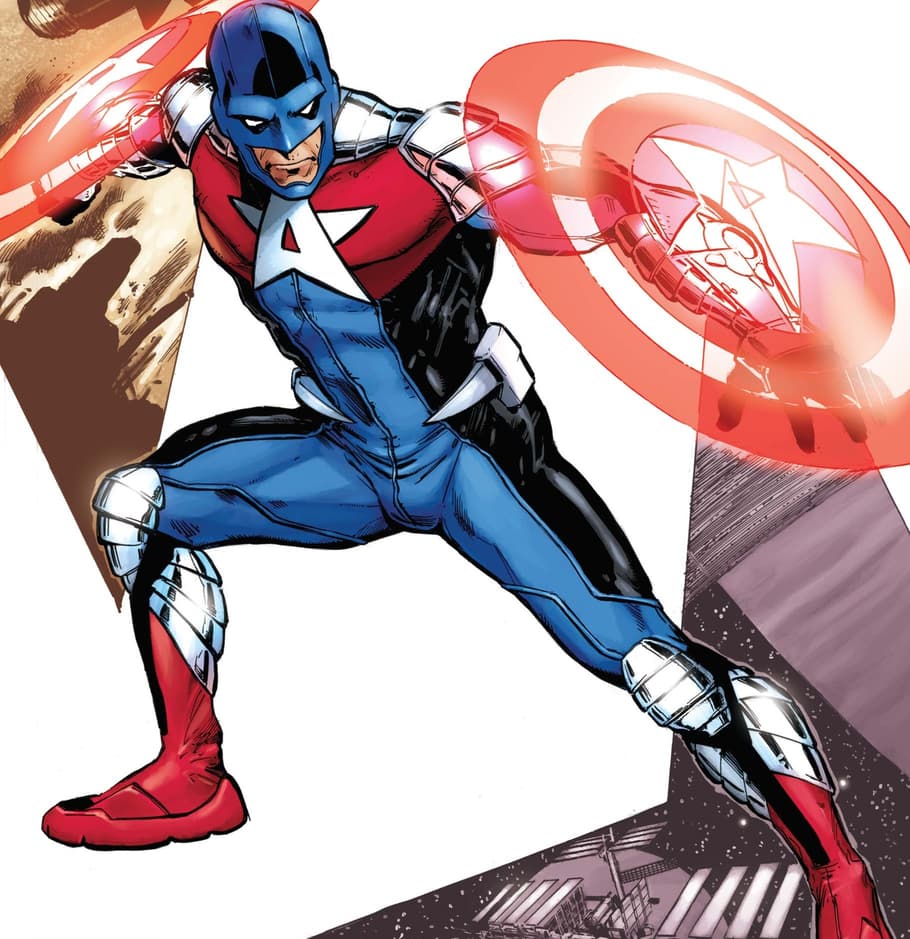 In the future, a young man named Kiyoshi Morales carried on the legacy of Captain America under a new identity: Commander A of the United Americas. Morales is also thought to be a descendant of Luke Cage, rather than Steve Rogers. Unlike his predecessors, Commander A didn't have Cap's indestructible shield. But he did have twin energy shields that resembled the one that Rogers briefly used in his own career.
CAPTAIN AMERICAT, AKA STEVE MOUSER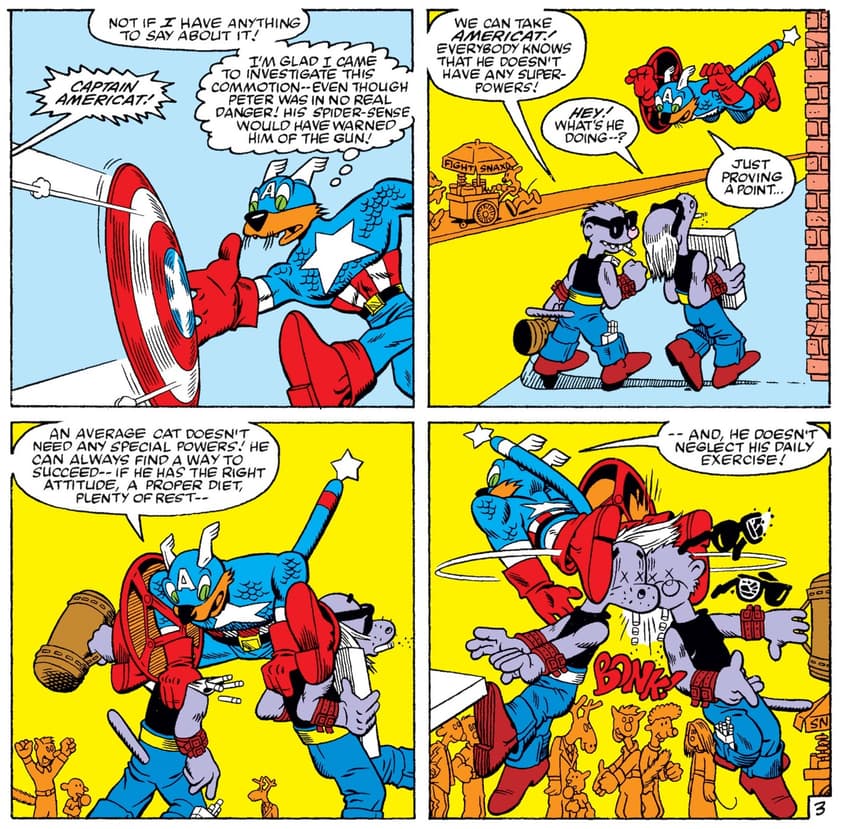 Cap tends to adapt to the shape of the world around him, even in the wilder parts of the Multiverse! Case in point: On Spider-Ham's Earth, Steve Rogers' counterpart is Steve Mouser AKA Captain Americat. His adventures may be sillier than the majority of his variants, but Captain Americat is just as worthy to wield the shield.
CAPTAIN AMERICA: ROBERTA MENDEZ
Unlike many of the other Captain Americas on this list, Roberta Mendez never chose to be a hero. Instead, Roberta's own husband, Harry, forced her to take a version of the Super-Soldier Serum and become a new Captain America under the direct control of the Alchemax corporation, a ruling entity in the future world of Marvel 2099. She was even brainwashed into having a separate persona as Cap, while the Roberta side of her personality was blissfully unaware of her true nature. But eventually, Mendez rebelled against her corporate masters and embraced the ideals of her predecessors.
Roberta resurfaced in the present during SPIDER-MAN 2099 (2015) #1, and she played a large role in saving Miguel O'Hara's life when they eventually returned to their own time.
CAPTAIN AMERICA: SAMANTHA WILSON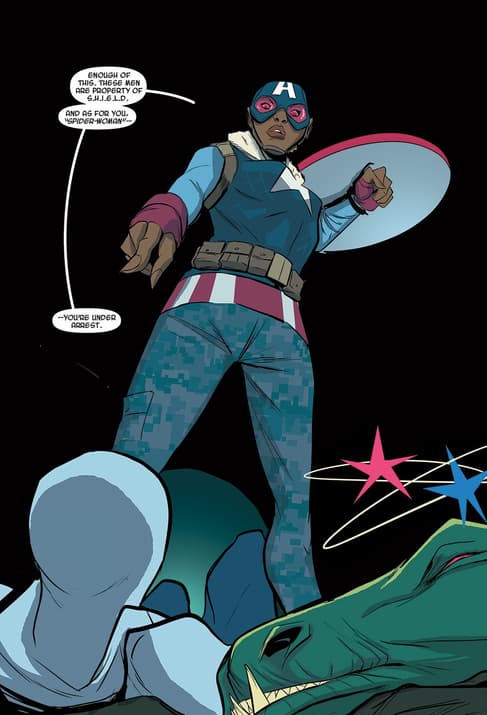 In the world where Gwen Stacy became Spider-Woman, there were four candidates to become Captain America: Steve Rogers, Isaiah Bradley, Bucky Barnes, and Samantha Wilson. After Nazi saboteurs nearly destroyed Project: Rebirth and its candidates, Samantha emerged as Captain America. Unfortunately, Samantha was lost to an interdimensional portal and she was forced to wander various realms for 75 years. Upon her return to Earth-65, Samantha joined S.H.I.E.L.D. and resumed her fight for a better world, even in a time that challenged her optimism and ideals. 
ZOMBIE CAPTAIN AMERICA, AKA "COLONEL" AMERICA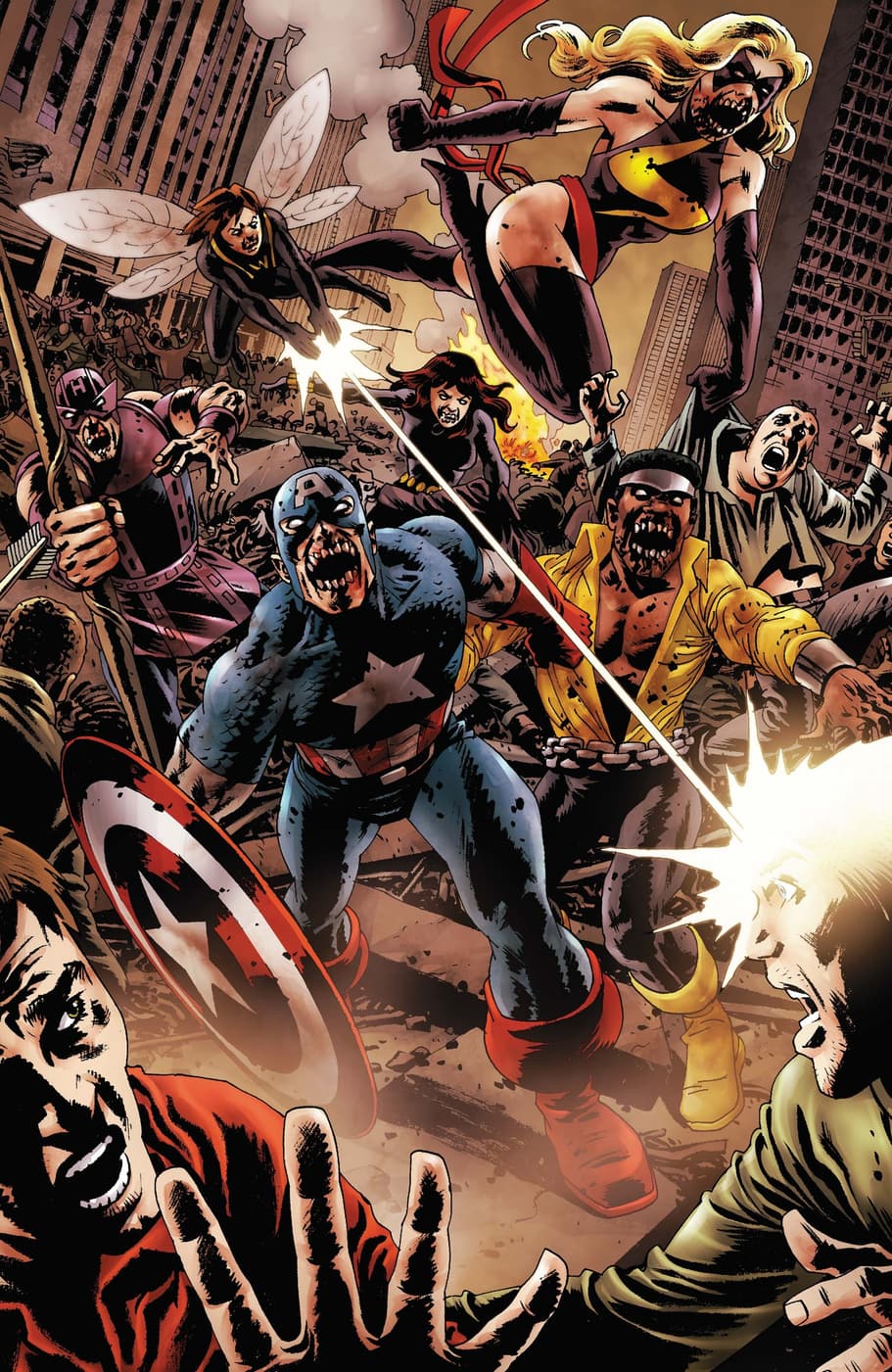 Fans call him "Zombie Cap," but this Steve Rogers variant was actually called Colonel America in his world. And he was just as heroic as his counterpart... when he was still alive. He even served a partial term as President! But when the zombie plague claimed their world, Colonel America was transformed into a ravenous flesh-eating monster as depicted in MARVEL ZOMBIES (2005) and MARVEL ZOMBIES 2 (2007).
When his hunger was satisfied, Steve's original personality resurfaced and he expressed guilt and shame over what he had become. Unfortunately, he was never able to redeem himself before brain damage left him in an even more dangerous state.
GLADIATOR CAP, AKA "THE CAPTAIN"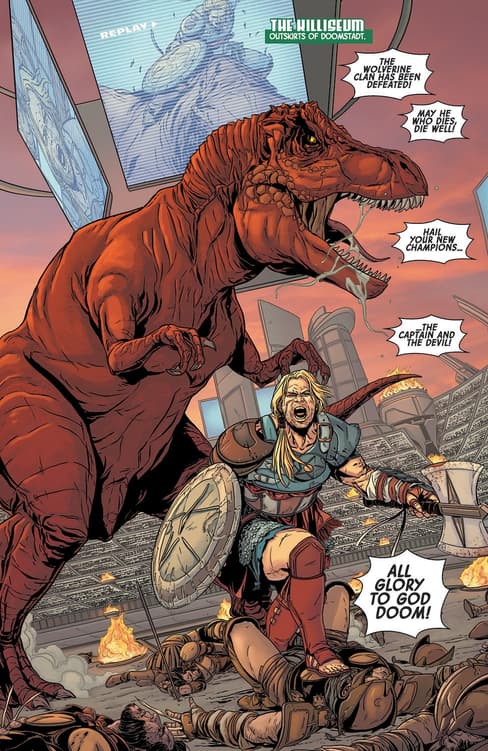 During the SECRET WARS event, Doctor Doom's Battleworld introduced a new version of Steve Rogers who was a lowly gladiator with some serious rage. In part to pay for his defiance, Steve was forced to venture into the realm of Greenland, a Hulk-infested area ruled by the brutal Red King. His companions were Doc Green (a Hulk incarnation of Steve himself) and Devil Dinosaur, the finest steed a Cap could ask for. Steve's resolve was challenged many times, but The Captain never gave up.
AMERICAN DREAM, AKA SHANNON CARTER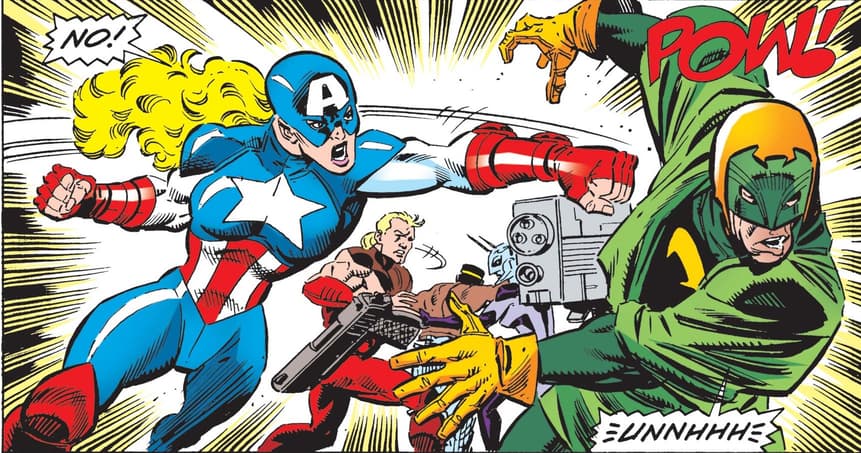 Spider-Girl: May Parker's timeline presented a brighter future for Marvel than the world of 2099 suggested. In the MC2, Sharon Carter's cousin, Shannon Carter, idolized Captain America as she grew up. As an adult, Shannon pushed herself to her physical limit and she was invited to join the next generation of Avengers. Shannon took on the American Dream persona in tribute to Cap. And when she finally met and saved her idol, Steve was so impressed that he gave Shannon an indestructible shield!
Want to read even more stories starring Captain America from across the Marvel Multiverse? Join Marvel Unlimited today and get reading!
Watch Marvel Studios' What If…?, streaming exclusively on Disney+ today.
Follow Marvel Unlimited on Twitter and Facebook to stay tuned in to weekly announcements, articles, and more, all at @MarvelUnlimited. Follow us today to join the conversation with thousands of fellow fans, and let us know what you're reading!
The Hype Box
Can't-miss news and updates from across the Marvel Universe!