Comics
Published February 21, 2018
Wakanda Goes Galactic in Black Panther #1 this May
Ta-Nehisi Coates and Daniel Acuña take T'Challa to the stars!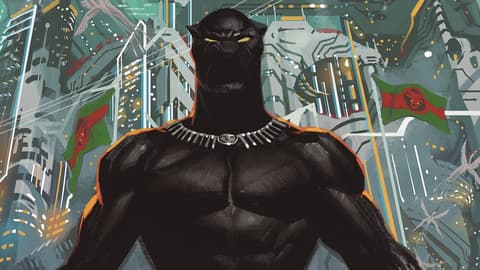 This May, the power of the Black Panther expands across the universe.
Prepare to see Wakanda like never before as writer Ta-Nehisi Coates and artist Daniel Acuña present a bold new direction for both the nation and T'Challa in BLACK PANTHER #1!
For years, the Black Panther has fought off invaders from his homeland, protecting Wakanda from everything from meddling governments to long-lost gods. Now, he will discover that Wakanda is much bigger than he ever dreamed; across the vast Multiverse lies an empire founded in T'Challa's name. Readers caught a glimpse of it in MARVEL LEGACY #1, now find out the truth behind the Intergalactic Empire of Wakanda this May!
"Black Panther fans should be excited because this is a true #1. It's a new story—with connections to the old story—but it's taking him into a different space…literally. And I think people will be excited about that," says Coates. "Black Panther #1 is a creative challenge for me. My first few books were more philosophical, and while that still rings true here, this is a fast-paced, high-octane story. And with Daniel Acuña's art, I think people are really going to feel the energy and intensity here. I wanted people to feel like this is a really fresh storyline, and I think we succeeded in that. It's meaty, it's different, and it's perfect for new readers just coming to the world of T'Challa and Black Panther.''
"T'Challa has a life of his own—he's full of personality and charisma. He can be a mysterious silhouette or a powerful warrior. It's so inspiring. I really, really hope people can see this new and personal vision of Black Panther—and I'll still follow the brilliant lead of Brian Stelfreeze's design and settings," adds Acuña. "My inspiration is T'Challa's legacy, the unique history of the character, and the amazing artists that have come before. I feel like I'm a part of something very different to what I've done until now. This is a very significant work that I hope lasts a long time."
Series editor Wil Moss explains more: "I can't emphasize enough how clean of an entry point this is for new readers. Readers are going to be learning about this mysterious 'Intergalactic Empire of Wakanda' right alongside T'Challa, so everyone is going to be on the same page. And oh man, is Daniel Acuña delivering the goods! He 'gets' the character of Black Panther like no other, and his designs for the Intergalactic Empire are…well, they're out of this world!"
Dive into Ta-Nehisi Coates and Daniel Acuña's BLACK PANTHER #1 on May 23! And stay up-to-date with all the exciting news coming from Marvel Comics at marvel.com/marvel2018comics!
The Hype Box
Can't-miss news and updates from across the Marvel Universe!