Comics
Published April 19, 2023
Get Ready for a Deadly Reunion in 'Warlock: Rebirth'
The classic creative team of Ron Marz and Ron Lim reunite to chronicle the lost years of Adam Warlock in this all-new series.
For over five decades, Adam Warlock has been among the most enigmatic of Marvel's cosmic champions, serving as a warrior, messiah, and much more. Now, as the character prepares to hit the big screen, it's time to reassess a classic period in his comic book history, and who better to document this forgotten adventure than the SILVER SURFER: REBIRTH (2022) team of Ron Marz and Ron Lim!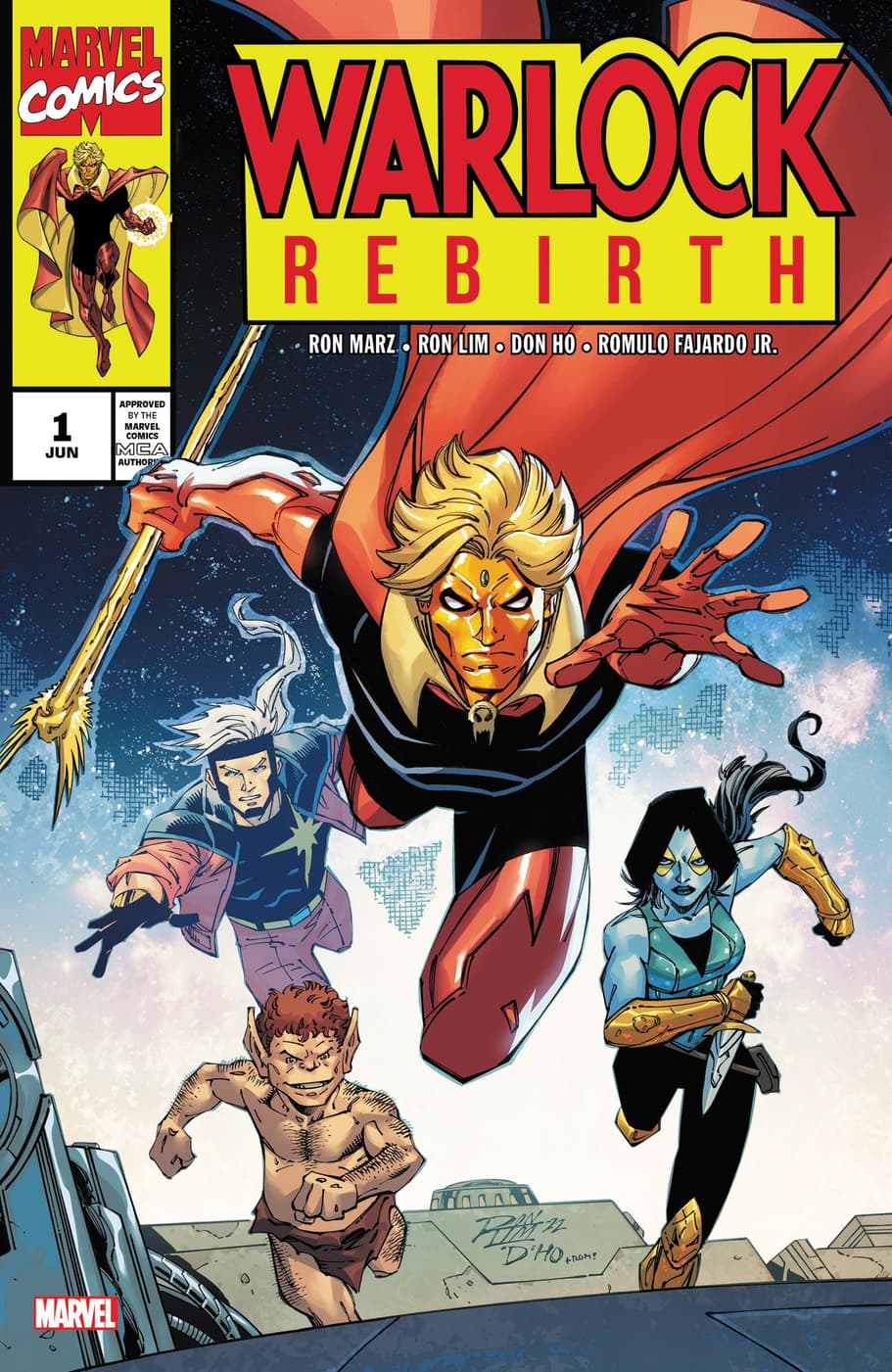 We spoke to the out-of-this-world creative coupling behind WARLOCK: REBIRTH— whose first issue is out in comic shops now—about their ongoing collaboration, how this series picks up from their last effort, plus guest stars, villains, influences and much more!
How far along were you with SILVER SURFER: REBIRTH when this follow-up series got the green light?
RON MARZ: We were almost finished! I actually found out that we'd be doing another [series] from Ron while we were at a convention together in Washington state. Welcome news, obviously, because we had such a great time doing the first one.
How is Adam Warlock a different kind of lead than the Silver Surfer?
RON MARZ: There are a lot of similarities, of course, in that neither Adam nor Surfer are human, or at least "from Earth" in that sense. But they're both trying to understand what it is to be human. The Surfer is driven by the guilt of his service to Galactus, while Adam is an artificial being. He's trying to embrace his humanity; he's trying to answer the same kind of existential questions we all face. "Who am I? Why am I here?" Adam is us, while the Surfer is a mirror for us.
What can you tell us about the new adversary Warlock is facing in this series?
RON MARZ: There are really two adversaries, one old and one new. The old one I don't want to reveal, but the new one is Eve Warlock, a counterpart to Adam who might be even more powerful than Adam. Her intention, her whole reason for being, is to replace Adam. So that's going to lead to some…conflicts.
[RELATED: Eve Warlock Makes Her Debut in Ron Marz and Ron Lim's Warlock: Rebirth]
While you have both worked on Warlock in the past, have you ever handled the character together?
RON MARZ: I think maybe a little bit here and there for guest appearances, but not something where Adam was the primary protagonist rather than part of an ensemble. But it still feels natural to be teaming up with Ron on this.
RON LIM: I drew Warlock quite a bit. He was a pretty important part of the SILVER SURFER run when we brought back Thanos. And, of course, he was a huge part of the "Infinity" books. But I have never drawn him in his own series, so I was super excited to get to do that with Ron. Being able to focus on Adam, Gamora, Pip and Genis-Vell was very cool.
How quickly did your collaborative process from years ago resume in doing these "Rebirth" books?
RON MARZ: It's really like we never stopped. I know what Ron does, how he approaches a page, so I try to lean into that when I'm writing. Part of my job is to give him something fun to draw, which is easy to do because I never have to worry about Ron's storytelling. Everything is there on the page. Yes, this is work, but it feels like we're just playing. 
RON LIM: As Ron mentioned, it feels like we never stopped working together. Working with Ron again is a blast. Just like back in the day. Reading his take on the characters again after all these years brings me back to our original run. The voices he gives the Surfer, Warlock, Genis-Vell and the rest of the characters are the voices I hear in my head when I think of them.
Jim Starlin is such an immense presence when it comes to Warlock both as a writer and artist—how did his past stories influence your own take on Adam and his world?
RON LIM: Jim is a huge influence. I grew up reading his WARLOCK (1972) series and it blew my mind. I don't think I completely understood some of the books back then. [Laughs] When I think of Warlock and Thanos, Jim's versions are the ones I think of. I started out using Jim's work as my template when we brought them back in the Surfer series.
RON MARZ: If you say "Thanos," or you say "Adam Warlock," Jim Starlin is the first name that comes to mind. I went back and re-read Jim's original Warlock run again, just to remind myself of the general vibe of cosmic weirdness. Those are some trippy stories, and I wanted to capture some of that sensibility in this series.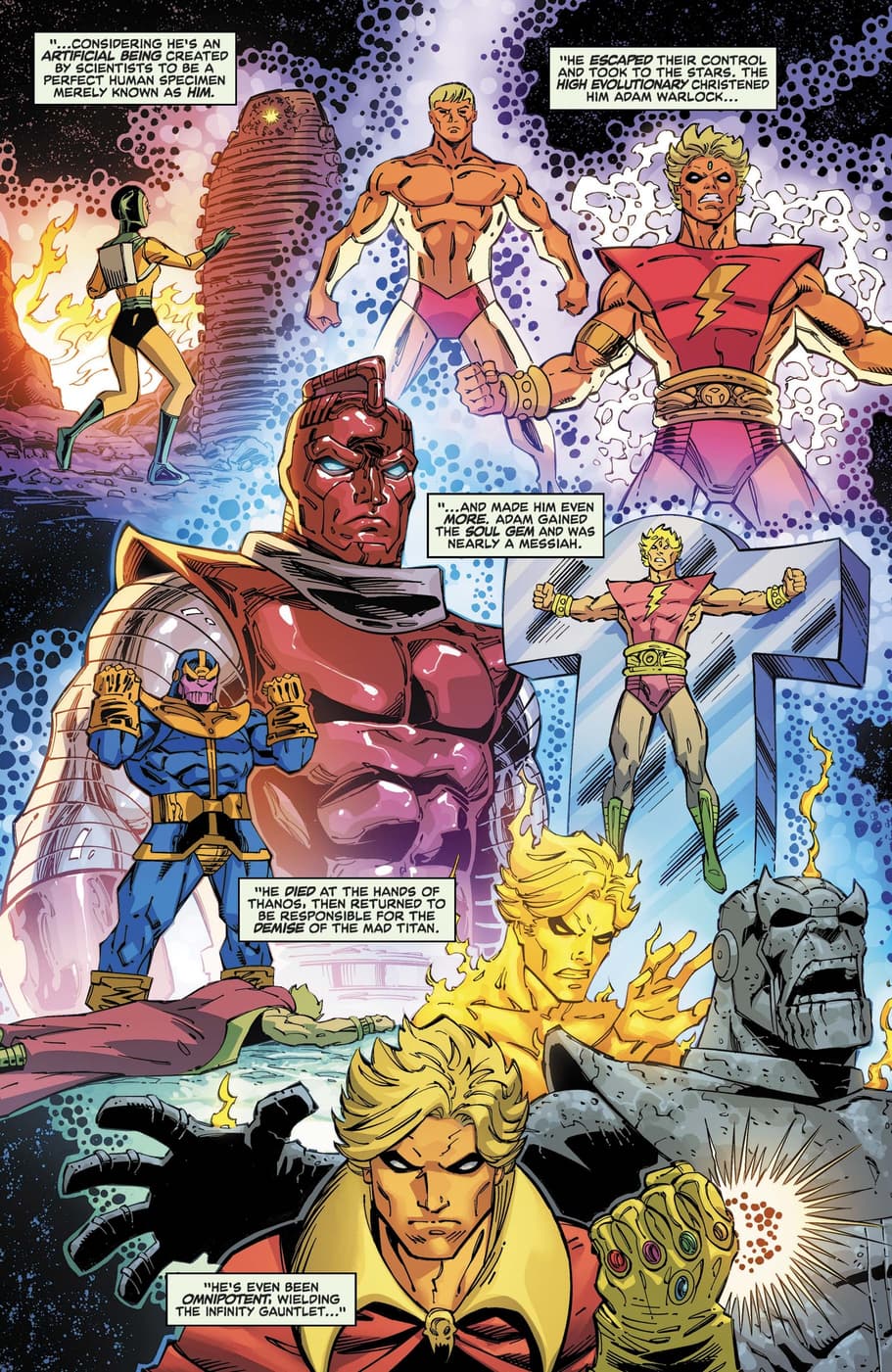 What parts of the story were pitched to you and how much did you come up with on your own?
RON MARZ: There were honestly not a lot of parameters given to me to come up with the storyline. The main note was that we wanted this to be a story with Adam front and center, rather than a team book with the rest of the Infinity Watch as a constant presence. I took the ball and ran with it from there.
Why use Genis-Vell as the connective tissue between SILVER SURFER: REBIRTH and WARLOCK: REBIRTH?
RON MARZ: At the end of SILVER SURFER: REBIRTH, Surfer suggests to Genis that he visit Earth to glean more information about his late father. That seemed like a natural thread to follow up on. It's also handy because Genis gives us a point-of-view character for the reader. He's learning about this world and these characters, and so gives us a way for the reader to learn all that as well.
Will we see any more ties from that series to this one?
RON MARZ: Well, there might be some silver guy showing up. Maybe. Could happen.
How important are characters like Pip and Gamora to an Adam Warlock story?
RON MARZ: Adam is at the center of the story, but Pip and Gamora play big roles. I really don't think it would feel like an Adam Warlock story without those two as part of it. They're great foils to play off Adam, especially Pip, who's a perfect antidote to Adam's dour, dramatic nature.
What are your favorite parts of working with each other?
RON LIM: I love Ron's stories. He never fails to write a fantastic story that has a lot of heart, that also gives me incredibly fun things to draw. Ron will ask me what I'd like to draw in the book, I'll mention something, and then he'll work that into something even cooler. It's great to be working with Ron again!
RON MARZ: It would be easy to say something specific about Ron's art, which is obviously classic in the best sense of the word. But the truth is, the best thing about working with Ron is his enthusiasm. Ron's up for any crazy thing I come up with. His enthusiasm is boundless and has never waned since the first day we worked together.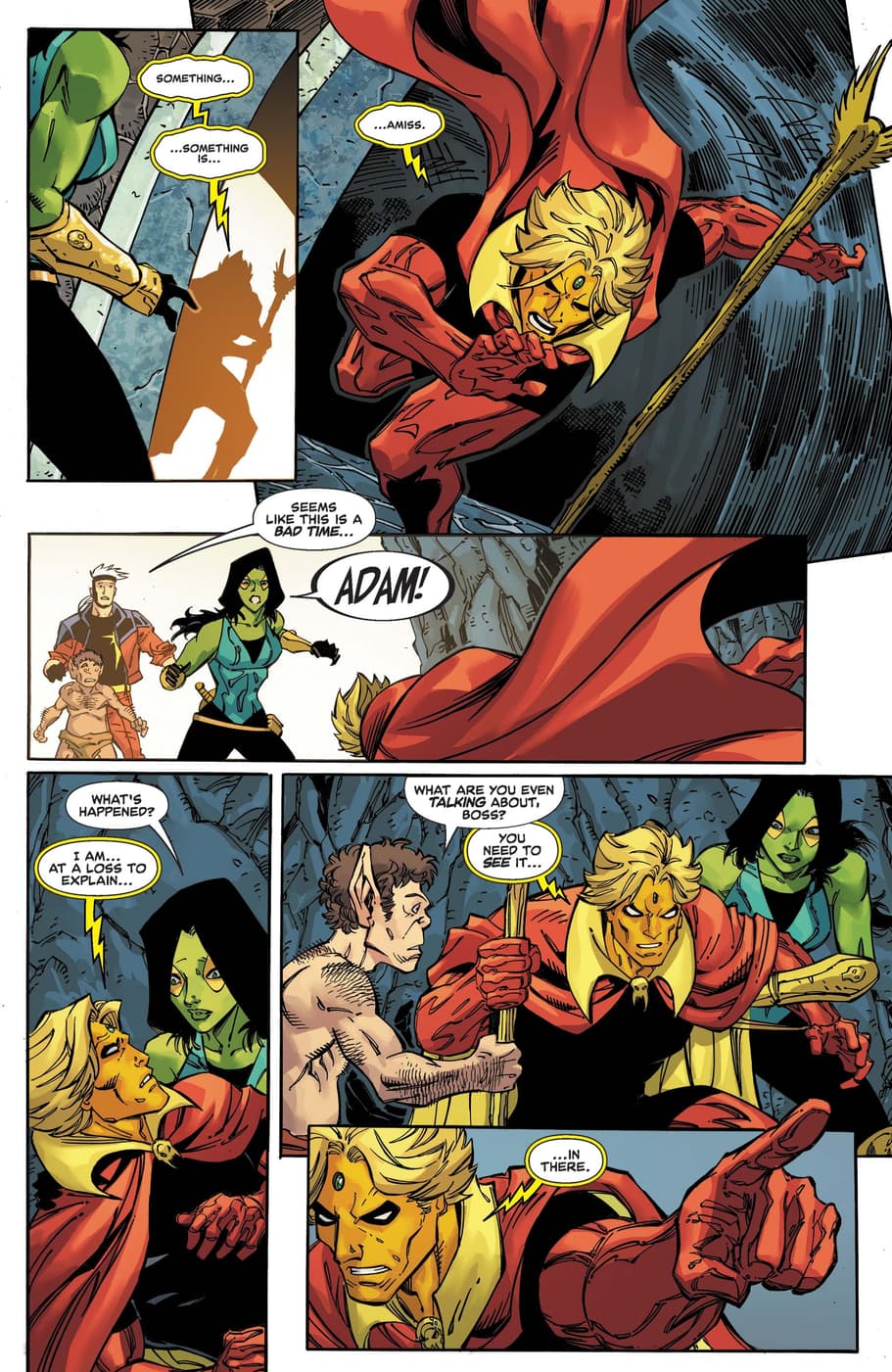 The Hype Box
Can't-miss news and updates from across the Marvel Universe!