Comics
Published April 21, 2020
What Is the Best Doctor Doom Story of All Time?
Flip through 10 of our finds, then look for yourself on Marvel Unlimited!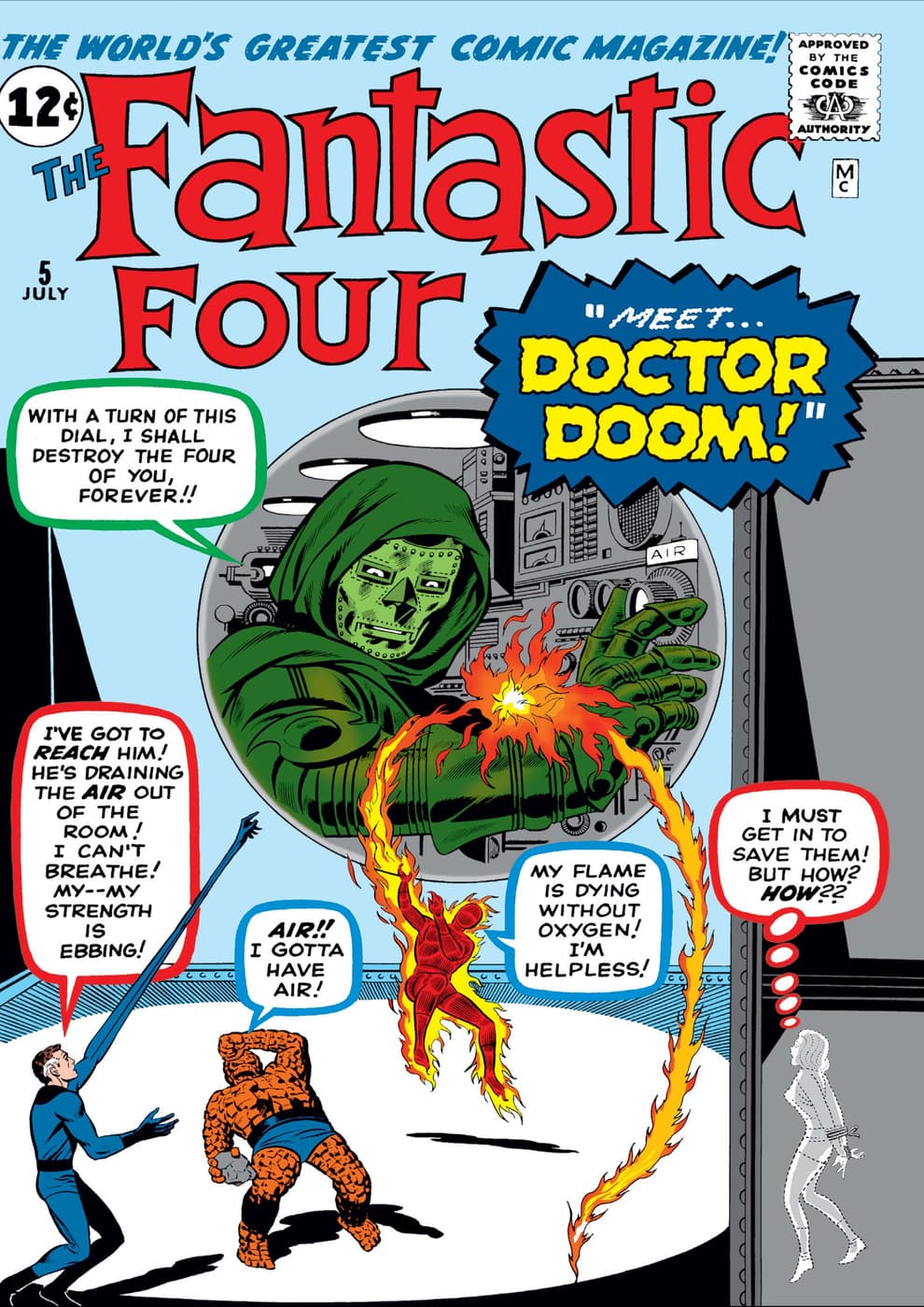 Thanks to Jack "King" Kirby, Doom's mask and armor quickly became iconic, but it was Doom's grandiose personality that made him one of the greatest villains ever created. His intelligence rivaled that of his hated adversary, Reed Richards, and he fought the Fantastic Four to a standstill several times.
On multiple occasions, Doom has come very close to conquering the Earth. In fact, Doom gained god-like powers in both SECRET WARS (1985) and SECRET WARS (2015), which put the Multiverse itself within his reach. He's not simply the FF's top bad guy; Doom is a threat to the entire Marvel Universe.
And yet there is a touch of both nobility and tragedy in the heart of Victor Von Doom. Under different circumstances, he could have been this world's greatest hero. But Doom's hubris and his unrelenting arrogance ultimately carved out a different path. One thing is for certain: when Doctor Doom shows up, Marvel's heroes are almost always in for the fight of their lives.
To celebrate Doom's impressive legacy, Marvel.com is throwing the spotlight on some of the best Doctor Doom stories from almost 60 years worth of comics. Onward!
Doom wasn't the first Fantastic Four villain, but Stan Lee and Jack Kirby didn't wait too long to introduce Doom into the mix. In his first appearance, Doom kidnapped the Invisible Girl and forced the remaining FF to travel back in time to steal Blackbeard's treasure. But it was far from the last time that Doom was destined to disrupt their lives...
Lee and Kirby turned Doom into a recurring threat in the title. For the second annual, the FF's original creative team threw back the curtain and revealed how the young Victor became the dreaded Doctor Doom. This is the issue that depicted the death of Doom's father, and Doom's ill-fated attempt to contact the afterlife and find his mother's spirit. It was also the birth of Doom's hatred for Reed Richards, the one man who foresaw the mistakes in Doom's equations that ultimately scarred his face.
And if that's not enough, Lee and Kirby added a second tale in the same issue that brought Doom face-to-face with Rama Tut, an early incarnation of Kang! From there, Doom nearly drove the FF apart with some expertly placed illusions.
When ASTONISHING TALES launched in 1970, Doom shared the title's top billing with Ka-Zar. But in issue #8, writer Gerry Conway and artist Gene Colan showed readers a side of Doom that they hadn't seen before. Each year, Doom faces the demons of Hell to reclaim the soul of his mother, Cynthia Von Doom, a gypsy sorceress. It was a rare selfless mission for Doom, which made his inevitable failure even more striking.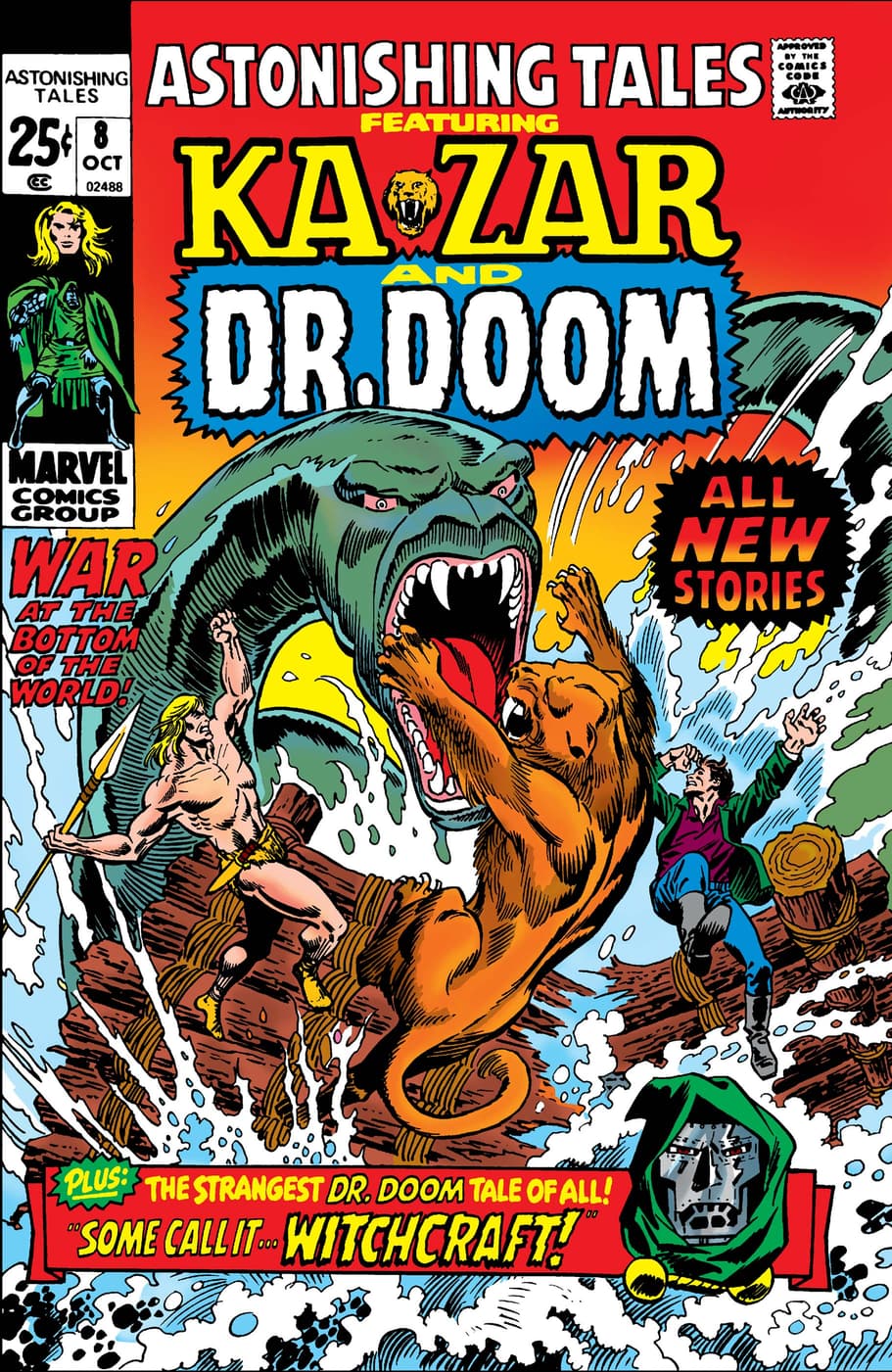 Doom's backstory has had a few revisions over the decades. However, writer Ed Brubaker and artist Pablo Raimondi redefined Doom's origin for the modern era in BOOKS OF DOOM. For the first time, readers got to witness how and why Cynthia Von Doom was damned, while her son, Victor, set out upon a path that would make him the world's deadliest villain. Doom even shared part of the tale himself, as others filled in the gaps with their oral history. Naturally, there's a twist at the end.
And Doom's secrets are never shared without a price.
John Byrne wrote and drew this memorable tale in which the Fantastic Four were temporarily booted out of the spotlight. Instead, this solo tale showed Doom's compassionate side towards his ward, Kristoff, and the people of Latveria. But it also put Doom's darker impulses on display as he devised his latest plan to destroy Reed Richards and the FF.
Shortly before Reed and Susan Richards took a sabbatical from the FF, Doom approached them with a request to use their son, Franklin Richards, in his annual attempt to free his mother from Mephisto's realm. Doom also revealed that he knew far more about Franklin's powers than Reed did.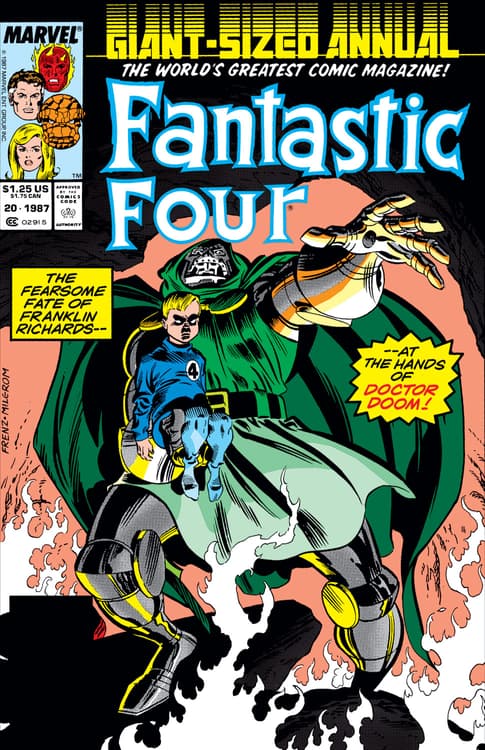 However, Doom's genius was also his undoing. Because Doom attempted to trade Franklin's soul for Cynthia's freedom, he missed out on another chance to save his mother. And because Kristoff believed that he was the real Doctor Doom, Victor lost his country as well.
Ruling the World - THE AVENGERS: EMPEROR DOOM
Doctor Doom has tried to take over the world on more than one occasion. But in EMPEROR DOOM, scribe David Michelinie and artist Bob Hall allowed Victor Von Doom to achieve his lifelong dream. Doom's plan to use the Purple Man's power to enslave the globe went off without a hitch. However, Doom failed to account for Wonder Man and a few strong willed Avengers.
It also turned out that Doom's pleasure was in conquest, not in the actual administrative work of keeping the world in line. Doom felt more alive when there was a rebellion to put down than when he had absolute power.
Writer Roger Stern and penciller Mike Mignola lent their tremendous talents to this graphic novel that finally finished Doom's quest to break his mother out of Hell. Doom called upon Stephen Strange for his assistance, and they took the battle to Mephisto's realm. Regardless, Doom's plan hinged upon a sacrifice that even his genius couldn't avoid...
This was Doom's greatest triumph, and it was also one of his greatest tragedies.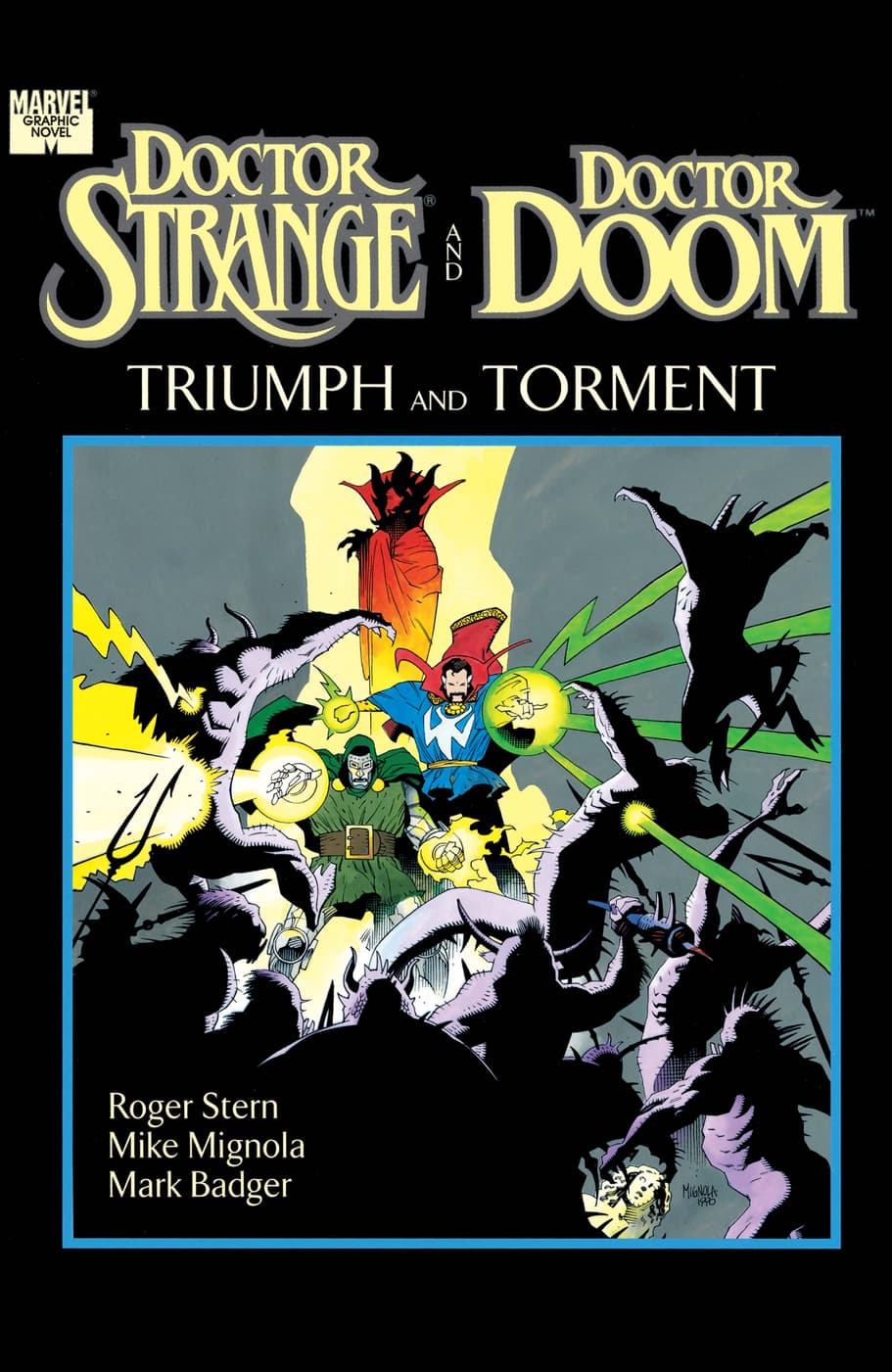 Walter Simonson unleashed a surprising end to the Doom and Kristoff conflict by revealing that the real Doctor Doom had been away for years. And now that Doom was back in action, he had a plan to take care of the FF once and for all. In issue #350, Doom lured the team into a deadly trap. Readers had to wait until #352 to see the conclusion, as Reed and Doom had a time travel duel. But somehow, even in defeat, Doom walked away as the winner.
Doom may like to pretend that he's innately noble, but the events of "Unthinkable" proved otherwise. Writer Mark Waid and artist Mike Wireringo reintroduced Doom's ex, Valeria, and briefly reunited the two lovers...shortly before he traded her life and soul for enough magical power to destroy the FF. Doom even struck at the team through Valeria's namesake, Valeria Richards, by using her as his familiar.
With his newfound mystical might, Doom tormented the team. Reed had to reach beyond his belief system to find a way to turn the tables. But the Fantastic Four didn't emerge from this battle unscathed.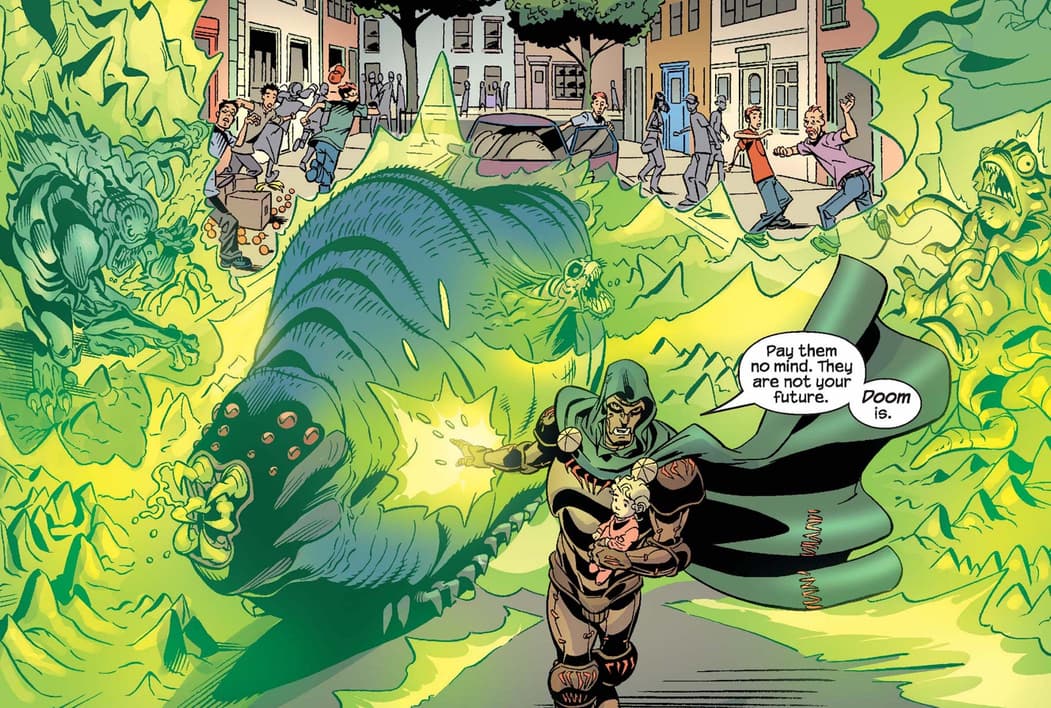 The Hype Box
Can't-miss news and updates from across the Marvel Universe!