Comics
Published December 21, 2020
Who Is Gorr?
Every god has an origin, and so does every god-killer.
Have you tried Marvel Unlimited yet? It's your all-access pass to over 28,000 Marvel comics, all available at your fingertips. Sign up now and get your first year for $55!*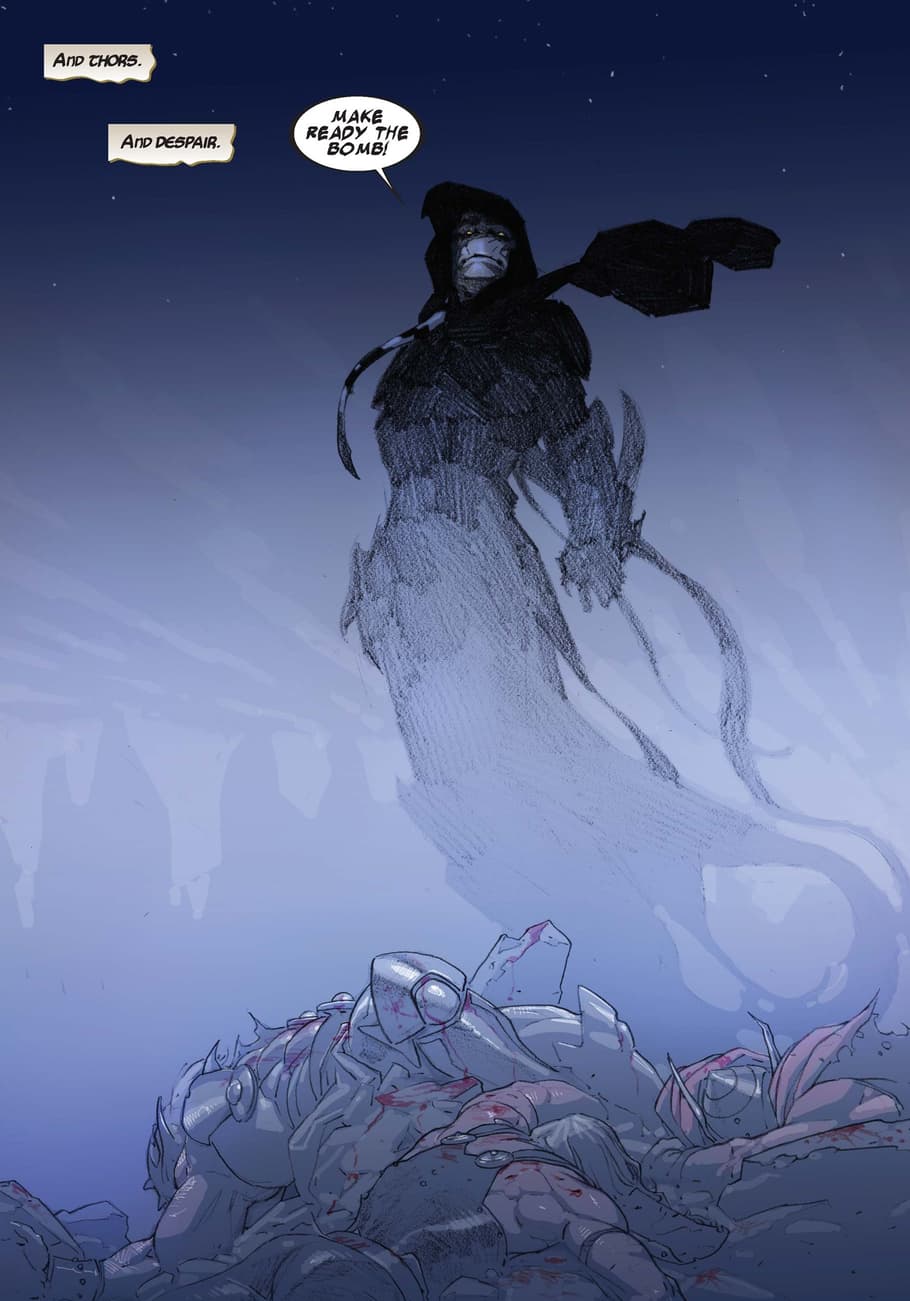 Gorr the God Butcher. A name that makes any mortal shudder. And, if the gods and immortals of the Marvel Universe know what's good for them, they will too. Who is this being of alien power from an unknown world? We've got all the dreadful details surrounding the God Butcher here, secrets of an unholy Redeemer on an endless quest for "balance."
WHO IS HE?
Gorr the God Butcher is a god-killer, having tortured and slain countless gods and immortals over his long life, which he bragged about in THOR: GOD OF THUNDER (2012) #4 as he tormented Thor. But before his god-killing days, he was a husband and father to several children, and in losing them, he lost his faith in the gods.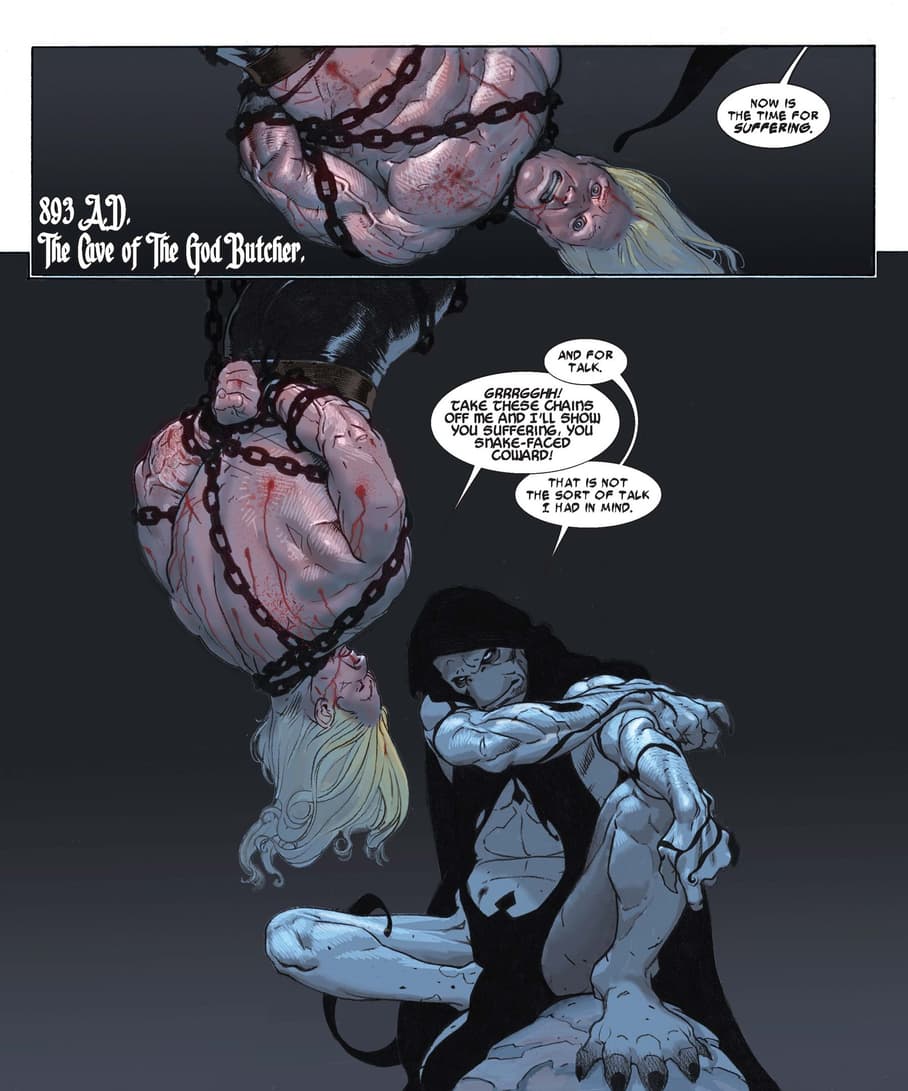 WHERE DID HE COME FROM?
We don't exactly know.
Gorr comes from a planet without a name, born into a tribe that believed and paid tribute to the gods for protection. When he ceased to believe in the gods, his tribe turned on him. As he wandered his desolate planet, two god-like beings fell from the sky, one golden-armored and the other black-armored—the being known as Knull—who had mortally wounded each other. It was here that Knull's symbiote blade, the All-Black, bonded to Gorr. Read this "baptism of blood" in THOR: GOD OF THUNDER #6.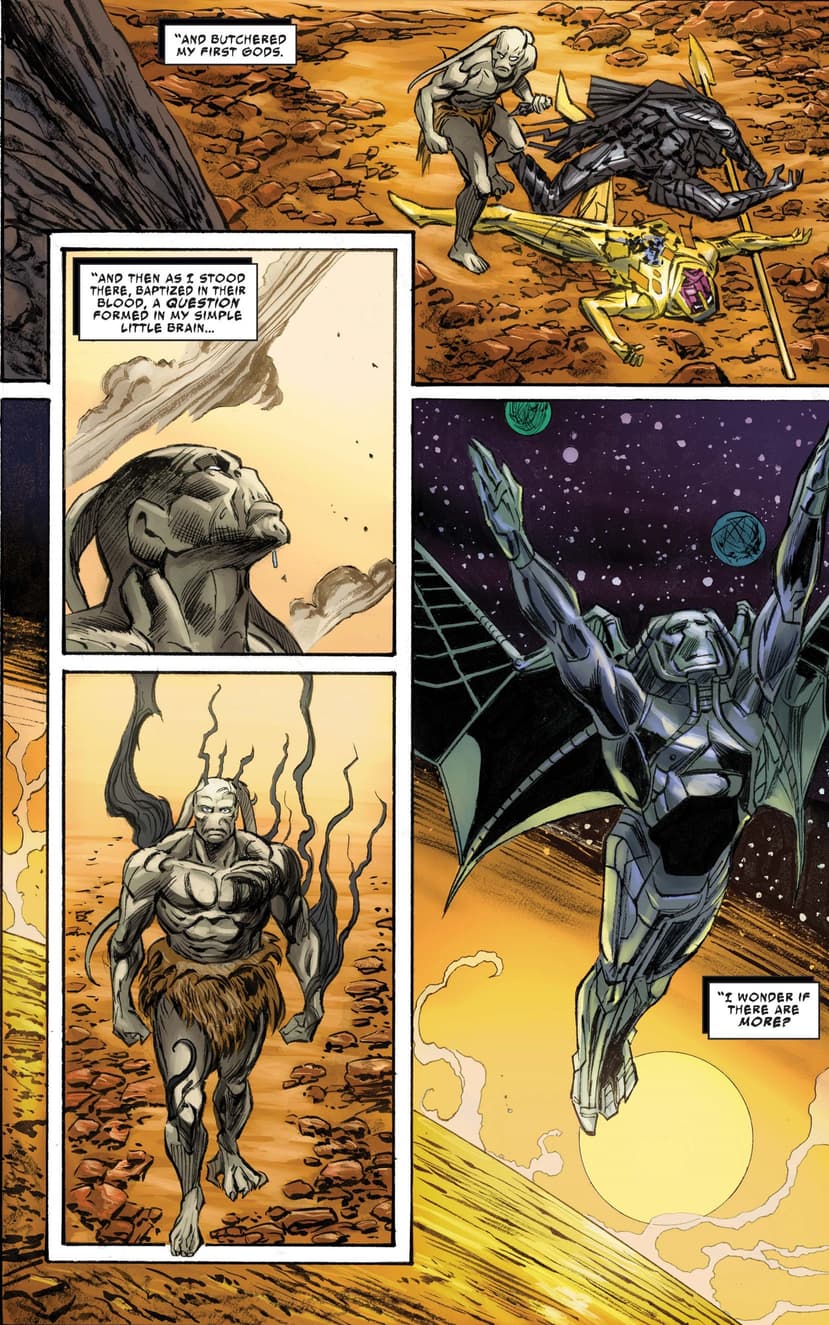 WHAT ARE HIS POWERS?
The All-Black symbiote Necrosword endowed Gorr with super-strength that rivals and even overpowers the gods, as seen in THOR: GOD OF THUNDER #9. The symbiote allowed Gorr to shapeshift at will too, protecting him, and giving him the ability to fly, form weapons, and regenerate.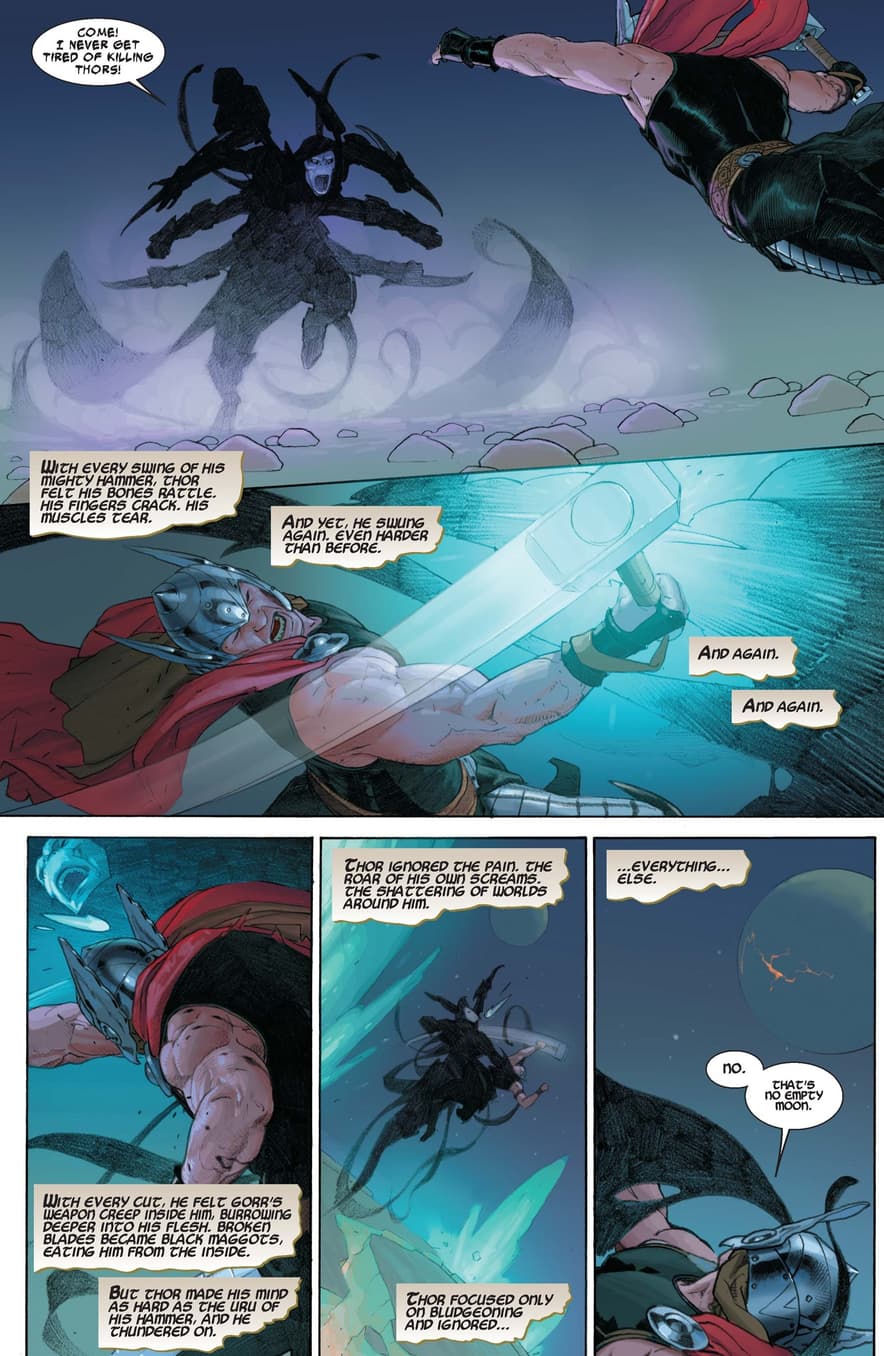 WHAT DOES HE WANT?
Gorr vows to slay all deities and nothing, not even time, will stop him from finding them across the cosmos. But what happened to him to seek such a grisly goal?
After encountering the All-Black symbiote which gave him the power he needed to fulfill his vow, Gorr came across Thor and nearly died from their ensuing battle. This recommitted Gorr to his crusade, and he even offered a kind of thanks to Thor in THOR: GOD OF THUNDER #5.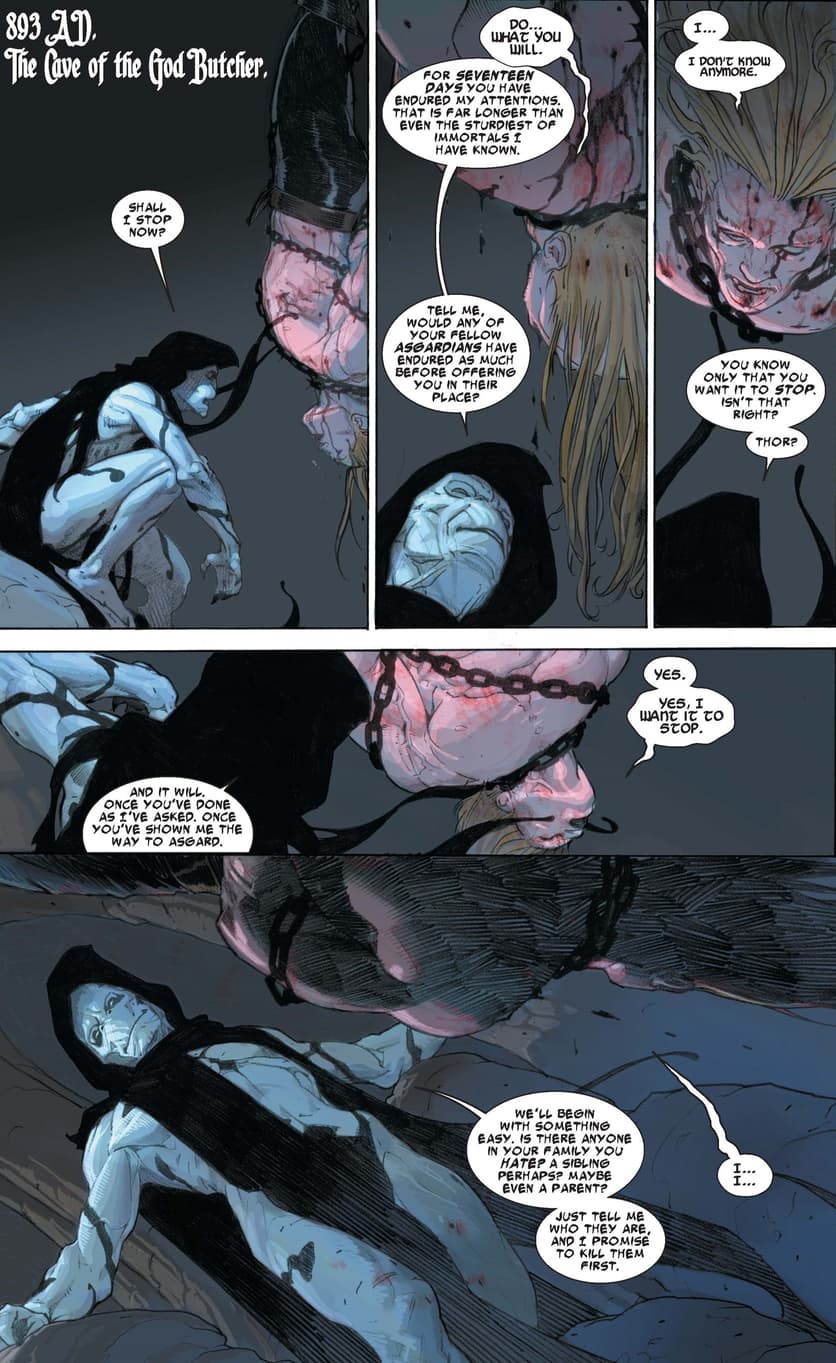 Catch up on all of Gorr's horrible history in THOR: GOD OF THUNDER (2012) #2-11, and learn more about his will to kill the gods in KING THOR #1-4, Both are available now on Marvel Unlimited!
Marvel Unlimited, Marvel's digital comics subscription service, offers members unlimited access to over 28,000 issues of Marvel's classic and newer titles, delivered digitally though your desktop web browser and the award-winning Marvel Unlimited mobile app.
Follow Marvel Unlimited on Twitter and Facebook to stay tuned in to weekly announcements, articles, and more, all at @MarvelUnlimited. Follow us today to join the conversation with thousands of fellow fans, and let us know what you're reading!
*(plus tax where applicable) All prices in US dollars. Offer valid 12/14/2020 12:00 AM ET to 12/31/2020 11:59 PM ET on annual memberships only. First year billed upfront at a one-time payment of $55.00; subsequent years billed annually to the payment card on file at the then-current annual subscription fee (currently $69 per year) unless and until cancelled. Offer is open to new and former (now-cancelled) Marvel Unlimited members. Valid payment card required to redeem offer. Auto-renewal and others terms and conditions apply. See here for additional terms.
The Hype Box
Can't-miss news and updates from across the Marvel Universe!